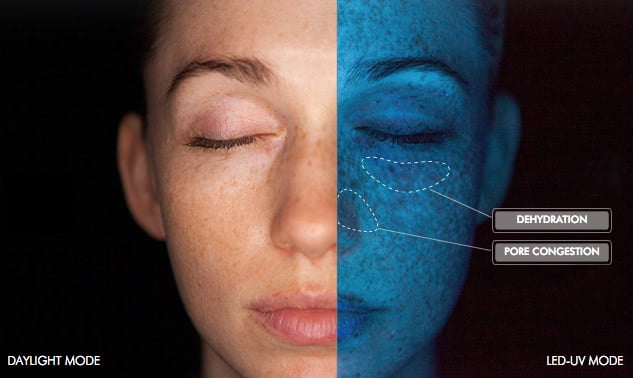 Most of us take a "what you see is what you get" approach to addressing skin concerns and managing our skin's health, but there's a lot more going on below the surface. Even if your skin looks flawless now, you may have damage at a deeper level, which will eventually result in fine lines, dark spots, and other flaws. In fact, by the time these signs of aging are visible, your skin has suffered years of UV damage.
The good news is that we now have a way to see below the skin's surface and detect sun damage in its earlier stages, when it's often easier and less expensive to treat. It's called the SkinCeuticals SkinScope LED.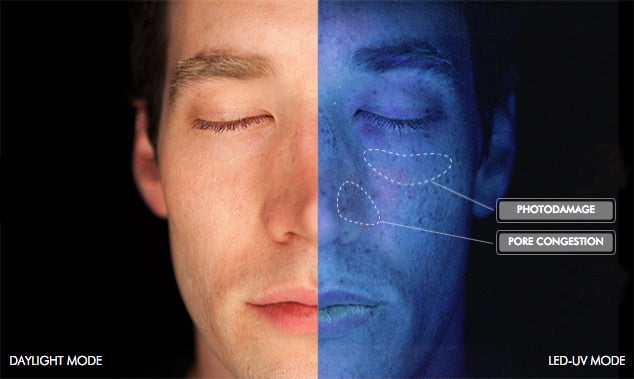 What is SkinScope LED and how can it help my skin?
The SkinScope LED is a portable lamp that shines a specific range of UV light wavelengths that will react to different compounds in your skin in the form of different colors. For instance, healthy skin appears pale blue in this light, while excess melanin (hyperpigmentation and sun damage) appears brown, and the oil from congested pores will appear yellow, orange or pink. The lamp projects a hi-res image of your skin under this light onto a monitor for you to see.
By literally bringing these issues to light in high contrast, we can reveal skin conditions and damage that you may not notice just looking in the mirror, and in turn match you with skincare products and treatments that will be most effective for improving these issues—even before they become visible problems or possibly develop into precancerous lesions.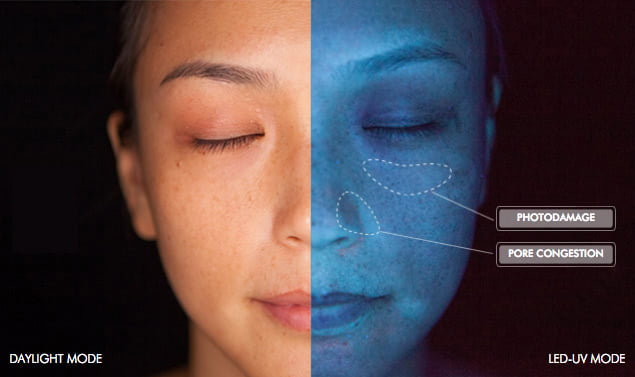 Join us at a special event in Eugene to try the SkinScope LED
The even better news is that you can put SkinScope to the test at our upcoming summer skin care event at Movassaghi Plastic Surgery on Thursday, May 31st from 4 to 6 PM. Our SkinCeuticals expert will be here to give SkinScope LED screenings and help you learn about the latest SkinCeuticals products to help you rejuvenate your complexion and protect your skin as summer weather arrives. Our friendly staff will also be on hand to answer any questions you have about our other fabulous Eugene skin treatments. Light appetizers and sparkling beverages will be served; it's shaping up to be a relaxing and informative evening!
Space is limited, so call our office at 541-686-8700 today to RSVP. We can't wait to show you the amazing SkinScope LED and help you get the "inside scoop" on improving your skin!