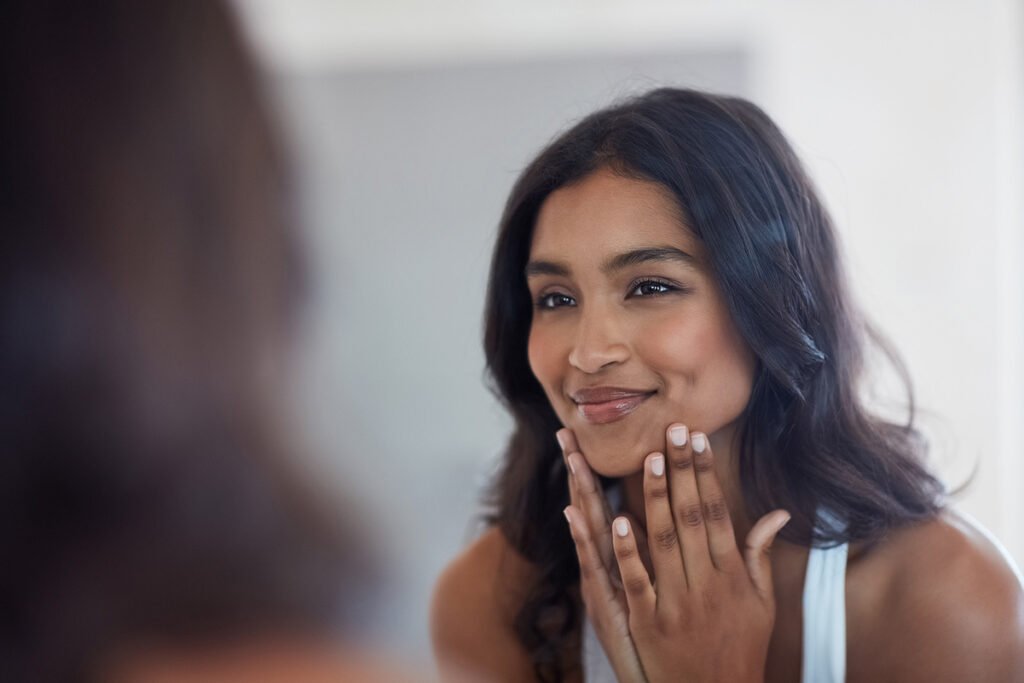 Have you ever wondered how Botox works? Or how young is too young to start a Botox regimen? With over 4.4 million injections performed in 2020 alone, there's a reason why Botox is the number one minimally-invasive cosmetic procedure in the U.S. To clear up misconceptions and make sure you know the facts, our Certified Aesthetic Nurse Injector, Karen, is answering our Eugene patients' top 9 Botox questions.
1. How does Botox work?
Botox® is a neuromodulating drug, meaning it blocks the signals between nerves and muscles. Botox is injected into the muscle using an ultra-fine needle (31-32 gauge). Once injected, the neuromodulator relaxes the muscle and decreases its movement to reduce the appearance of lines or wrinkles in the area.
Botox is used to treat dynamic wrinkles and lines, which are those caused by facial movements, such as frowning and smiling. It isn't effective for treating wrinkles and lines caused by environmental factors, like sun exposure or smoking.
Botox can also be used to target other non-aesthetic issues. Its many surprising uses include:

Preventing migraines
Reducing sweating
Preventing eye twitches
Overactive bladder
2. What is Botox made of?
Botox is made of a toxin called "botulinum toxin type A." Though it may sound counterintuitive to inject a toxin into the body, Botox has an impressive safety record (only 36 adverse reactions were reported from 1989-2003). This is because Botox is only injected in small doses so as not to overwhelm the nervous system. Botox arrives at our Eugene office in powder form, and a provider dilutes it with saline to make it injectable. By diluting the Botox, its toxic capabilities are effectively eliminated.
3. What's the difference between Botox and dermal fillers?
Many people mix up neuromodulators and dermal fillers since they're both injected into the skin to reduce the effects of aging on the skin; however, there are some key differences between the two:
Botox is injected into the muscle. Filler is injected below the skin.
Botox is used to temporarily improve the appearance of wrinkles and lines. Filler also does this and replaces lost volume in the skin, reducing the appearance of deep folds (e.g. nasolabial folds and glabellar lines) and crepey skin.
Botox is absorbed by the muscle soon after it's injected. Fillers sit beneath the skin for their duration.
Botox lasts between 4-6 months. Fillers last between 8 months to 2+ years, depending on the type.
if you still have questions, I would be happy to discuss dermal fillers vs. Botox with you further at our Eugene practice.
4. How old should you be to get Botox?
You should be at least 18 to receive Botox treatments. At Movassaghi Plastic Surgery in Eugene, we offer Botox for therapeutic uses to suitable patients age 18 and up. For aesthetic applications, Botox patients tend to be age 20 or older.
While Botox used to be used primarily by those 35 and up, it's increasingly popular for patients to start receiving Botox injections in their 20s and early 30s. In fact, Botox treatments increased by a staggering 878% from 2000 to 2019, with a 28% increase from 2010-2017 among the 20-29 age group. Botox can be used as a preventive aging measure to help you maintain a more youthful appearance at any age, but it's critical that you work with a board-certified plastic surgeon to achieve beautiful results.
5. What is Botox treatment like?
Botox is called a "lunchtime treatment" for a reason: injections are quick, painless, performed in your surgeon's office, and require no anesthesia or downtime, so you can resume normal activities right after your treatment. We simply recommend you avoid strenuous physical activity for at least a full day after your Eugene Botox treatment.
6. How soon will I see Botox results?
Your muscles will begin to relax immediately after your Botox injection, but it usually takes 3-5 days for the targeted wrinkles to fully soften.
7. How long does Botox last?
The effects of Botox typically last at least 4 months and often last up to 6 months.
8. Can Botox be undone if you have bad results?
The short answer is no, there's no way to undo Botox results. That said, there are some things we can do to reduce the appearance of bad Botox results. For instance, if you have asymmetry in your forehead (i.e. if one side of your forehead is higher than the other), we can inject Botox into the higher, or "stronger," side to relax the muscle and match its appearance to the lower, or "weaker," side.
The good news is that Botox isn't permanent, so if you've been to an unskilled injector and gotten less-than-desirable results, you simply have to wait 4-6 months for the Botox to wear off and the muscles will begin to contract again.
9. How much is too much Botox?
Contrary to what some people may say, there is such a thing as too much Botox. When administering Botox, my goal is to give patients a more relaxed and youthful look without changing their appearance. I assess each of my patient's unique needs and desires and make a treatment plan that works for them—therefore, no two of my Eugene Botox patients ever receive the same treatment.
At our practice, many of our patients are opting for "Baby Botox" treatments these days, which we're all for because of its natural results. Baby, or "mini," Botox is performed by strategically injecting very small amounts of Botox across the face in order to retain your natural facial movements while still smoothing out fine lines and wrinkles. Baby Botox works great for younger patients with fewer signs of aging but isn't as effective in older patients with deep-set lines and wrinkles.
Looking for Botox in Eugene, Oregon? Dr. Movassaghi and I are ready to help you get beautiful results.
Although Botox is the most widely performed non-surgical cosmetic procedure, safe and natural-looking results require a skilled approach. Both board-certified plastic surgeon Dr. Kiya Movassaghi and I have a thorough understanding of facial anatomy, and together we have 30 years of combined experience performing aesthetic injections. Contact us online or call (541) 686-8700 to schedule your Eugene Botox consultation today.