Your options for achieving a firmer, flatter tummy
Pregnancy, aging, and weight fluctuation can wreak havoc on a person's abdomen, resulting in a loose, protruding belly flanked with sagging skin. Diet and exercise often are not enough to correct these problems, but a tummy tuck can. Called abdominoplasty in the plastic surgery world, a tummy tuck can reduce excess, sagging skin and tighten loose abdominal muscles to restore a firm, smooth, and flatter contour to your midsection.
Not only can this procedure help you get a beautiful shape to your core, but getting rid of all that excess skin will help your clothes fit you more comfortably. You may even find yourself shopping for garments you had long written off, like bikinis, tank tops, and high-waisted jeans.
Am I a good candidate for a tummy tuck?
A tummy tuck is intended to repair stretched, protruding abdominal wall muscles and remove excess, sagging skin and subcutaneous tissue to achieve a firmer, flatter, and slimmer abdomen. Because lasting results depend on you maintaining the integrity of the tightened abdominal wall, it is best if you postpone a tummy tuck if you are planning to have any more children, as future pregnancies can cause the skin and muscles to stretch again.
If any of the following describe you, chances are you may be a good candidate for a tummy tuck:
You have loose or sagging skin on your belly
Your stomach protrudes due to overstretched abdominal muscles
You are unable to tighten abdominal wall muscles with exercise
You are finished having children
"Knowing how I used to look before having kids, I had a hard time accepting what I was left with. It made me not like the way I was starting to feel about myself and around others. I now feel more confident than I did in high school. Your work is amazing and I truly appreciate what you've done for my self esteem."
What are my tummy tuck options?
No two tummy tuck patients have the same body shape before surgery or share the exact same goals for how they want to look. Dr. Movassaghi modifies his surgical technique to meet your goals and provide optimal results for your anatomy. While the specifics of each procedure vary, Dr. Movassaghi has found that the high lateral tension tummy tuck technique is most favored by his patients for its stunning results and smooth recovery.
High lateral tension tummy tuck
Dr. Movassaghi offers his patients a high lateral tension tummy tuck to tighten the abdominal muscles and remove excess skin from the upper and lower abdomen. Whereas a traditional tummy tuck typically only tightens skin between the navel and pubis, a high lateral tension tummy tuck allows Dr. Movassaghi to tighten skin on the entire abdomen as well as the waistline and thighs, resulting in a slimmer, more contoured abdomen that transitions smoothly into the hips and thighs.
A high lateral tension tummy tuck usually requires a slightly longer scar, but this makes it a very secure procedure, as maximum tension is applied to the entire incision, unlike a traditional tummy tuck. Dr. Movassaghi takes care to place the incision low on the abdomen, where it can be easily concealed by a bathing suit bottom.
Depending on the extent of surgery, recovery can take many weeks. However, once healed, a high lateral tension tummy tuck can result in a dramatic improvement in the feel and appearance of your abdomen, hips, and thighs.
Mommy makeover with tummy tuck
A tummy tuck is commonly performed as part of a mommy makeover, which is a personalized set of procedures designed to help restore breast and body contours affected by pregnancy, childbirth, and breastfeeding. Depending on your needs, your mommy makeover may include a tummy tuck, breast lift or augmentation, liposuction, or other select procedures to achieve your goals.
Does a tummy tuck remove excess fat?
Abdominoplasty is designed to remove excess sagging skin and tighten loose abdominal muscles. While Dr. Movassaghi will remove some excess subcutaneous fat during the procedure, another body contouring option such as liposuction or CoolSculpting may be more suitable if unwanted fat deposits are your primary concern. Dr. Movassaghi may also recommend liposuction at the time of abdominoplasty to enhance the results.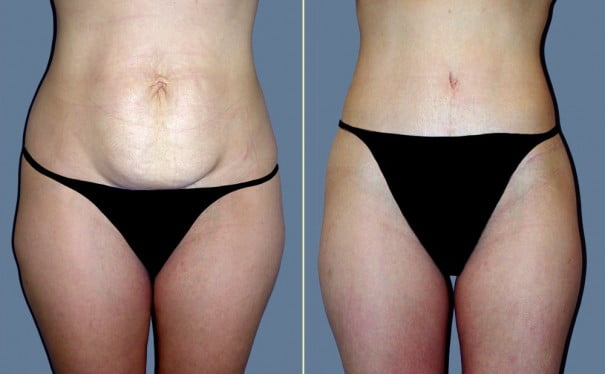 How is tummy tuck surgery performed?
A tummy tuck is usually performed under general anesthesia and is an outpatient procedure unless it is combined with a hysterectomy. Dr. Movassaghi performs surgery at McKenzie Surgery Center or Sacred Heart Medical Center in Eugene, Oregon.
What is recovery like from a tummy tuck?
Abdominoplasty is one of the more extensive plastic surgery procedures and therefore requires more time for recovery. You will be encouraged to walk around within 1 to 2 days, but you will need to avoid housework and other physical activities for at least 2 weeks. Actions that involve lifting or straining, such as picking up small children, will be off-limits for about 6 weeks, so be sure you have extra help with childcare.
Depending on the nature of your job, you should plan on taking a minimum of 2 weeks off of work, or longer if your job requires any physical activity. Light activity is comfortable in 10 to 20 days. Typically, exercise can be gradually resumed 8 to 12 weeks after surgery.
We cannot stress enough the importance of following post-operative instructions as you recover from tummy tuck surgery. Getting plenty of rest and letting your body heal will help you recover more quickly and help ensure that your results heal optimally. Our tummy tuck patients will tell you that recovery will present some challenges, but having a firm, flat abdomen for years to come will be worth it!
Schedule your Eugene tummy tuck consultation
If you are ready to begin enjoying the benefits of a slimmer, firmer figure, contact us online or call (541) 686-8700 for a consultation. Board-certified plastic surgeon Dr. Kiya Movassaghi has nearly 20 years of experience performing tummy tucks, liposuction, and mommy makeovers to help women in Eugene regain their confidence and achieve their desired shape.
Areas served: