Dr. Movassaghi welcomes you to our Eugene plastic surgery center & medical spa
At Dr. Movassaghi's office, our focus is cosmetic plastic surgery. You will experience our expertise from your first visit all the way through to your surgical recovery. Our dedicated and friendly team is here for you and will help answer all of your questions. We are committed to providing the best care.
Dr. Movassaghi has been serving the Eugene, Oregon area for over 20 years. Our office is an easy drive from Cal Young, Churchill, Downtown, Northeast Eugene, Southeast Eugene, Friendly,  Jefferson Westside, Crest Drive, West University, South University, Laurel Hill, and Fairmount. We are also convenient to the surrounding communities of Springfield, Marcola, Elmira, Alvadore, Franklin, Dexter, Alvadore, Corvallis, Albany, and Salem.
Kiya Movassaghi, MD, FACS, has served as President of the Northwest Society of Plastic Surgeons (NWSPS) and has been featured in Plastic Surgery Practice.
See additional mentions of Dr. Movassaghi in the media.
We are an Allergan Diamond Practice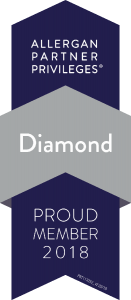 Dr. Movassaghi and our staff are honored to be named an Allergan Diamond Practice for 2018. This award is given only to the top aesthetic practices nationwide who provide Allergan products including CoolSculpting, BOTOX, Juvéderm, and Natrelle breast implants.
Earning our Diamond status reflects our commitment to excellence and shows that patients trust us to provide the very best in care and excellent results with these services. We couldn't have done this without you; we have the very best patients in Eugene—thank you!
Radiofrequency Microneedling Transforming Appearances
Dr. Movassaghi now offers Microneedling with Radiofrequency (RF) technology. Learn more this innovative non-surgical treatment.