Eugene Plastic Surgery Specials
Our Latest Cosmetic Surgery News & Skincare Specials
Every month we offer great special savings on cosmetic treatments and products and share info on the latest new treatment options to help you look your best. Keep checking back to stay updated about the latest news and special events going on here at Movassaghi Plastic Surgery and Ziba Medical Spa in Eugene. Or better yet, use the form to the right to sign up for our newsletter and we'll send the latest news right to your inbox!
News & Specials October 2019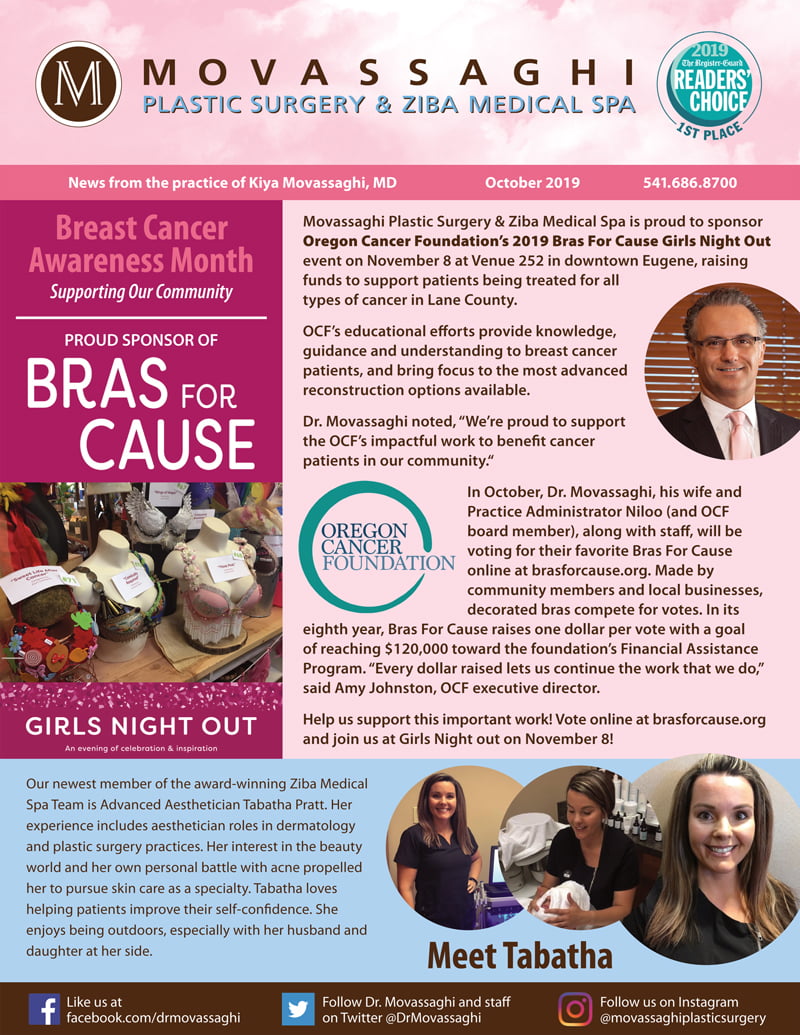 Supporting Our Community: Breast Cancer Awareness Month
Proud Sponsor of Bras for Cause Girls Night Out
Movassaghi Plastic Surgery & Ziba Medical Spa is proud to sponsor Oregon Cancer Foundation's 2019 Bras for Cause Girls Night Out event on November 8 at Venue 252 in downtown Eugene, raising funds to support patients being treated for all types of cancer in Lane County.
OCF's educational efforts provide knowledge, guidance, and understanding to breast cancer patients and bring focus to the most advanced reconstruction options available.
Dr. Movassaghi noted, "We're proud to support the OCF's impactful work to benefit cancer patients in our community."
In Octoer, Dr. Movassaghi, his wife and Practice Administrator Niloo (and OCF board member), along with staff, will be voting for their favorite Bras for Cause online at brasforcause.org. Made by community members and local businesses, decorated bras compete for votes. In its eighth year, Bras for Cause raises one dollar per vote with a goal of reaching $120,000 toward the foundation's Financial Assistance Program. "Every dollar raised lets us continue the work that we do," said Amy Johnston, OCF executive director.
Help us support this important work! Vote online at brasforcause.org and join us at Girls Night Out on November 8!
Meet Tabatha
Our newest member of the award-winning Ziba Medical Spa team is Advanced Aesthetician Tabatha Pratt. Her experience includes aesthetician roles in dermatology and plastic surgery practices. Her interest in the beauty world and her own personal battle with acne propelled her to pursue skin care as a specialty. Tabatha loves helping patients improve their self-confidence. She enjoys being outdoors, especially with her husband and daughter at her side.
NEW! Natrelle® Gel Rewards
Choose 1 FREE treatment with breast augmentation
Natrelle® INSPIRA breast implants are a top choice for our breast augmentation patients, offering a beautifully full shape with a remarkably soft, natural feel.
Eligible patients who choose Natrelle INSPIRA implants for their breast augmentation and a friend can choose the complimentary treatment or product of their choice from the following:*
One FREE CoolSculpting® treatment
BOTOX® Cosmetic treatment
SkinMedica® skincare package
*Terms and conditions apply; for qualified augmentation patients only. Must be first experience with BOTOX® Cosmetic or CoolSculpting® treatment. Patient has the ability to choose any physician of her choice. BOTOX® Cosmetic is available by prescription only. CoolSculpting® treatment is available only if physician has the CoolAdvantage™ applicator. A CoolSculpting® treatment is 1 CoolAdvantage™ cycle. CoolAdvantage™ is indicated for treating the abdomen, flanks, and inner thighs.
---
Read past newsletters and articles on our newsletter archive.
To stay informed of our news and specials, follow us on social media.
Instagram Facebook
---