Eugene Plastic Surgery Specials
Our Latest Cosmetic Surgery News & Skincare Specials
Every month we offer great special savings on cosmetic treatments and products and share info on the latest new treatment options to help you look your best. Keep checking back to stay updated about the latest news and special events going on here at Movassaghi Plastic Surgery and Ziba Medical Spa in Eugene. Or better yet, use the form to the right to sign up for our newsletter and we'll send the latest news right to your inbox!
December 2019 Specials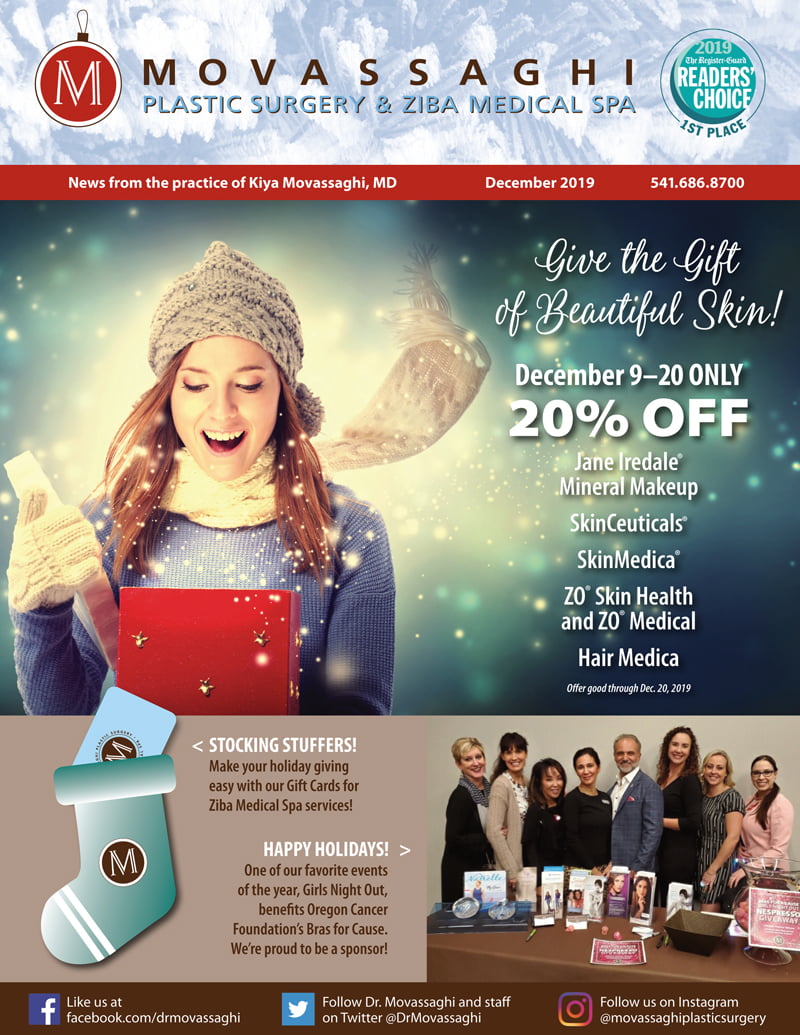 Give the Gift of Beautiful Skin
December 9-20 ONLY
Enjoy 20% OFF the following product lines:
Stocking Stuffers
Make your holiday giving easy with our gift cards for Ziba Medical Spa services!
Happy Holidays!
One of our favorite events of the year, Girls Night Out, benefits Oregon Cancer Foundation's Bras for Cause. We're proud to be a sponsor!
NEW! Natrelle® Gel Rewards
Choose 1 FREE treatment with breast augmentation
Natrelle® INSPIRA breast implants are a top choice for our breast augmentation patients, offering a beautifully full shape with a remarkably soft, natural feel.
Eligible patients who choose Natrelle INSPIRA implants for their breast augmentation and a friend can choose the complimentary treatment or product of their choice from the following:*
*Terms and conditions apply; for qualified augmentation patients only. Must be first experience with BOTOX® Cosmetic or CoolSculpting® treatment. Patient has the ability to choose any physician of her choice. BOTOX® Cosmetic is available by prescription only. CoolSculpting® treatment is available only if physician has the CoolAdvantage™ applicator. A CoolSculpting® treatment is 1 CoolAdvantage™ cycle. CoolAdvantage™ is indicated for treating the abdomen, flanks, and inner thighs.
---
Read past newsletters and articles on our newsletter archive.
To stay informed of our news and specials, follow us on social media.
Instagram Facebook
---