Eugene Plastic Surgery Specials
Our Latest Cosmetic Surgery News & Skincare Specials
Every month we offer great special savings on cosmetic treatments and products and share info on the latest new treatment options to help you look your best. Keep checking back to stay updated about the latest news and special events going on here at Movassaghi Plastic Surgery and Ziba Medical Spa in Eugene. Or better yet, use the form to the right to sign up for our newsletter and we'll send the latest news right to your inbox!
March 2020 Specials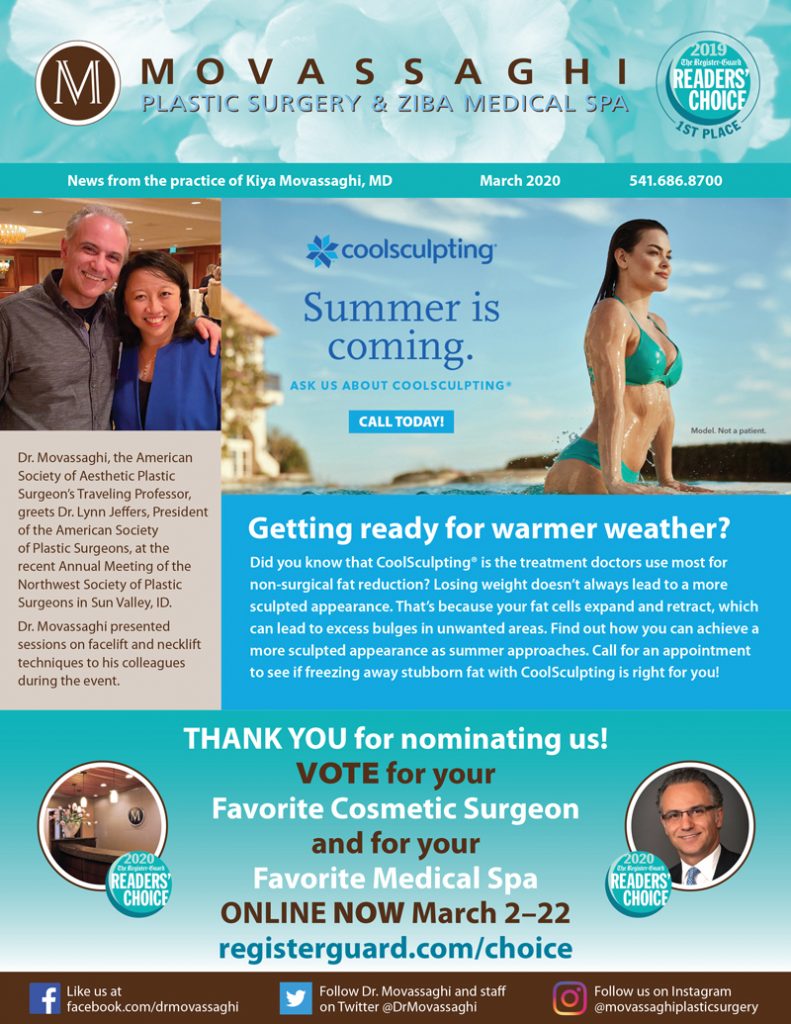 Annual meeting of the Northwest Society of Plastic Surgeons
Nominate now through February 7, 2020!
Dr. Movassaghi, the American Society of Aesthetic Plastic Surgeon's Traveling Professor, greeted Dr. Lynn Jeffers, President of the American Society of Plastic Surgeons, at the recent Annual Meeting of the Northwest Society of Plastic Surgeons in Sun Valley, ID.
Dr. Movassaghi presented sessions on facelift and neck lift techniques to his colleagues during the event.
Summer is Coming. Ask Us About CoolSculpting
Getting ready for warmer weather? Did you know that CoolSculpting is the treatment doctors use most for non-surgical fat reduction? Losing weight doesn't always lead to a more sculpted appearance. That's because your fat cells expand and retract, which can lead to excess bulges in unwanted areas. Find out how you can achieve a more sculpted appearance as summer approaches. Call for an appointment to see if freezing away stubborn fat with CoolSculpting is right for you!
Thank you for your nomination!
You can now VOTE for your Favorite Cosmetic Surgeon (Dr. Kiya Movassaghi) and Favorite Medical Spa (Ziba Medical Spa) online from March 2 – 22, 2020 at registerguard.com/choice. 
---
Read past newsletters and articles on our newsletter archive.
To stay informed of our news and specials, follow us on social media.
Instagram Facebook
---