Eugene Plastic Surgery Specials
Our Latest Cosmetic Surgery News & Skincare Specials
Every month we offer great special savings on cosmetic treatments and products and share info on the latest new treatments options to help you look your best. Keep checking back to stay updated about our the latest news and special events going on here at Movassaghi Plastic Surgery and Ziba Medical Spa in Eugene. Or better yet, use the form to the right to sign up for our newsletter and we'll send the latest news right to your inbox!
News & Specials October 2017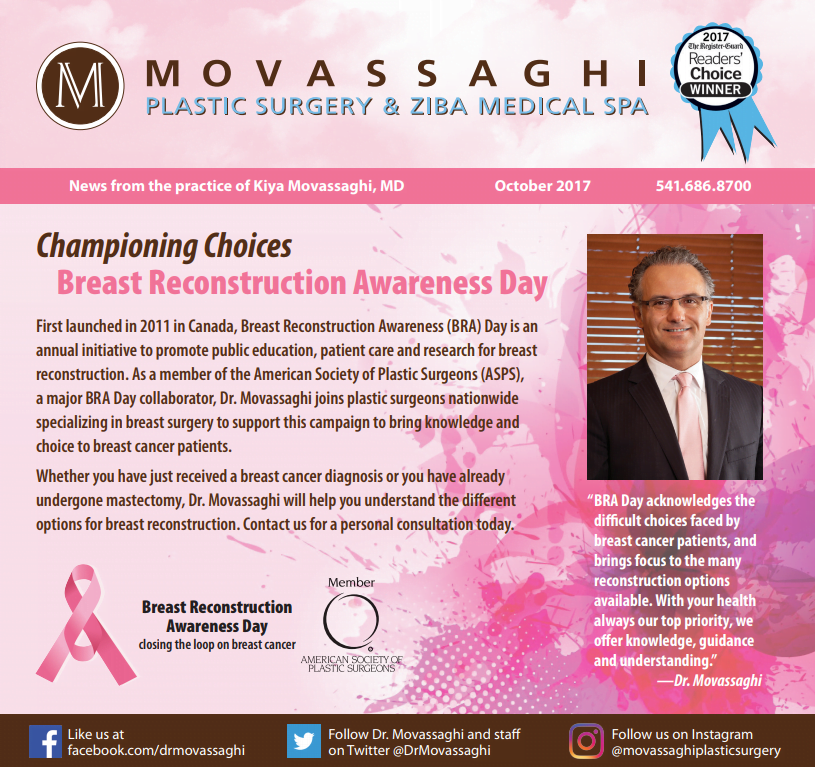 Championing Choices: Breast Reconstruction Awareness Day
First launched in 2011 in Canada, Breast Reconstruction Awareness (BRA) Day is an annual initiative to promote public education, patient care and research for breast reconstruction. As a member of the American Society of Plastic Surgeons (ASPS), a major BRA Day collaborator, Dr. Movassaghi joins plastic surgeons nationwide specializing in breast surgery to support this campaign to bring knowledge and choice to breast cancer patients.
Whether you have just received a breast cancer diagnosis or you have already undergone mastectomy, Dr. Movassaghi will help you understand the different options for breast reconstruction. Contact us for a personal consultation today.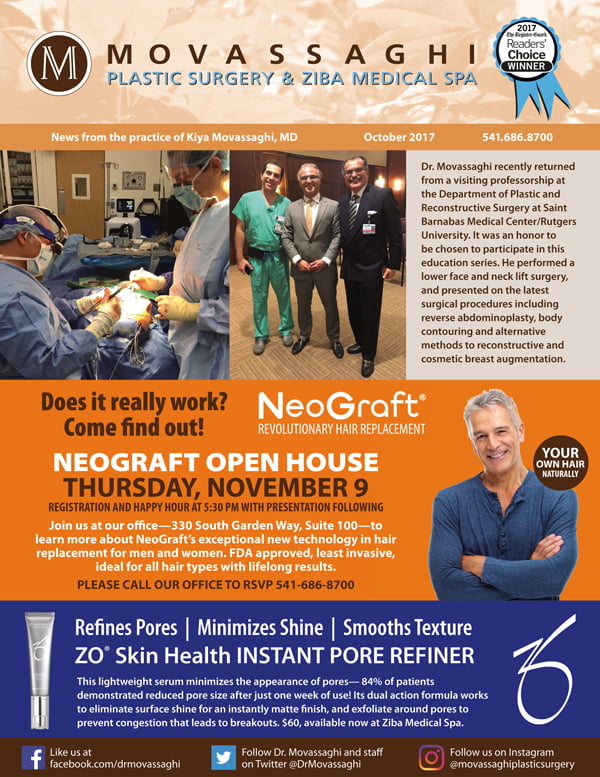 News from Dr. Kiya Movassaghi
Dr. Movassaghi recently returned from a visiting professorship at the Department of Plastic and Reconstructive Surgery at Sain barnabas Medical Center/Rutgers University. It was an honor to be chosen to participate in this education series. He performed a lower face and neck lift surgery and presented on the latest surgical procedures, including reverse abdominoplasty, body contouring, and alternative methods for reconstructive and cosmetic breast augmentation.
Does NeoGraft really work? Come find out!
NeoGraft Open House, Thursday, November 9th. Registration and happy hour begins at 5:30 PM with presentation following
Join us at our office—330 South Garden Way, Suite 100—to learn more about NeoGraft's exceptional new technology for hair replacement for men and women. FDA approved, least invasive, ideal for all hair types with lifelong results.
Please call our office to RSVP 541-686-8700
ZO® Skin Health INSTANT PORE REFINER
Refines pores, minimizes shine, smooths texture
This lightweight serum minimizes the appearance of pores—84% of patients demonstrated reduced pore size after just one week of use! Its dual action formula works to eliminate surface shine for an instantly matte finish, and exfoliates around pores to prevent congestion that leads to breakouts. $60, available at Ziba Medical Spa
---
Read past newsletters and articles on our newsletter archive.
To stay informed of our news and specials, follow us on social media.

---