Our Latest Cosmetic Surgery News & Skincare Specials
Every month we offer great special savings on cosmetic treatments and products and share info on the latest new treatment options to help you look your best. Keep checking back to stay updated about the latest news and special events going on here at Movassaghi Plastic Surgery and Ziba Medical Spa in Eugene. Or better yet, use the form to the right to sign up for our newsletter and we'll send the latest news right to your inbox!
Hot off the presses!!!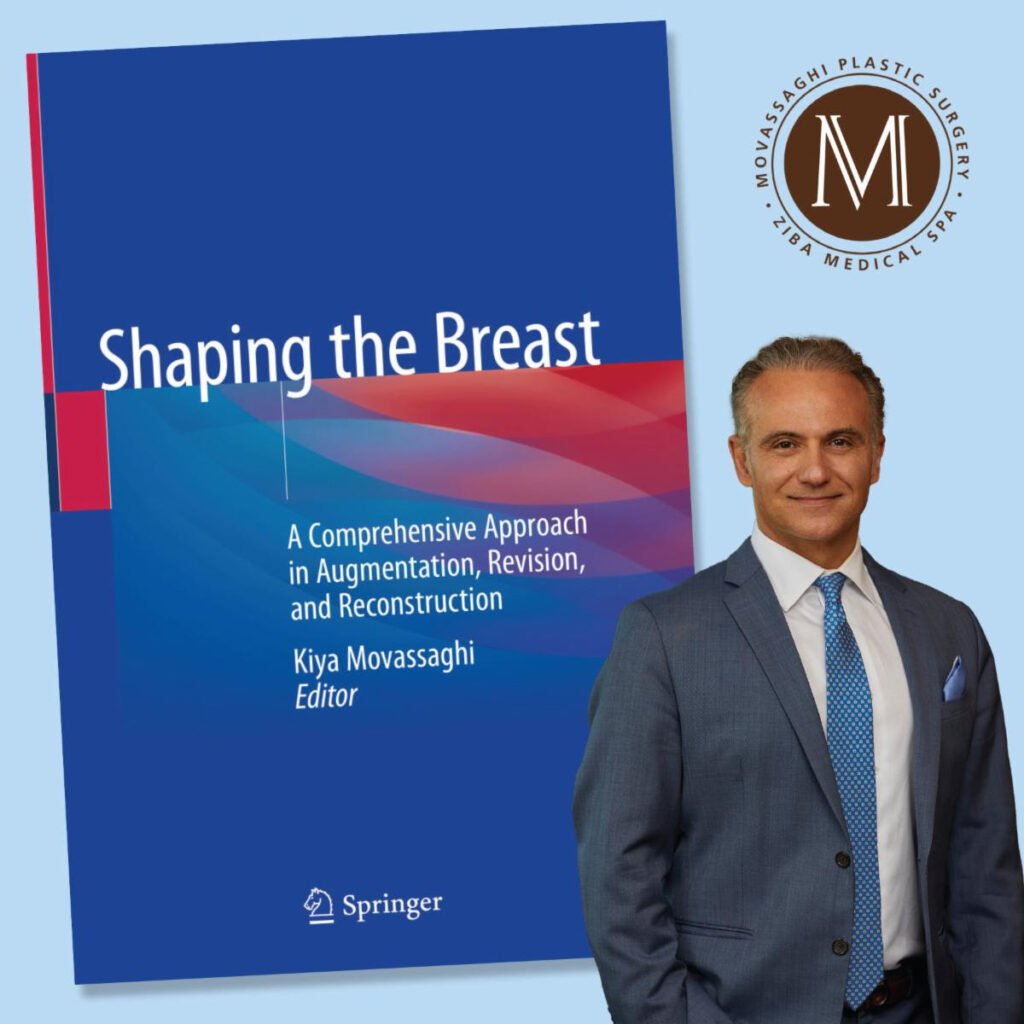 Shaping the Breast: A Comprehensive Approach in Augmentation, Revision, and Reconstruction, edited by Dr. Movassaghi and published by Springer, a global publisher that serves and supports the research community, was released this week.
"Shaping the Breast grew out of my discontent as a resident, and later as a practicing surgeon, with the lack of a precise roadmap to approach the fundamentals of breast surgery to achieve optimal results. Despite the vast number of publications on breast surgery, I felt that there was a deficit in easy-to-process, yet detailed source of information that brought all of the concepts together. With observation, surgical experience, and better devices, my approach to breast surgery has evolved from 'volumizing' the breast to 'shaping' the breast. This vision was the launching pad for the book," Dr. Movassaghi said.
A strong advocate of education within his field, Dr. Movassaghi noted, "While no single textbook can provide an encyclopedic presentation of such a broad-based discipline, this book has been designed to provide a foundation of information useful at every level of experience and to stimulate further self-directed education. The authors have been selected to provide information based on their experience, enthusiasm, and teaching skills."
"It has been my privilege to work with this dedicated group of educators and surgeons," Dr. Movassaghi added.
Shaping the Breast is available in hardcover and eBook through springer.com or Amazon.
Dr. Movassaghi joins ASAPS Executive Board
The American Society for Aesthetic Plastic Surgery (ASAPS), known as The Aesthetic Society, recently welcomed Dr. Movassaghi to the Executive Board.
ASAPS is the leading professional organization of plastic surgeons certified by the American Board of Plastic Surgery who specialize in aesthetic plastic surgery. With more than 2,500 members in the US and Canada and international members in several countries, the Society is at the forefront of innovation and education in aesthetic plastic surgery around the world.
"I am honored to be selected to sit on this exclusive board," said Dr. Movassaghi. "It's important that we are looking for innovations in science as we continue to advance the safe practices of aesthetic plastic surgery and cosmetic medicine."
The mission of ASAPS includes continuing medical education, public education, and patient advocacy. In this current environment, their work is particularly important as they continue to advance the safe practice of aesthetic plastic surgery.
Dr. Movassaghi has been a member of the Aesthetic Society for more than 15 years because it maintains the highest standards of ethical conduct for medical professionals in the community. Only about one-quarter of all American Board of Plastic Surgery certified surgeons have been accepted as ASAPS members. In addition, he has served as chair of the ASAPS Membership and Symposium committees and is an ASAPS Traveling Professor.
"Education is a key part of my practice, and I am enjoying my role as a traveling professor," added Dr. Movassaghi. "I look forward to furthering the research in our field."
Primarily an education organization, the Aesthetic Society also collects data on cosmetic plastic surgery, publishes annual statistics on the number of cosmetic procedures performed, and supports scientific and clinical studies in cosmetic plastic surgery.
A Quick Guide: What to know before your appointment
With Lane County's Phase 1 reopening guidelines in place during the COVID-19 pandemic, we are able to see patients in our offices again. Things will be different—for your health and the health of our staff—and it will take time to adjust.
What to know before your appointment:
If you are ill, stay at home. Call us to cancel or reschedule your appointment.
Call when you arrive, on time or earlier.
Wait in your car or in the main lobby outside our office. We will call or text you when we are ready for you.
Bring and wear your own mask.
We'll ask you some COVID-19 related questions.
We'll take your temperature.
You can sanitize or wash your hands after you enter the office.
Only patients receiving services are allowed in the office, unless an adult with a minor or a caregiver needs to be present.
Need skincare products? Call us to place your order and arrange for curbside pickup.
We'll be calling you to reschedule missed appointments, confirm scheduled appointments, or let you know if we need to make changes. This process will take time, and we appreciate your understanding.
---
Read past newsletters and articles on our newsletter archive.
To stay informed of our news and specials, follow us on social media.
Instagram Facebook
---