Eugene Plastic Surgery Specials
Our Latest Cosmetic Surgery News & Skincare Specials
Every month we offer great special savings on cosmetic treatments and products and share info on the latest new treatments options to help you look your best. Keep checking back to stay updated about our the latest news and special events going on here at Movassaghi Plastic Surgery and Ziba Medical Spa in Eugene. Or better yet, use the form to the right to sign up for our newsletter and we'll send the latest news right to your inbox!
News & Specials November 2018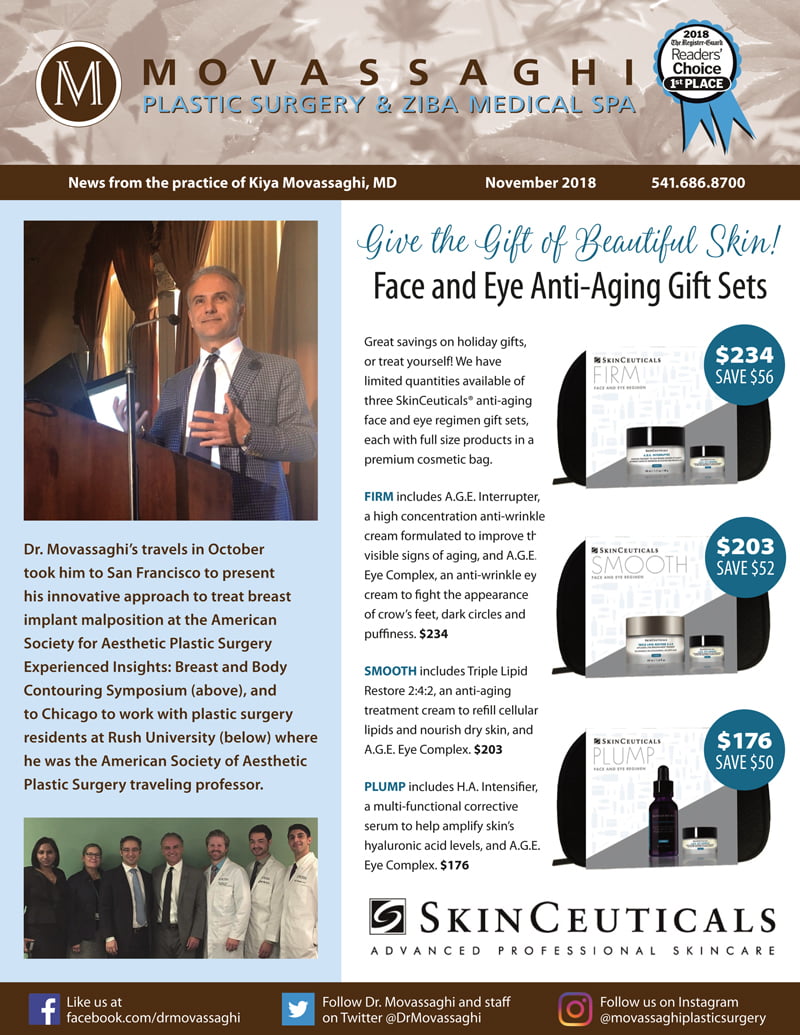 Dr. Movassaghi Shares His Expertise in San Francisco & Chicago
Dr. Movassaghi's travels in October took him to San Francisco to present his innovative approaching for treating breast implant malposition at the American Society for Aesthetic Plastic Surgery Experienced Insights: Breast and Body Contouring Symposium, and to Chicago to work with plastic surgery residents at Rush University, where he was the American Society of Aesthetic Plastic Surgery traveling professor.
Give the Gift of Beautiful Skin!
Face and Eye Anti-Aging Gift Sets
Great savings on holiday gifts or treat yourself! We have limited quantities available of three SkinCeuticals® anti-aging face and eye regiment gift sets, each with full-size products in a premium cosmetic bag.
FIRM includes A.G.E. Interrupter, a high concentration anti-wrinkle cream formulated to improve the visible signs of again plus A.G.E. Eye Complex, an anti-wrinkle eye cream to fight the appearance of crow's feet, dark circles, and puffiness. $234 (savings of $56)
SMOOTH includes Tiple Lipid Restore 2:4:3, an anti-aging treatment cream to refill cellular lipids and nourish dry skin plus A.G.E. Eye Complex. $203 (savings of $52)
PLUMP includes H.A. Intensifier, a multi-functional corrective serum to help amplify skin's hyaluronic acid levels plus A.G.E. Eye Complex. $176 (savings of $50)
---
NEW! Natrelle® Gel Rewards for 2018
Choose 1 FREE treatment with breast augmentation
Natrelle® INSPIRA breast implants are a top choice for our breast augmentation patients, offering a beautifully full shape with a remarkably soft, natural feel.
Eligible patients who choose Natrelle INSPIRA implants for their breast augmentation and a friend can choose the complimentary treatment or product of their choice from the following:*
NEW for 2018: One FREE CoolSculpting® treatment
BOTOX® Cosmetic treatment
SkinMedica® skincare package
*Terms and conditions apply; for qualified augmentation patients only. Must be first experience with BOTOX® Cosmetic or CoolSculpting® treatment. Patient has the ability to choose any physician of her choice. BOTOX® Cosmetic is available by prescription only. CoolSculpting® treatment is available only if physician has the CoolAdvantage™ applicator. A CoolSculpting® treatment is 1 CoolAdvantage™ cycle. CoolAdvantage™ is indicated for treating the abdomen, flanks, and inner thighs.
---
Read past newsletters and articles on our newsletter archive.
To stay informed of our news and specials, follow us on social media.

---