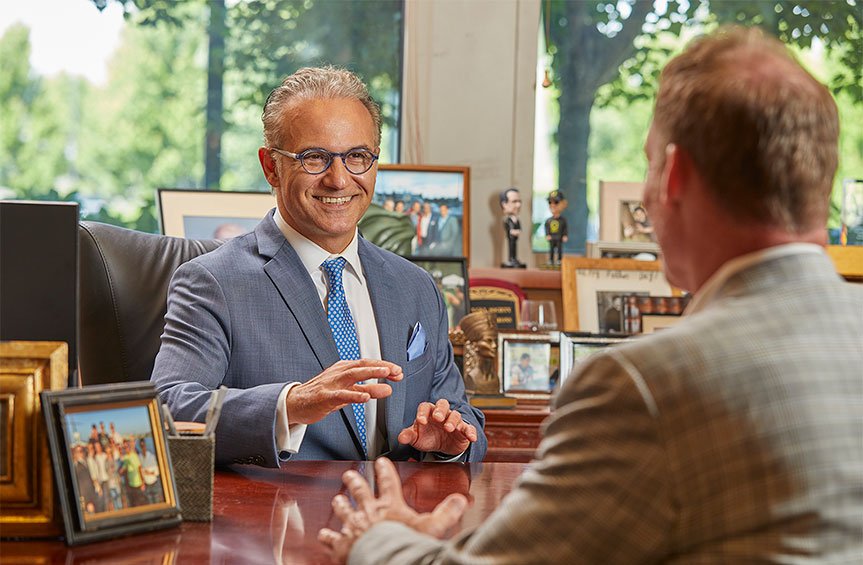 Dr. Movassaghi featured in The Aesthetic Society's award-winning docuseries "Beyond the Before and After"
Episode 3 of "Beyond the Before and After" features Dr. Movassaghi and his patient, Eva. The film follows Eva's journey with breast cancer and her path to becoming the new woman she is today. She didn't want to lose what made her feel feminine and getting breast reconstruction surgery with her double mastectomy made her feel whole again. You can watch the full series and learn more at https://www.theaestheticsociety.org/beyondthebeforeandafter. Dr. Movassaghi has been a proud member of The Aesthetic Society since 2006.
Dr. Movassaghi featured in New Beauty
Dr. Movassaghi's breast reconstruction patient shares her experience with New Beauty in this touching feature "The Reconstructive Procedure that Helped This Breast Cancer Patient Feel Whole Again".
Dr. Movassaghi featured in Plastic Surgery Practice
Dr. Movassaghi has served as President of the Northwest Society of Plastic Surgeons (NWSPS) and is featured in Plastic Surgery Practice. NWSPS represents more than 350 member physicians from Washington, Oregon, Idaho, British Columbia, Alaska, and Hawaii.
---
Oregon Cancer Foundation Elects Niloo Marashi-Movassaghi to Board Presidency
The Board of Directors of the Oregon Cancer Foundation (OCF) has elected Practice Administrator Niloo Marashi-Movassaghi to hold the office of President, a one-year term. Niloo has been an active OCF board member since joining the organization in April of 2018, recently holding the office of Vice President.
"It is such an honor and pleasure to serve in this leadership position supporting local cancer patients and their families," Niloo said. "Throughout the past decade, OCF has empowered, strengthened, and sustained those impacted by cancer in our community through educational programs, support groups, and financial assistance. All of the funds raised by OCF help patients in Lane County, which makes the Foundation unique. Since 2017 we have provided more than $350,000 in financial assistance for Lane County cancer patients."
She continued, "We offer more than 50 educational classes each year and more than 35 support groups. And, in 2020, thanks to an incredibly generous bequest, we have added a breast cancer resource coordinator. The work we do would not be possible without the help of hundreds of volunteers and the generous financial support of our community."
---
Dr. Movassaghi is a 11x winner of Register-Guard Readers' Choice Award!
The Register-Guard 11th annual Readers' Choice is a community-driven contest where readers vote on "what's best about living in Lane County". Dr. Movassaghi is a 11-time winner in the Cosmetic Surgeon category. Ziba Medical Spa was also voted first place for "Best Medical Spa" in 2019 and 2022.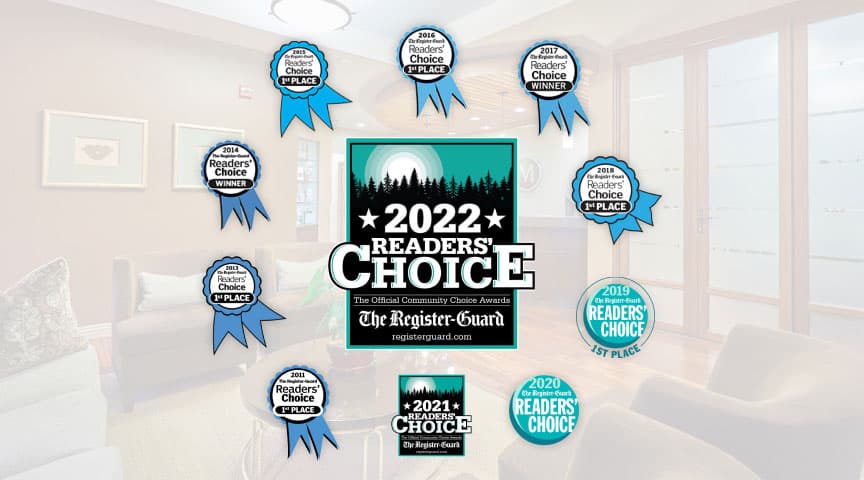 ---
Dr. Movassaghi's seminal breast implant textbook
Dr. Movassaghi is the editor of Shaping the Breast: A Comprehensive Approach in Augmentation, Revision, and Reconstruction, published by Springer in 2021. This book serves as a detailed source of information on the fundamentals of implant-based breast surgery for optimal results and affirms Dr. Movassaghi as one of the pre-eminent authorities on breast augmentation in the U.S.
---
Dr. Movassaghi featured in Eugene Magazine Spring 2022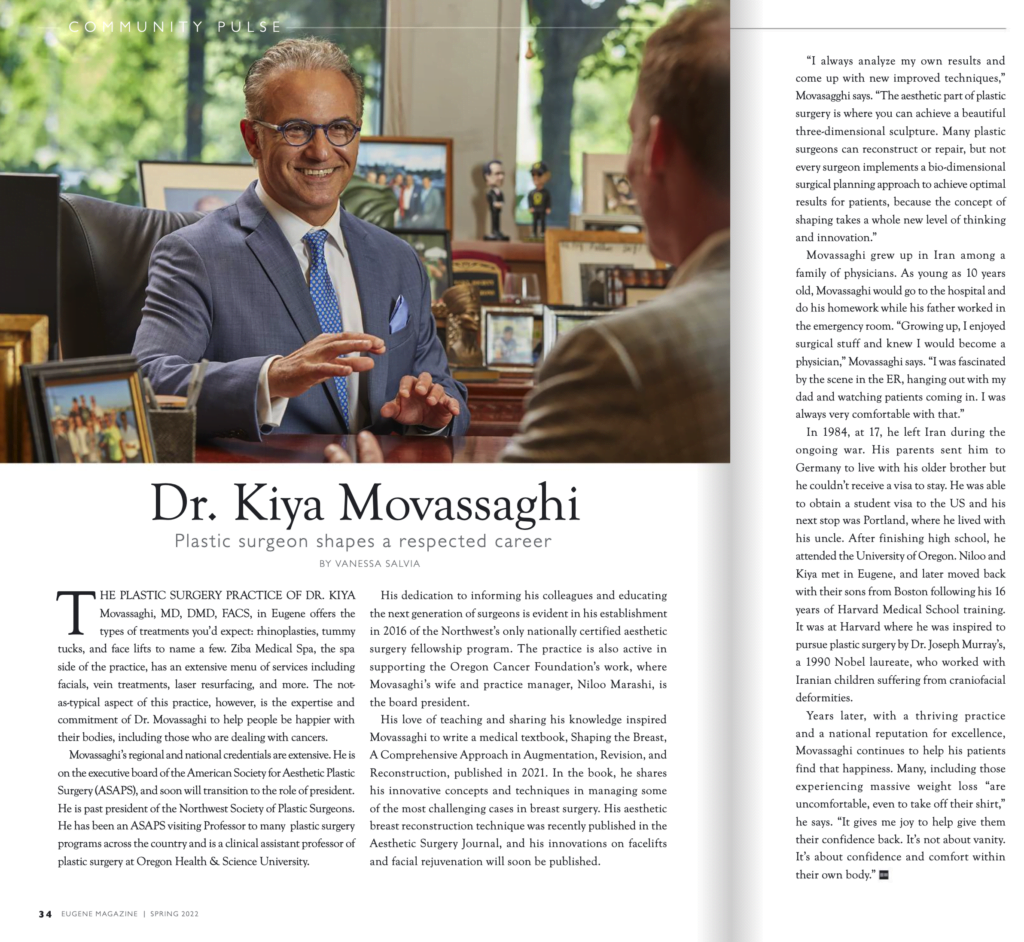 Eugene Magazine featured an article about how plastic surgeon, Dr. Kiya Movassaghi, shaped a respected career.
The not-as-typical aspect of this practice … is the expertise and commitment of Dr. Movassaghi to help people be happier with their bodies, including those who are dealing with cancers.
Read the Full Eugene Magazine article here »
---
Dr. Movassaghi featured in Eugene Magazine "Health & Wellness" Fall 2012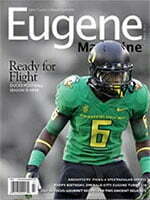 When Dr. Kiya Movassaghi opened his cosmetic surgery practice in Eugene in 2002, there were few options available besides surgery for those looking to tighten skin in certain areas of the body and remove unwanted fat.
"The gap between surgery and no surgery was wide, and there was nothing in between," says Movassaghi. It was with this in mind that he sought out the latest in noninvasive technologies for body contouring and skin tightening for his practice's Ziba Medical Spa.
When Dr. Movassaghi moved into his new office at Garden Way Medical Center in 2008, he set it up to include the expanded services of Ziba Medical Spa. He was seeing patients who could benefit from ongoing skin care, patients who could benefit from post-surgical skincare, and patients who were not ready for surgery but wanted to maintain their skin. "I realized very quickly that a medical spa where I could provide these kinds of advanced skincare treatments under medical supervision was necessary," says Movassaghi.
Ziba ("beautiful" in Persian) offers a wide spectrum of medical-grade spa treatments, including microdermabrasion, peels, laser vein treatment, and laser hair removal & cosmetic laser treatment. "Teaching our patients about great skincare and helping them maintain their skin is part of the whole program," says practice administrator and office manager Niloo Marashi.
"I not only enjoy doing the surgery, I enjoy the artistic part of it," says Movassaghi, a Harvard Medical School graduate who also completed his plastic surgery training there. "I see firsthand the impact that I have on people's lives because I am changing the shape of something they carry with them their whole lives. I think that is a wonderful thing."
Download full article as PDF »
---
A welcome message from Dr. Movassaghi
---
Interview with Dr. Movassaghi on KVAL TV Channel 13
---
Interview with Dr. Movassaghi on The Plastic Surgery Channel