Testimonials*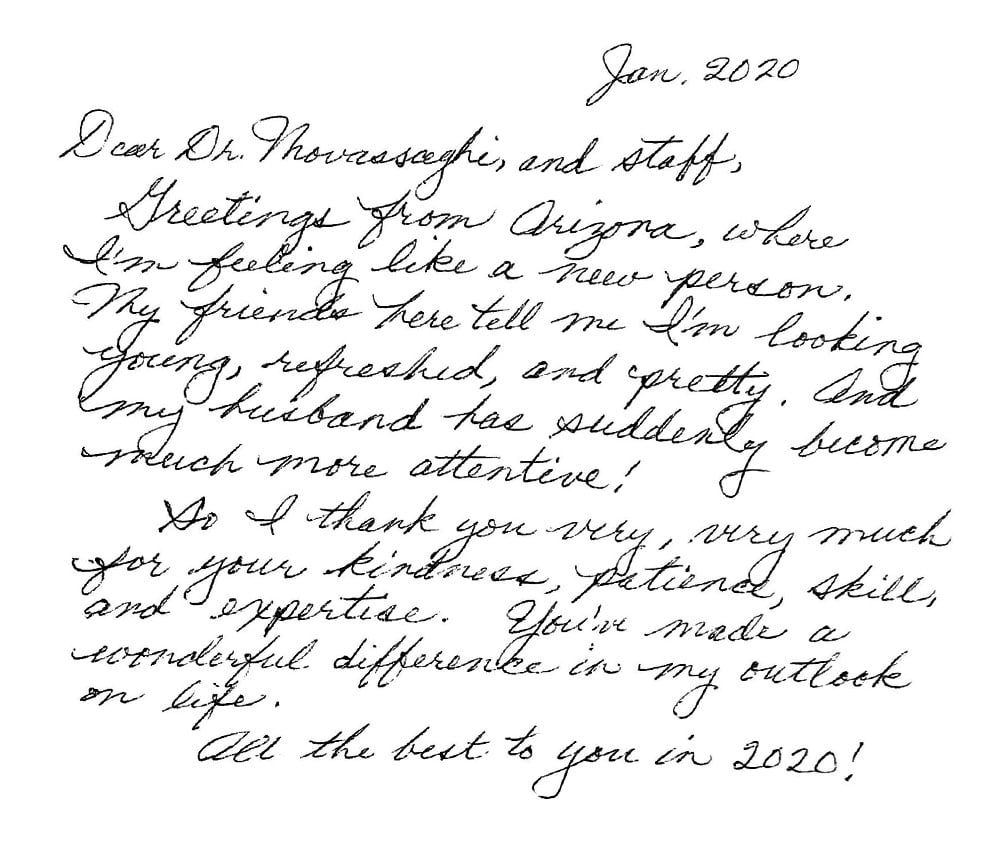 "Dear Dr. Movassaghi and staff,
Greetings from Arizona, where I'm feeling like a new person. My friends here tell me I'm looking young, refreshed, and pretty. And my husband has suddenly become much more attentive!
So I thank you very, very much for your kindness, patience, skill, and expertise. You've made a wonderful difference in my outlook on life.
All the best to you in 2020!"
---
"Dr. Movassaghi-You made a lifelong dream come true! It is so hard to put your trust into someone especially when it comes to your face! Thank you for easing my stress & working your magic! Forever grateful!"– M (Actual Patient)
---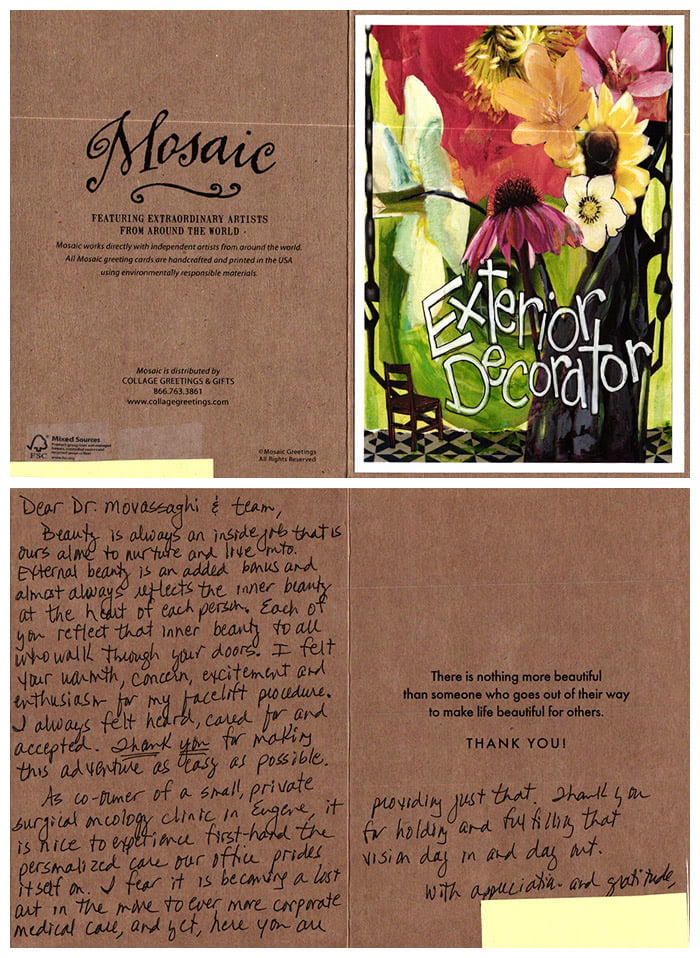 Dear Dr. Movassaghi & team,
Beauty is always an inside job that is ours alone to nurture and live into. External beauty is an added bonus and almost always reflects the inner beauty at the heart of each person. Each of you reflect that inner beauty to all who walk through your doors. I felt your warmth, concern, excitement and enthusiasm for my facelift procedure. I always felt heard, cared for and accepted. Thank you for making this adventure as easy as possible.
As co-owner of a small, private surgical oncology clinic in Eugene, it is nice to experience first-hand the personalized care our office prides itself on. I fear it is becoming a lost art in the move to ever more corporate medical care, and yet, here you are providing just that. Thank you for holding and fulfilling that vision day in and day out.
With appreciation and gratitude,
---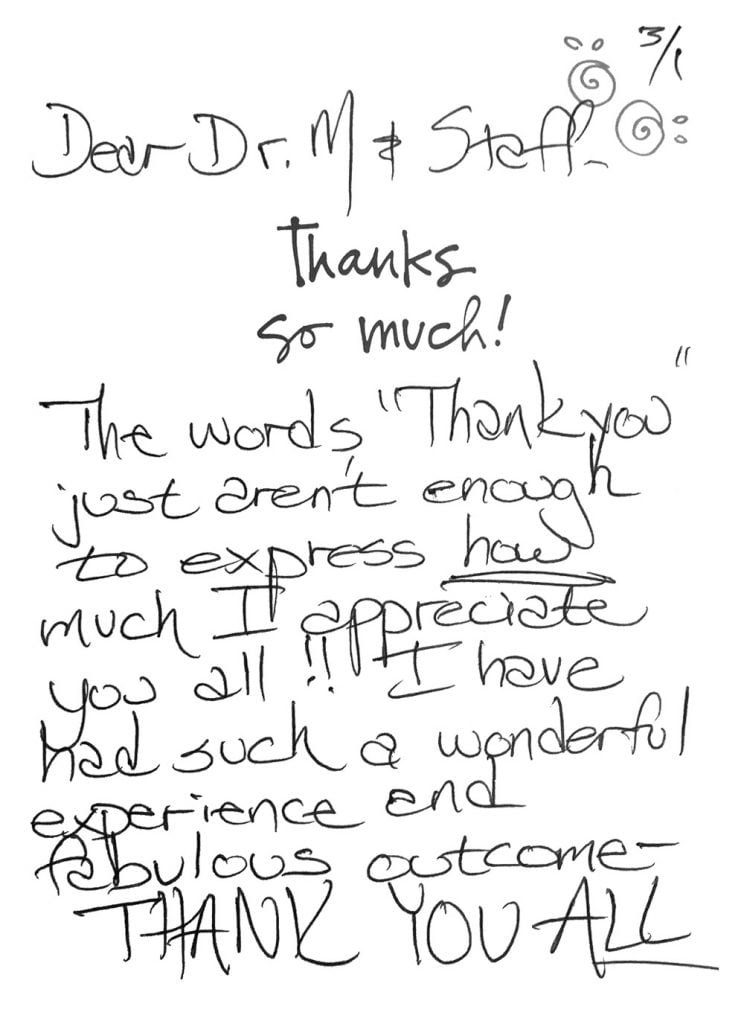 3/1
Dear Dr. M & Staff,
Thanks so much!
The words "Thank you" just aren't enough to express how much I appreciate you all!! I have had such a wonderful experience and fabulous outcome – THANK YOU ALL
---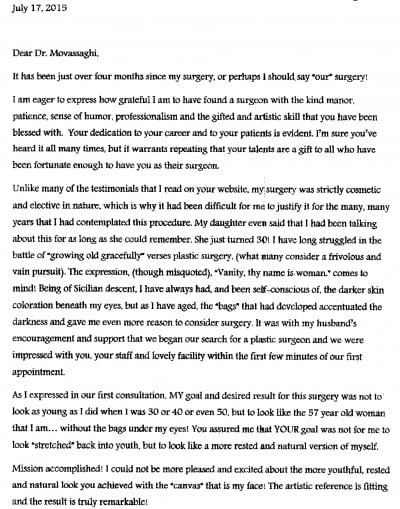 July 17, 2015
Dear Dr. Movassaghi,
It has been just over four months since my surgery, or perhaps I should say "our" surgery!
I am eager to express how grateful I am to have found a surgeon with the kind manor, patience, sense of humor, professionalism and the gifted and artistic skill that you have been blessed with. Your dedication to your career and to your patients is evident. I'm sure you've heard it all many times, but it warrants repeating that your talents are a gift to all who have been fortunate enough to have you as their surgeon.
Unlike many of the testimonials that I read on your website, my surgery was strictly cosmetic and elective in nature, which is why it had been difficult for me to justify it for the many, many years that I had contemplated this procedure. My daughter even said that I had been talking about this for as long as she could remember. She just turned 30! I have long struggled in the battle of "growing old gracefully" versus plastic surgery, (what many consider a frivolous and vain pursuit). The expression, (though misquoted), "Vanity, thy name is woman" comes to mind! Being of Sicilian descent, I have always had, and been self-conscious of, the darker skin coloration beneath my eyes, but as I have aged, the "bags" that had developed accentuated the darkness and gave me even more reason to consider surgery. It was with my husband's encouragement and support that we began our search for a plastic surgeon and we were impressed with you, your staff and lovely facility within the first few minutes of our appointment.
As I expressed in our first consultation. MY goal and desired result for this surgery was not to look as young as I did when I was 30 or 40 or even 50, but to look like the 57 year old woman that I am … without the bags under my eyes! You assured me that YOUR goal was not for me to look "stretched" back into youth, but to look like a more rested and natural version of myself.
Mission accomplished! I could not be more pleased and excited about the more youthful, rested, and natural look you achieved with the "canvas" that is my face! The artistic reference is fitting and the result is truly remarkable!
Speaking of remarkable … I must also comment on the kindness of your staff. You have a splendid team of delightful, caring, efficient and professional women whom I have so appreciated through this experience. Please extend our compliments and gratitude to them as well.
Again [my husband] and I would both like to thank you for all you have done and the care you have given over the past several months. Needless to say, we will be anxious to recommend you to anyone seeking a plastic surgeon.
With Gratitude and Warmest Regards,
P.S. You might be interested to know that about four weeks ago I stopped using the Erythromycin. Since that very day, the chemosis began to diminish and in about two weeks, completely healed. I can't help but wonder if I simply had an allergic reaction to it. Enjoy the summer. See you in September!
---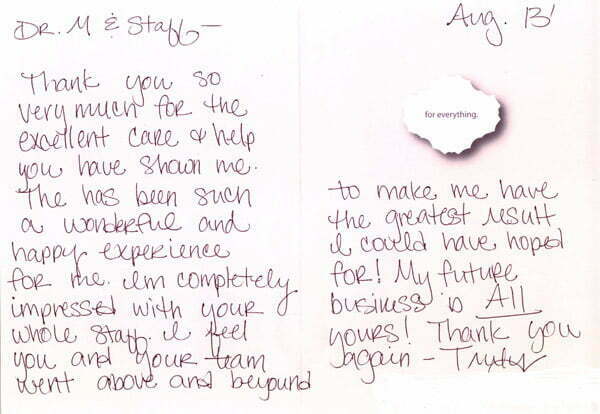 August, 2013
Dr. M & Staff –
Thank you so very much for the excellent care & help you have shown me. This has been such a wonderful and happy experience for me. I'm completely impressed with your whole staff. I feel you and your team went above and beyond to make me have the greatest result I could have hoped for! My future business is ALL yours! Thank you again.
– Truly
---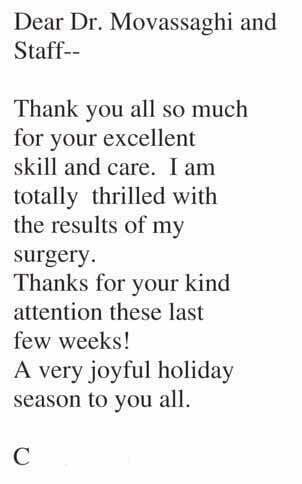 December, 2012
Dear Dr. Movassaghi and Staff–
Thank you all so much for your excellent skill and care. I am totally thrilled with the results of my surgery. Thanks for your kind attention these last few weeks! A very joyful holiday season to you all.
C
---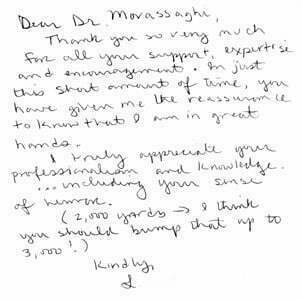 April, 2012
Dear Dr. Movassaghi,
Thank you so very much for all your support, expertise and encouragement. In just this short amount of time, you have given me the reassurance to know that I am in great hands.
I truly appreciate your professionalism and knowledge. …including your sense of humor.
(2,000 yards -> I think you should bump that up to 3,000!)
Kindly,
L
---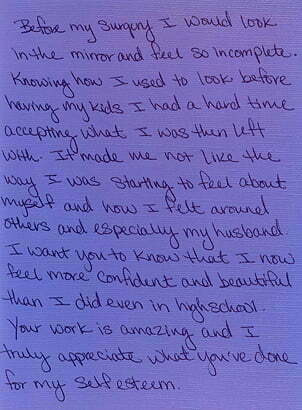 April, 2012
Before my surgery I would look in the mirror and feel so incomplete. Knowing how I used to look before having my kids I had a hard time accepting what I was then left with. It made me not like the was I was starting to feel about myself and how I felt around others and especially my husband. I want you to know that I now feel more confident than I did even in highschool. Your work is amazing and I truly appreciate what you've done for my self esteem.
---
March, 2012
Dr. Movassaghi and Staff,
I wanted to express my appreciation for a job well done. Only a week out since my procedures & I am loving my results. You & your staff are thanked for all of the above & beyond I received. The repair of hernias will leave my stomach looking much better than before & the perfection in fixing my breast asymmetry was right on the mark. I am very pleased & appreciate your work ethic & skill.
---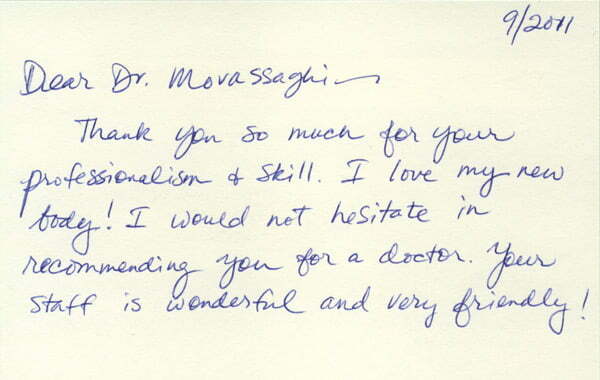 October 5, 2011
Dear Dr. Movassaghi,
Thank you so much for your professionalism & skill. I love my new body! I would not hesitate in recommending you for a doctor. Your staff is wonderful and very friendly!
---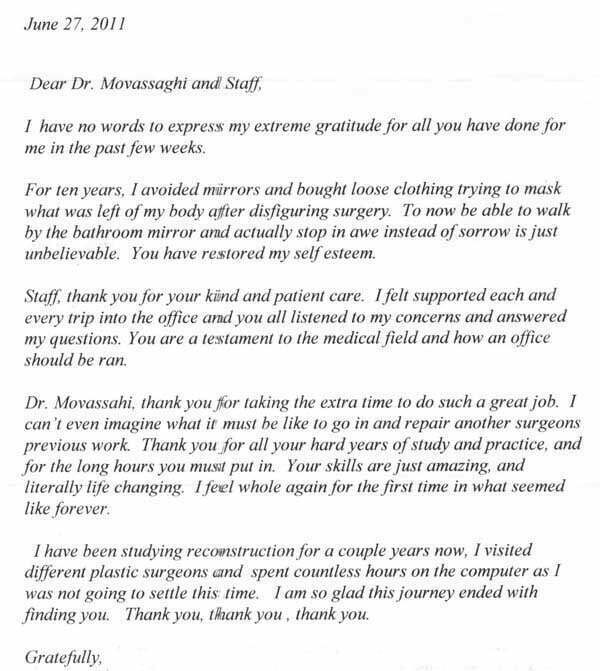 June 27, 2011
Dear Dr. Movassaghi and Staff,
I have no words to express my extreme gratitude for all you have done for me in the past few weeks.
For ten years, I avoided mirrors and bought loose clothing to try to mask what was left of my body after disfiguring surgery. To now be able to walk by the bathroom mirror and actually stop in awe instead of sorrow is just unbelievable. You have restored my self esteem.
Staff, thank youf or you kind and patient care. I felt supported each and every trip into the office and you all listened to me concerns and answered my questions. You are a testament to the medical field and how an office should be ran.
Dr. Movassaghi, thank you for taking the extra time to do such a great job. I can't even imagine what it must be like to go in and repair another surgeon's previous work. Thank you for all your hard years of study and practice, and for the long hours you must put in. Your skills are amazing and literally life changing. I feel whole again for the first time in what seemed like forever.
I have been studying reconstruction for a couple of years now, I visited different plastic surgeons and spent countless hours on the computer as I was not going to settle this time. I am so glad this journey ended with finding you. Thank you, thank you, thank you.
Gratefully,
---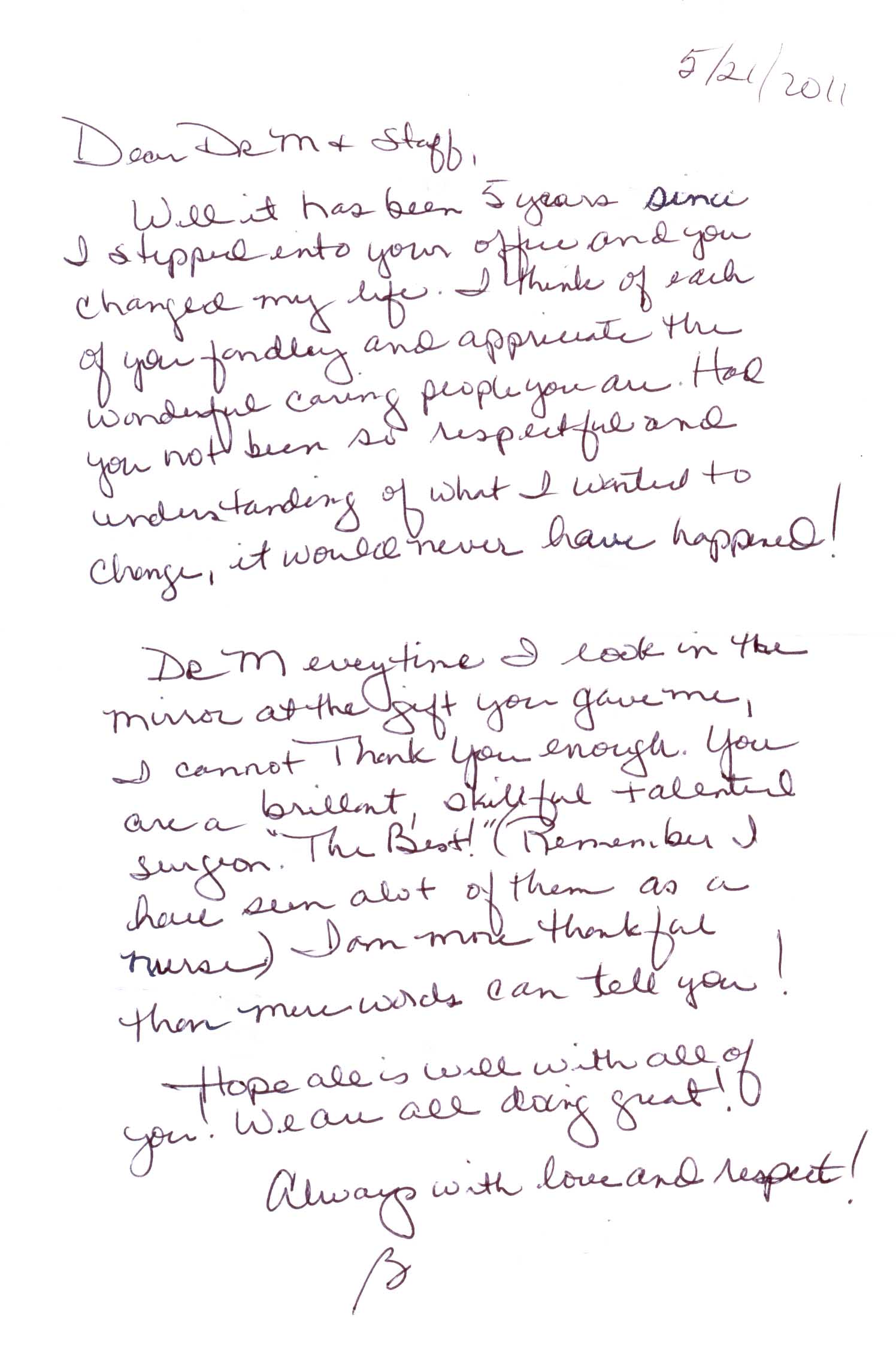 May 5, 2011
Dear Dr. M and Staff,
Well, it has been 5 years since I stepped into your office and you changed my life. I think of each of you fondly and appreciate the wonderful caring people you are. Had you not been so respectful and understanding of what I wanted to change, it would never have happened!
Dr. M every time I look in the mirror at the gift you gave me, I cannot Thank You enough. You are a brilliant, skillful, talented surgeon. "The Best!" (Remember I have seen a lot of them as a nurse.) I am more thankful than mere words can tell you!
Hope all is well with all of you. We are all doing great!
Always with love and respect.
B
---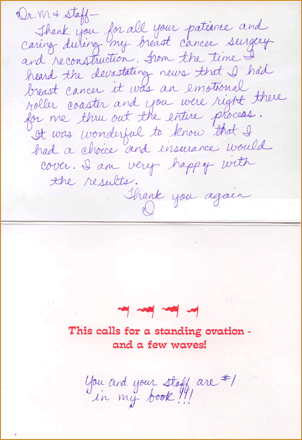 April 11, 2011
Dr. M & staff –
Thank you for all your patience and caring during my breast cancer surgery and reconstruction. From the time I heard the devastating news that I had breast cancer it was an emotional roller coaster and you were right there for me throughout the entire process. It was wonderful to know that I had a choice and insurance would cover. I am very happy with the results.
Thank you again
D
You and your staff are #1 in my book!!!
---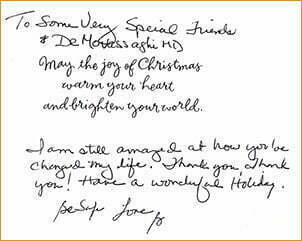 Christmas 2010
To Some Very Special Friends & Dr. Movassaghi MD
May the joy of Christmas warm your heart and brighten your world.
I am still amazed at how you have changed my life. Thank-you, Thank-you !
Have a wonderful Holiday.
Be Safe.
Love,
B
---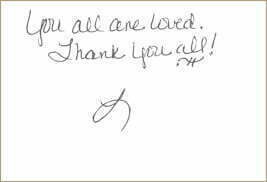 October 10, 2010
You all are loved. Thank you all!
L
---
April 3, 2010
Dear Dr. Movassaghi,
It is with heartfelt thanks that I send this note to you & your staff! I received Dysport for my "11"s / Crowsfeet and Restylane for my new Beautiful lips 3/30/10. I am so pleased with the results and want to thank you for my new-found confidence!!! I'm hooked!! I'm so fortunate to have found such a great plastic surgeon – professional, kind, and an artist!! Thank you a million times over and I look forward to a long relationship with you & your amazing staff!
Warmest Regards,
xoxo
---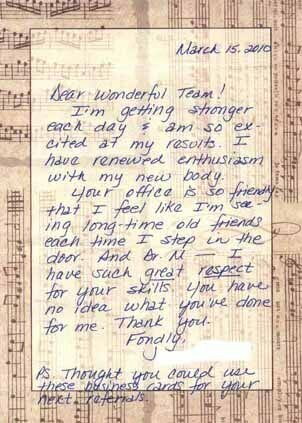 March 15, 2010
Dear Wonderful Team!
I'm getting stronger each day and am so excited at my results. I have renewed enthusiasm with my new body.
Your office is so friendly that I feel like I'm seeing long-time old friends each time I step in the door. And Dr. M- I have such great respect for your skills. You have no idea what you've done for me. Thank you.
Fondly,
J
---
October 16, 2009
Hi Dr. Movassaghi,
I just thought I'd drop you a brief note to express how thrilled I am with the results of my breast reduction. I've regained full nipple sensation, I am healing beautifully and the pain that I suffered in my neck and upper back as a result of carrying those huge pendulous breasts for so many years is completely gone.
Though it did take a bit of effort and coordination to travel to Oregon from California to have the procedure done, your expert handiwork, awesome bedside manner and concerned follow-up made it totally worth it.
Many, many thanks!
S
---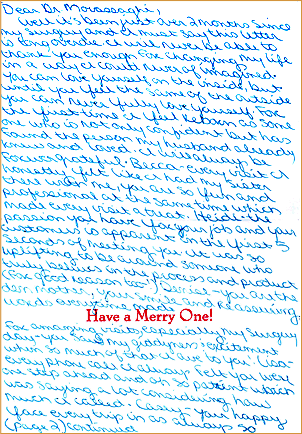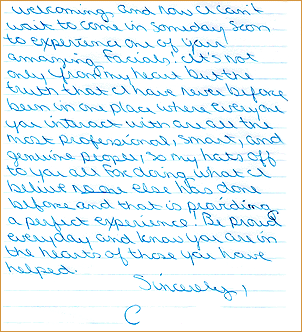 "Dr. Movassaghi,
Well it's been just over two months since my surgery and I must say that this letter is long overdue. I will never be able to thank you enough for changing my life in a way I never could have imagined. You can love yourself on the inside, but until you feel the same of the outside you can never fully love yourself. For the first time I feel reborn as someone who is not only confident but has found the person my husband already knew and loved. I will always be forever grateful. Heidi – the passion you have for your job and your customers is apparent in the first five seconds of meeting you. It was so uplifting to be around someone who truly believes in the process and the product (for good reason too!) Denise – you are the den mother, your smile and reassuring words made for amazing visits, especially my surgery day – you saw my giddiness and excitement when so much of that I owe to you! Lisa – one step ahead and so patient which is saying a lot considering how much I called. Casey – your happy face every trip is as always welcoming and now I can't wait to come in someday soon to experience one of your amazing facials! It's not only from my heart, but the truth that I have never before been in one place where everyone you interact with are all the most professional, smart, and genuine people, so my hats off to you for doing what I believe no one else has done before, and that is providing a perfect experience! Be proud everyday and know that you are in the hearts of those you have helped.
Sincerely,"
— C
---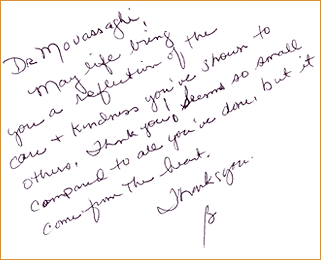 "Dr. Movassaghi,
May life bring you a reflection of the care and kindness you've shown to others. Thank you! Seems so small compared to all that you've done, but it comes from the heart.
Thank You,"
— B
---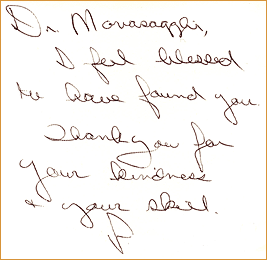 "Dr. Movassaghi,
I feel blessed to have found you. Thank you for your kindness and your skill."
— P
---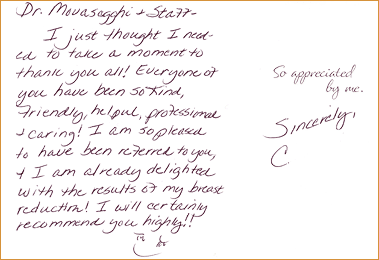 "Dr Movassaghi & Staff—
I just thought I need to take a moment to thank you all! Every one of you have been so kind, friendly, helpful, professional and caring. I am so pleased to have been referred to you, and I am already delighted with the results of my breast reduction. I will certainly recommend you highly!!"
—Breast reduction patient CM
---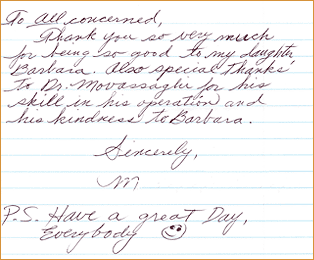 "To All Concerned,
Thank you so very much for being so good to my daughter, B. Also special thanks to Dr. Movassaghi for his skill in his operation and his kindness to B.
Sincerely,"
— M
---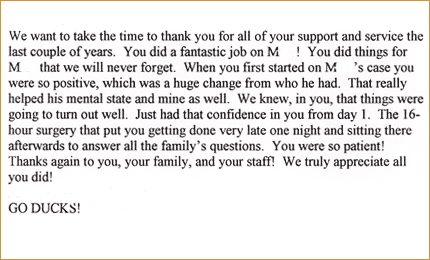 We want to take the time to thank you for all of the support and service the last couple of years. You did a fantastic job on M.! You did things for M. that we will never forget. When you first started on M.'s case you were so positive, which was a huge change from who he had. That really helped his mental state and mine as well. We knew, in you, that things were going to turn out well. Just had that confidence in you from day 1. The 16-hour surgery that put you getting done very late one night and sitting there afterwards to answer all the family's questions. You were so patient! Thanks again to you, your family, and your staff! We truly appreciate all you did!
GO DUCKS!
---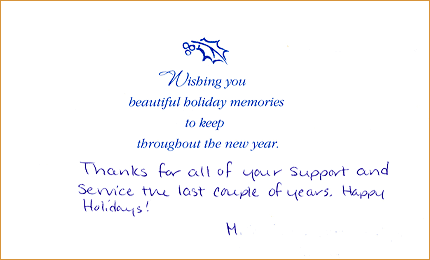 "Thanks for all your support and service the last couple of years. Happy Holidays!"
— M
---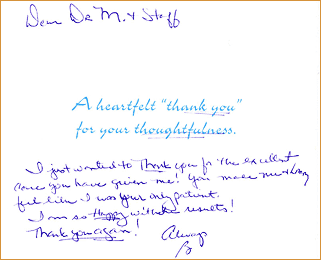 "Dear Dr. M. and Staff,
I just wanted to thank you for the excellent care you have given me! You make me and L feel like I was your only patient. I am so happy with the results. Thank you again.
Always,"
— B
---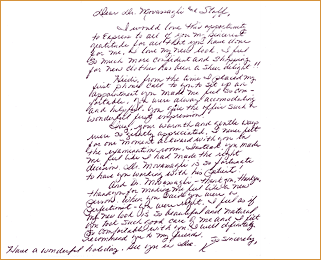 "Dear Dr. Movassaghi & Staff,
I would love this opportunity to express to all of you my sincerest gratitude for all that you have done for me. I love my new look. I feel so much more confident, and shopping for new clothes has been a sheer delight!!!
Heidi, from the time I placed my first phone call to you to set up an appointment, you made me feel so comfortable. You were always accommodating and helpful. You give the office such a wonderful first impression.
Ivy, your warmth and gently ways were so greatly appreciated. I never felt for one moment awkward with you in the examination room. Instead you made me feel like I had made the right decision. Dr. Movassaghi is so fortunate to have you working with his patients!
And Dr. Movassaghi, thank you, thank you, thank you for making me feel like a new person. When you said you were a perfectionist, you were right. I feel as if my new look is so beautiful and natural. You took such good care of me and I felt so comfortable with you. I will definitely recommend you to my friends.
Have a wonderful Holiday. See you in December.
So Sincerely,"
— K
---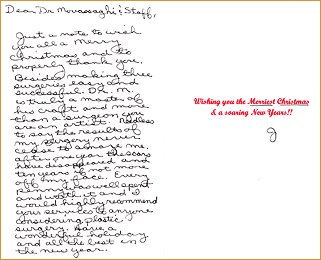 "Dear Dr. Movassaghi & Staff,
Just a note to wish you a Merry Christmas and to properly thank you. Besides making three surgeries easy and successful, Dr. M is truly a master of his craft and more than a surgeon – you are an artist. Needless to say, the results of my surgery never cease to amaze me. After one year the scars have disappeared and ten years if not more off my face. Every penny was well spent and worth it and I would highly recommend your services to anyone considering plastic surgery. Have a wonderful holiday and all the best in the new year."
— J
---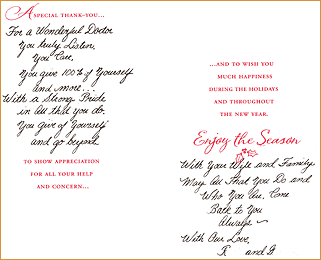 "For a Wonderful Doctor,
You truly listen, you care, you give 100% of yourself and more…With a strong pride in all that you do. You give of yourself and go beyond.
With your wife and your family, may all that you do come back to you always.
With our love,"
— R & G
---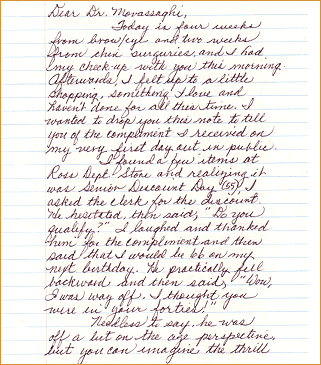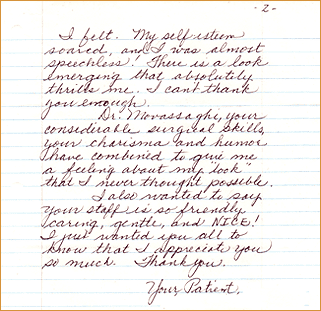 "Dear Dr. Movassaghi,
Today is four weeks from brow/eye and two weeks from chin surgery and I had my check-up with you this morning. Afterwards, I felt up to a little shopping, something I love and haven't done for all this time. I wanted to drop this note to tell you of the compliment I received on my very first day out in public.
I found a few items at Ross Department Store and realized it was Senior Discount Day (55)! I asked the clerk for the discount. He hesitated, then said, "Do you qualify?" I laughed and thanked him for the compliment and then said that I would be 66 on my next birthday. He practically fell backward and then said, "Wow, I was way off. I thought you were in your forties!
Needless to say, he was off a bit on the age perspective, but you can imagine the thrill I felt. My self-esteem soared, and I was almost speechless! There is a look that emerges that absolutely thrills me. I can't thank you enough.
Dr. Movassaghi, your considerable surgical skills, your charisma and humor have combined to give me a feeling about my
'look' that I never thought possible.
I also wanted to say your staff is so friendly, gentle, caring, and nice! I just wanted you all to know that I appreciate you so much.
Thank you."
---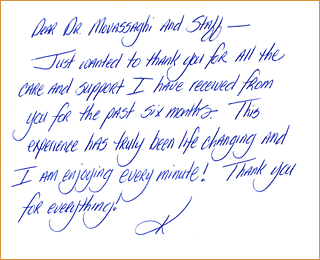 "Dear Dr. Movassaghi & Staff—
Just wanted to thank you for all of the care and support I have received from you for the past six months. This experience has truly been life changing and I am enjoying every minute!
Thank you for everything,"
— K
---
"I just wanted to thank the doctor for his continued patience with me and the beautiful result from the recent surgery. I am not sure I relayed to him at my follow-up appointment how pleased I was. Also, I appreciate the calls after surgery to check on me. I have recommended him to a few friends who are considering the same surgery. Thanks again and see you in one month."
— P
---
"Ladies—You guys are awesome. Thanks for your advice, help and care. This has been a new experience for me and you have helped make it wonderful with your support."
—Facelift patient AM
---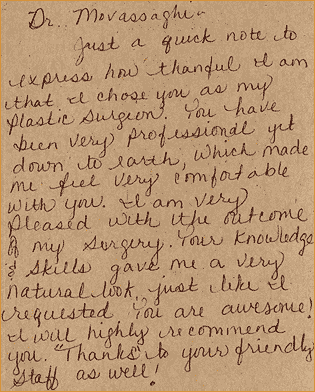 "Dear Dr. Movassaghi,
Just a quick note to express how thankful I am that I chose you as my plastic surgeon. You have been very professional yet down to earth, which made me feel very comfortable with you. I am very pleased with the outcome of my surgery. Your knowledge & skills gave me a very natural look just like I requested. You are awesome! I will highly recommend you. "Thanks" to your friendly staff as well!"
— Body Lift Patient
---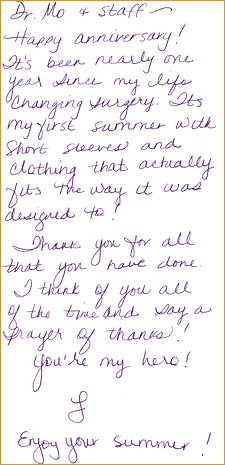 "Dr. Mo & Staff,
Happy Anniversary! It's been nearly one year since my life changing surgery. It's my first summer with short sleeves and clothing that actually fits the way it was designed to!
Thank you for all that you have done. I think of you all of the time and say a prayer of thanks!
Enjoy your summer!"
---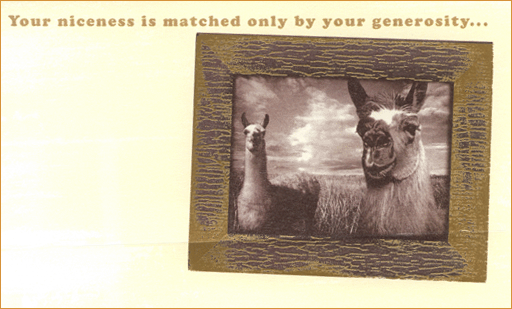 "Thank you, professionals, for making Dr. Movassaghi's job look so easy!"
— Plastic Surgery Patient
---
"Just a note to say I am so happy with the work you did with me… I love the results and am so happy when I work with a photographer that says he never would have guessed that I had work done on my breasts. That was exactly what I asked for!"
— Breast Enlargement Patient
---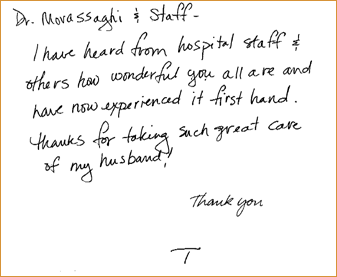 "Dr. Movassaghi & Staff,
I have heard from hospital staff & others how wonderful you all are and have now experienced it first hand. Thanks for taking such great care of my husband!
Thank you,"
— T
---
"Just a note to say I am so happy with the work you did with me… I love the results and am so happy when I work with a photographer that says he never would have guessed that I had work done on my breasts. That was exactly what I asked for!"
— Breast Enlargement Patient
---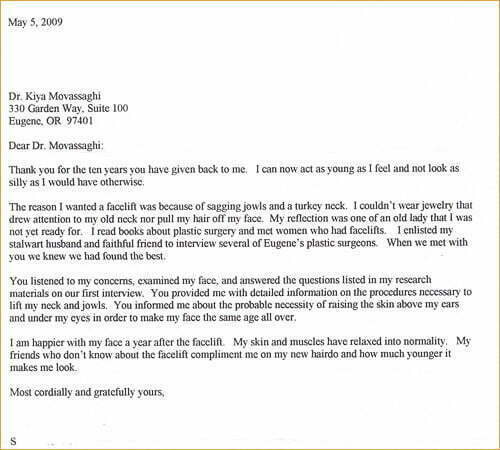 Dear Dr. Movassaghi,
Thank you for the ten years you have given back to me. I can now act as young as I feel and not look as silly as I would have otherwise.
The reason I wanted a facelift was because of my sagging jowls and turkey neck. I couldn't wear jewelry that drew attention to my old neck nor pull my hair off my face. My reflection was one of an old lady that I was not yet ready for. I read books about plastic surgery and met women who had facelifts. I enlisted my stalwart husband and faithful friend to interview several of Eugene's plastic surgeons. When we met with you we knew we had found the best.
You listened to my concerns, examined my face, and answered questions listed in my research materials on our first interview. You provided me with detailed information about the procedures necessary to lift my neck and jowls. You informed me about the probable necessity of raising the skin above my ears and under my eyes in order to make my face the same age all over.
I am happier with my face a year after the facelift. My skin and muscles have relaxed into normality. My friends who don't know about the facelift compliment me on my new hairdo and how much younger it makes me look.
Most cordially and gratefully yours,"
— Facelift Patient
Click here to view Video Testimonials
* Testimonials are the personal opinions of patients. Your results may vary.