Eugene Plastic Surgery Specials
Our Latest Cosmetic Surgery News & Skincare Specials
Every month we offer great special savings on cosmetic treatments and products and share info on the latest new treatments options to help you look your best. Keep checking back to stay updated about our the latest news and special events going on here at Movassaghi Plastic Surgery and Ziba Medical Spa in Eugene. Or better yet, use the form to the right to sign up for our newsletter and we'll send the latest news right to your inbox!
News & Specials March 2017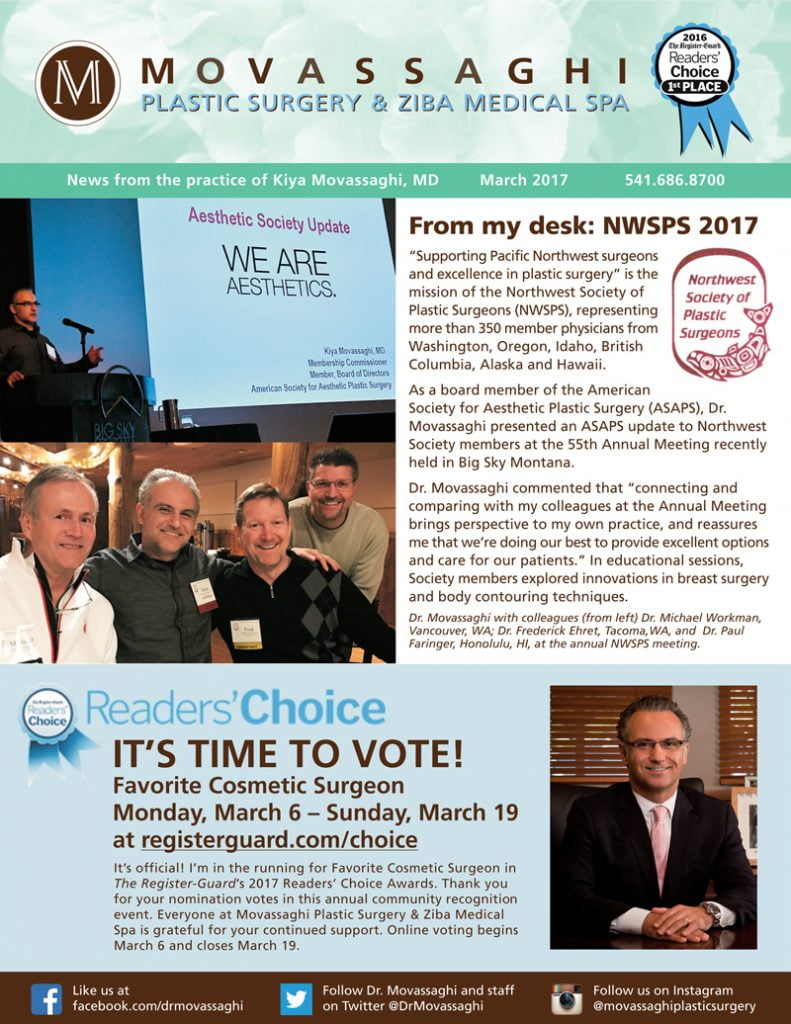 From my desk: NWSPS 2017
"Supporting Pacific Northwest surgeons and excellence in plastic surgery" is the mission of the Northwest Society of Plastic Surgeons (NWSPS), representing more than 350 member physicians from Washington, Oregon, Idaho, British Colombia, Alaska, and Hawaii.
As a board member of the American Society for Aesthetic Plastic Surgery (ASAPS), Dr. Movassaghi presented an ASAPS update to Northwest Society members at the 55th Annual Meeting recently held in Big Sky, Montana.
Dr. Movassaghi commented that "connecting and comparing with my colleagues at the Annual Meeting brings perspective to my own practice and reassures me that we're doing our best to provide excellent options and care for our patients." In educational sessions, Society members explored innovations in breast surgery and body contouring techniques.
Reader's Choice: It's Time to Vote!
March 6 – 19, vote Dr. Movassaghi as Favorite Cosmetic Surgeon at registerguard.com/choice
It's official! I'm in the running for Favorite Cosmetic Suregon in The Register-Guard's 2017 Readers' Choice Awards. Thank you for your nomination votes in this annual community recognition event. Everyone at Movassaghi Plastic Surgery & Ziba Medical Spa is grateful for your continued support. Online voting begins March 6 and closes March 19.
---
We've joined Instagram!
Follow Dr. Movassaghi and staff at @movassaghiplasticsurgery for more news and insights from Eugene's premier cosmetic surgery practice and medical spa.
---
Read past newsletters and articles on our newsletter archive.
To stay informed of our news and specials, follow us on social media.

---