Hair removal or skin enhancement—or both!
We are proud to offer the Clarity laser from Lutronics Aesthetics at Movassaghi Plastic Surgery & Ziba Medical Spa. This powerful laser can effectively remove unwanted hair, correct pigmentation & visible veins, and rejuvenate skin in the face & body, allowing you to easily choose between laser hair removal or cosmetic laser treatment—or, combine both treatments to achieve smooth, firmer, more youthful-looking skin!
Laser hair removal
Most of us have unwanted hair, but shaving can be time-consuming and even leave painful bumps and rashes. Waxing is a longer-lasting alternative, but it too can be unpleasant and messy—and you have to repeat the task every month or so. There's a better solution: laser hair removal.
By destroying the hair follicle with a highly focused beam of energy, laser hair removal ensures the hair won't grow back, leaving your skin smooth and hair-free for years to come.
Our Clarity™ Laser can safely & effectively treat light and dark skin
Our favorite technology for laser hair removal at Movassaghi Plastic Surgery is Clarity™ by Lutronic. It's a "dual wavelength" laser, including both a long-pulsed 755nm Alexandrite and 1064nm Nd:YAG, which is especially well-suited to darker skin. We can adjust the amount of each wavelength for your skin type and hair color to effectively destroy the hair follicle while minimizing the risk of discoloration or skin damage.
In our experience, Clarity can get results for patients who've not had luck with other lasers. If you've previously been told that you are not an ideal candidate for laser hair removal, or you've tried other treatments with little to no results, we encourage you to talk to us about Clarity.
Faster, more comfortable treatments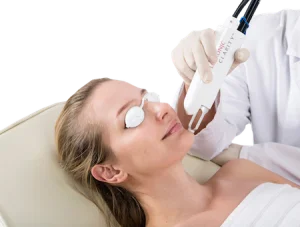 Laser hair removal is a multi-treatment procedure. Each treatment targets hairs in the optimal phase of the growth cycle, helping to destroy the hair follicle and leaving skin smoother and free of hair with each consecutive treatment.
While older lasers often require 5-7 treatments (or more), our Eugene laser hair removal patients are consistently satisfied with their results after as few as 3-4 treatments with Clarity.
Clarity also has a built-in cooling mechanism that instantly dissipates heat after each pulse, protecting your skin, and keeping you comfortable. We can complete each treatment much faster too, thanks to a large spot-size and quick pulse technology.
Where can I get laser hair removal?
Laser hair removal can work in a variety of areas. The most popular areas to get laser hair removal include:
Underarms
Face
Neck
Upper lip/mustaches
Chest
Back
Legs
Bikini area
Arms
Before & after laser hair removal series with Clarity™ by Lutronic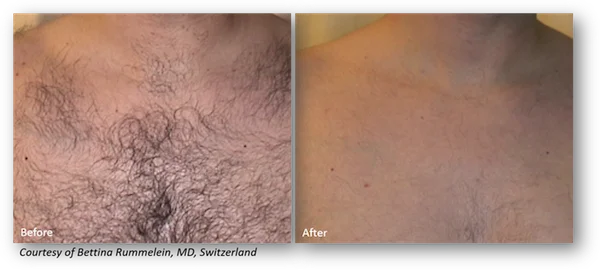 Cosmetic laser treatment
In addition to removing unwanted hair, the Clarity laser is extremely effective at treating skin blemishes and imperfections by destroying hyperactive pigment-producing cells below your skin's surface. As these cells are destroyed, your body naturally dispels them through your skin's surface, meaning you'll immediately shed them from your face for a skin tone improvement you can immediately notice.
What can the Clarity laser treat?
The Clarity laser is effective at treating the following skin blemishes:
Wrinkles
Sun damage
Pigmented lesions
Brown and red spots
Wrinkles
Spider veins
Redness
Rosacea (enlarged facial blood vessels)
Sebaceous hyperplasia (shiny red bumps around hair follicles)
Cosmetic laser treatments work best when applied to the face, neck, chest, shoulders, arms, hands, legs, and/or feet.
Am I a good candidate for cosmetic laser treatment?
If you want to improve your complexion quickly and long-term, cosmetic laser treatments may be right for you. Patients with melasma may not good candidates for cosmetic laser treatment, as the light emitted could cause some areas of skin to become darker. One of our advanced aestheticians can help you determine if your skin can benefit from cosmetic laser treatment.
How many laser treatments will I need?
Dr. Movassaghi recommends patients receive multiple treatments spaced 4-6 weeks apart for optimum results.
Do laser treatments hurt?
There is minimal pain associated with cosmetic laser treatment. Some patients equate the sensation to a light pinch. While this may not be comfortable, our patients find it quite tolerable, and sessions only last between 5-30 minutes.
What is recovery like from cosmetic laser treatment?
Recovery from cosmetic laser treatment is very minimal. Patients can resume their normal activities immediately following treatment, though you may experience some redness and minor swelling, which should dissipate within a few days. You should refrain from prolonged sun exposure during the following weeks, and apply sunscreen when you do head outside. You may also resume your normal skincare and makeup routine following treatment.
Schedule your laser hair removal and/or skin treatment today
You don't have to live with unwanted hair or skin blemishes. In just a few short treatments, you can have smooth, balanced skin you won't want to stop touching. To book your appointment with our experienced Eugene laser and skincare professionals, call (541) 686-8700 or contact us online today.
Areas served: