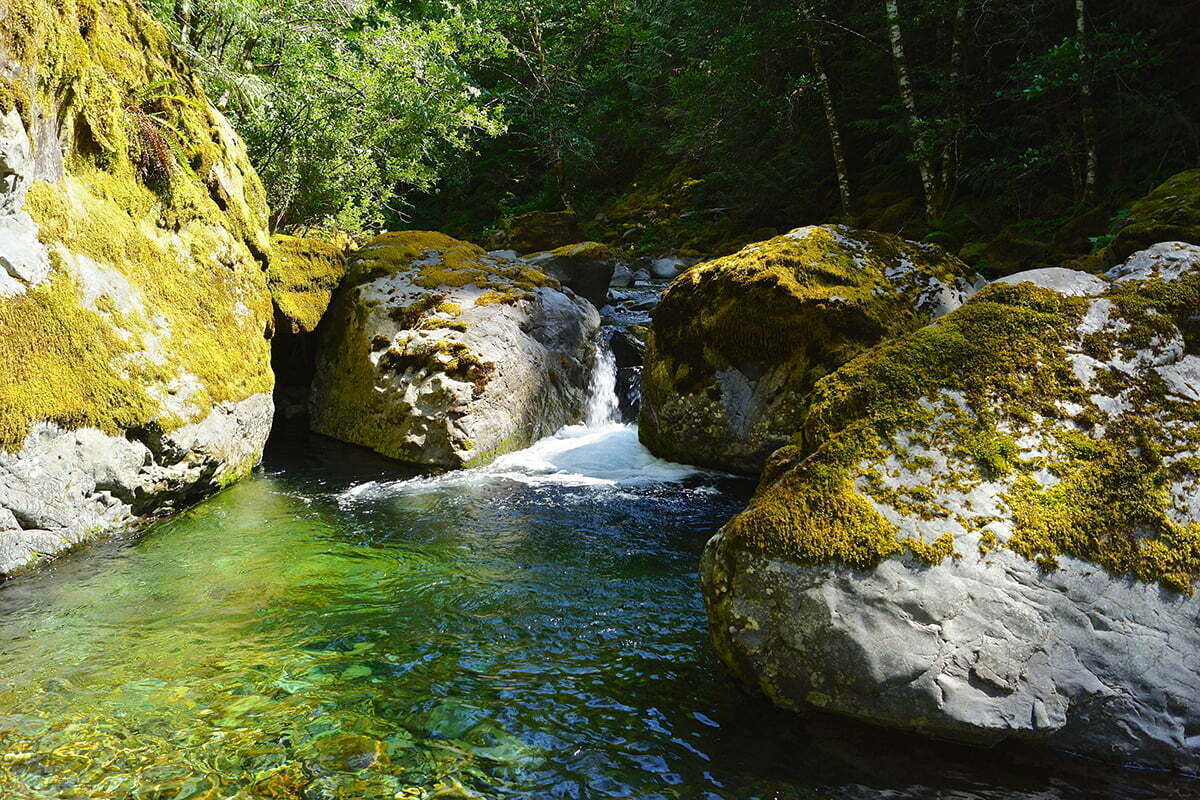 Last month, Oregonians suffered through a heat wave, with triple-digit temperatures across the western part of the state. Things have cooled off a bit, but should temps creep back up, you don't have to hide away in the AC all season. Consistently ranked as one of the best places to live in the U.S., Eugene offers plenty of fun ways to keep cool.
1. Take a dip in cool water
Nothing beats a refreshing swim on a hot summer day. Some of the best natural swimming spots in the area can be found in the Cascades and coastal regions. Stop by one of the local watering holes—such as Salmon Creek Falls, Brice Creek, or Bedrock Campground—to enjoy beautiful scenery and crisp waters. If you prefer floating and toe-dipping, the Willamette and McKenzie rivers are local-favorites for tubing.
View this post on Instagram
If you can't make it to natural waters or need a spot that's closer to home, there are a number of public swimming pools to consider. Amazon Swimming Pool, Echo Hollow Pool, and Sheldon Pool are all great options.
Have small children? Pack up a picnic and shuttle the kids to the new and improved Emerald Park River Road wading pool then spend the day splashing around the recently renovated wading pool. It offers several water spray features and is open seven days a week.
2. Catch a summer blockbuster
This summer is slated to be a big one for movie buffs of all ages—and movie theaters are notorious for keeping inside temperatures cool. On a particularly hot day, a midday movie is the perfect excuse to relax while enjoying a couple hours out of the heat.
View this post on Instagram
Not only that, but seeing matinees is a great way to avoid bigger crowds, enjoy discounted tickets, and while away an otherwise dull afternoon when it's too hot to be outside. If you're kid-free, head over to David Minor Theater to enjoy a cold adult beverage with the show.
3. Indulge in a sweet treat
There is a reason ice cream is the quintessential summer treat for almost everyone—is there anything more satisfying that cold scoop or two on a blistering day? Eugene is home to long-standing local favorite Prince Puckler's, which offers homemade, gourmet ice cream and frozen yogurt in more than 40 mouthwatering flavors.
View this post on Instagram
If you're not a fan of ice cream, you can try an iced coffee or tea, bon bons, or chocolate dipped bananas for an equally delicious, cooling treat.
4. Maximize your hot weather skills
This summer, there are a number of Eugene events and festivals you'll want to enjoy, including the Oregon Bach Festival, Country Fair, Blackberry Jam Festival, firework displays, and more. If temps are high, there are a few things you can do to make sure you and your family stay safe, hydrated, and cool while having fun.
View this post on Instagram
Freeze your water. A great summer trick is to refill a plastic beverage container with water and freeze it (just be sure to leave some headroom). You'll be glad you did when a few hours into a hike you have plenty of cool H20; it will also keep your snacks cool.
Dress appropriately. Wearing less may make sense, but leaving too much skin exposed to the beating sun isn't a great idea. Long sleeves will feel like a blessing if you choose breathable fabrics like cotton and linen in light colors, while a loose fit can help you avoid feeling overly sticky. Pick up a sun hat to keep your face shaded.
Avoid peak times. Plan your day in a way that has you in the shade or grabbing lunch indoors between 12 – 3pm, when the sun is at its most intense. If you do have to be out during peak times, make sure you're wearing sunscreen, staying in the shade as much as possible, and drinking plenty of water.
5. Treat yourself to a skin or body treatment at Ziba Medical Spa
Not only do we have AC, Movassaghi Plastic Surgery & Ziba Medical Spa offers a number of "cool" ways to help you feel pampered and rejuvenated all summer long.
View this post on Instagram
Take a half-hour break from the heat for a calming HydraFacial, a relaxing, multi-step treatment designed to gently rejuvenate your skin for an overall improvement in health and appearance. Or, if you're concerned that your swimsuit doesn't fit quite like it used to, come in for a literal cool down with CoolSculpting and enjoy a slimmer silhouette without surgery.
We hope you have a fantastic summer full of new adventures!