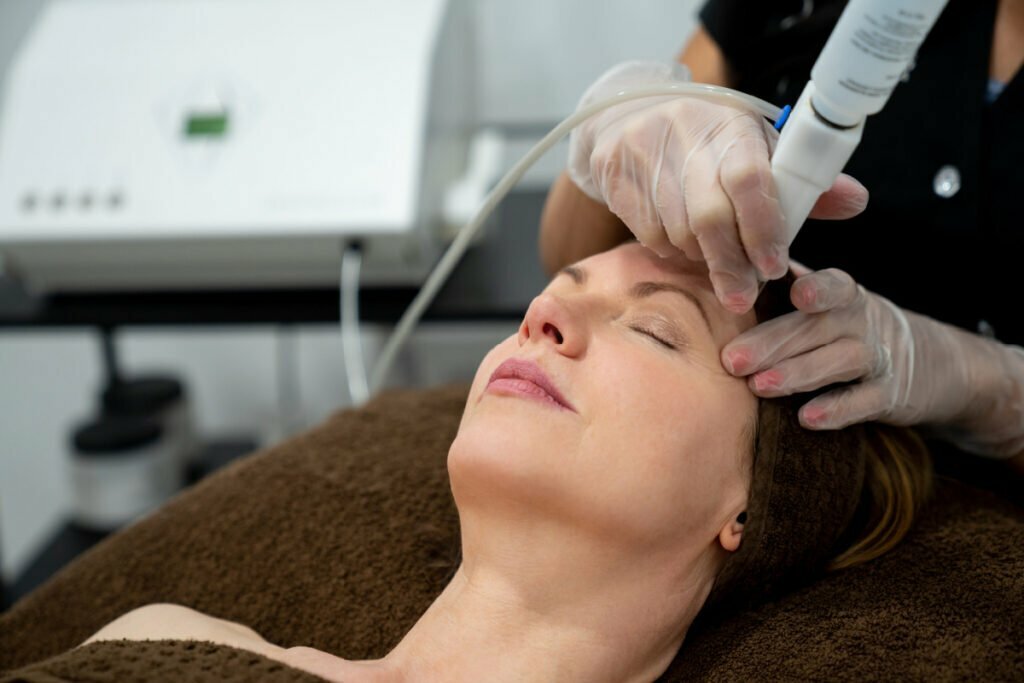 Did you know autumn is thought of as laser season? That's because fall's cooler weather, shorter days, and proximity to winter make it the perfect time to get laser skin resurfacing, which temporarily increases your skin's sensitivity to the sun.
This blog will help you plan ahead for a seasonal skin renewal by finding the best laser skin resurfacing treatment for your needs.
What is laser skin resurfacing?
As its name suggests, laser skin resurfacing "resurfaces" skin by peeling away old, dead skin layers so that your body can produce healthy new skin cells. The result is tighter, more youthful skin that improves over the following months. Laser skin resurfacing is used to treat wrinkles, scars, and blemishes, and can help even out skin tone.
What is the best laser for skin resurfacing?
We often see patients who are overwhelmed by the idea of laser treatments because there are so many options. This is completely understandable! The reason there are so many laser treatment options is that different lasers are used to address different skin concerns and skin types.
At Movassaghi Plastic Surgery and Ziba Medical Spa, we prefer the versatile Lumenis TotalFX™ laser for skin resurfacing for a few reasons:
TotalFX is fully customizable for each patient's skin concerns. Technically considered an ablative laser, TotalFX combines Lumenis' ActiveFX™ and DeepFX™ technologies, making it ideal for treating both deep and superficial skin concerns during the same treatment session. Here's how it works:

ActiveFX applies a high-energy laser beam in a broad pattern to treat blemishes, fine lines, acne, and discoloration, similar to a non-ablative laser. DeepFX emits a narrow beam of energy into skin's deeper layers, where it stimulates collagen growth to soften and smooth the surface. DeepFX is ablative (it removes skin's outer layer) and can help improve the appearance of wrinkles, acne scars, crepey skin, and sun damage.
TotalFX can be used as a fractional laser to heal advanced signs of skin aging. Fractional lasers leave microscopic sections of skin in a treatment area untouched, allowing skin to heal faster and reducing discomfort. You can think of this treatment style as a checkerboard because the laser treats every other column of skin in a given area.
TotalFX is a CO2 laser, meaning it has the deepest skin penetration capabilities of any cosmetic laser. CO2 lasers are extremely precise and able to heat skin from deep within, thereby stimulating collagen production for up to 6 months following treatment.
TotalFX™ vs. CO2 lasers
While TotalFX is a CO2 laser, it differs from other CO2 lasers in a few major ways:
Unlike traditional CO2 lasers, TotalFX's wavelengths can be customized for deep or superficial treatments; therefore, TotalFX is able to treat a greater variety of skin conditions and skin types.
Most CO2 lasers require a two-week recovery period; TotalFX requires little-to-no downtime.
Most CO2 lasers are only able to treat the face; TotalFX's fractional laser can be applied all over the body.
TotalFX treatment is more comfortable than traditional CO2 lasers. Your skin will still be red and sensitive following treatment, but far less than it would be with other CO2 laser treatments.
TotalFX treatments are faster than most CO2 laser treatments (35-40 minutes vs. 1+ hours to treat your entire face).
The takeaway: TotalFX is a full-body fractional CO2 laser that can treat skin in less time than traditional CO2 lasers with little-to-no downtime.
TotalFX™ vs. Er:YAG lasers
Erbium YAG lasers, or Er:YAG for short, can be ablative or non-ablative. Erbium lasers emit infrared light, which is absorbed by water contained within skin. Since healthy skin has a higher water concentration, Erbium lasers are used to treat minor skin imperfections in patients with generally healthy skin.
TotalFX creates more heat than Erbium lasers, resulting in more skin tightening and greater improvements to skin's texture.
Erbium lasers are less aggressive than TotalFX. Compared to traditional CO2 laser resurfacing, Erbium lasers may require less downtime and cause less redness; however, because TotalFX is fractional, severe redness and downtime are uncommon.
Both Erbium and TotalFX's wavelengths are adjustable; however, TotalFX can treat a wider variety of skin conditions.
The takeaway: Erbium lasers can treat minor wrinkles and skin blemishes; however, if you have more advanced skin conditions you'd like to address, TotalFX is the best option.
TotalFX™ vs. pulsed dye lasers
Pulsed dye lasers thermally target skin's fibroblasts to stimulate collagen production. They are non-ablative, meaning they don't disrupt skin's outer layers. Pulsed dye lasers are also called "vascular lasers" because they treat vascular lesions by destroying blood vessels without disturbing surrounding skin.
Pulsed dye lasers are limited in what they can treat. They are effective for treating broken blood vessels and broken capillaries that cause redness and blotches, but can't treat skin conditions such as acne, acne scars, wrinkles, or sun damage like TotalFX can.
Pulsed dye lasers apply a colored dye to the skin that can persist for a week or more.
Pulsed dye lasers often require multiple treatments; most patients notice a significant improvement in their skin after a single TotalFX treatment.
The takeaway: Pulsed dye lasers are a good choice for patients wanting to address rosacea and/or vascular lesions, but they can't treat acne & acne scars, fine lines & wrinkles, or sun damage.
Schedule your Eugene TotalFX™ treatment with Dr. Movassaghi
Board-certified plastic surgeon Dr. Kiya Movassaghi is licensed in CO2 laser techniques and applications, and has nearly 20 years of experience performing laser skin resurfacing in Eugene, Oregon. Dr. Movassaghi is also a former Board of Directors Member for the American Society for Aesthetic Plastic Surgery, and the former President of the Northwest Society of Plastic Surgeons. Find out if laser skin resurfacing is right for you by scheduling a consultation with Dr. Movassaghi online or by calling (541) 686-8700.