Fractional CO2 laser skin resurfacing with TotalFX

Our skin changes over time, losing its youthful look and giving way to brown spots, wrinkles, and laxity. Fractional laser skin resurfacing with TotalFX allows Dr. Movassaghi to treat a variety of issues, including fine lines & wrinkles, acne & other scars, uneven texture, age spots, and even deeper lines. By precisely removing the damaged layers of skin, TotalFX can help you restore a smoother, more youthful complexion.
What is TotalFX laser skin resurfacing?
During a TotalFX fractional resurfacing procedure, a high-energy beam of laser light interacts with the skin's surface, causing the upper layer to peel off and regenerate a layer of new, healthy skin. Because TotalFX combines superficial and deep fractional resurfacing, we can treat a variety of imperfections.
Dr. Movassaghi offers TotalFX laser resurfacing for a number of reasons:
It's 2x faster than other CO2 lasers, drastically reducing treatment time
Just one treatment yields remarkable, long-lasting results
Extremely short pulses deliver the resurfacing heat instantly and precisely, with less effect on surrounding, healthy tissue
Most patients require very little downtime after treatment
How does TotalFX skin resurfacing work?
With TotalFX, only a fraction of the skin's surface is treated. The laser beam is applied in a fractional pattern, leaving small "bridges" of untouched skin. This technique makes the healing process much faster and enables you to get back to normal activities sooner. Following treatment, the upper layers peel off and a layer of new, healthy skin regenerates.
For surface-level imperfections, such as discoloration, uneven texture, or fine lines, we can use a more superficial beam that scans a larger surface area.
We can also treat deeper lines, acne scars, and wrinkles during the same appointment by adjusting the depth of the laser to reach more layers of skin. Although treatment is deeper, the TotalFX ablates a tiny portion of the tissue, allowing for optimal improvement with less healing time needed.
What are the benefits of TotalFX?
TotalFX produces a dramatic effect on the skin, including:
Causes immediate skin tightening
Reduces wrinkles and fine lines, and softens deeper frown lines
Noticeably improves skin tone and texture
Stimulates new collagen formation and plumps the skin
Reduces acne scars
How long do the effects of skin resurfacing last?
TotalFX results are long-term and, with proper sun protection, can last for many years. Most effects of treatment become visible right away, whereas others—such as new collagen formation—build up gradually and results in continued smoothing over time. Therefore, most people continue to show improvement up to 6 months after the procedure.
Is TotalFX right for you?
TotalFX is an ideal treatment option if you:
have a busy lifestyle or cannot be away from work for a long time
want noticeable results with minimal downtime
want to treat dyschromia, fine lines, wrinkles, skin laxity, or acne scars
TotalFX laser skin resurfacing before and after Photos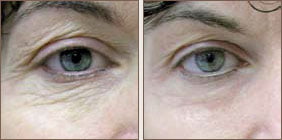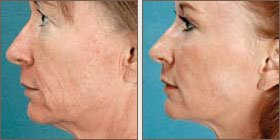 Before & After Photos courtesy the Lumenis Group
What can you expect from TotalFX treatment?
Dr. Movassaghi performs laser skin resurfacing in his Eugene office with a topical anesthetic cream that is applied 30 to 40 minutes before the TotalFX procedure begins. With a gentle washing and moisturizing regimen, your photodamaged skin will begin to flake off within 2 days. After about 4 to 7 days, you can usually wear make-up. Pinkness should be gone in about a week. Occasionally, a second treatment may be necessary for some patients to achieve optimal results.
TotalFX vs. ActiveFX
Although both laser treatments use the UltraPulse system by Lumenis, they work a little differently. ActiveFX uses only the superficial fractional ablation, which is excellent for treating fine lines and textural problems, but cannot adequately address scars and deeper wrinkles. We prefer the TotalFX laser treatment because it allows us to treat a broader range of skin concerns by using both the superficial fractional ablation or the deep fractional ablation.
Will my insurance cover laser skin resurfacing?
Laser resurfacing is considered cosmetic and therefore is not covered by insurance. The patient is responsible for payment.
What are the risks of TotalFX skin resurfacing?
The specific risks and the suitability of laser resurfacing for a given individual can be determined only at the time of consultation. All procedures have some degree of risk. Minor complications that do not affect the outcome occur occasionally. Major complications are rare.
Schedule your laser skin resurfacing consultation today
Board-certified plastic surgeon Dr. Kiya Movassaghi performs laser skin resurfacing in his private and conveniently-located Eugene, OR office. Contact us online or call (541) 686-8700 to learn how laser skin resurfacing can take years off your skin's appearance and boost your confidence.
Areas served: