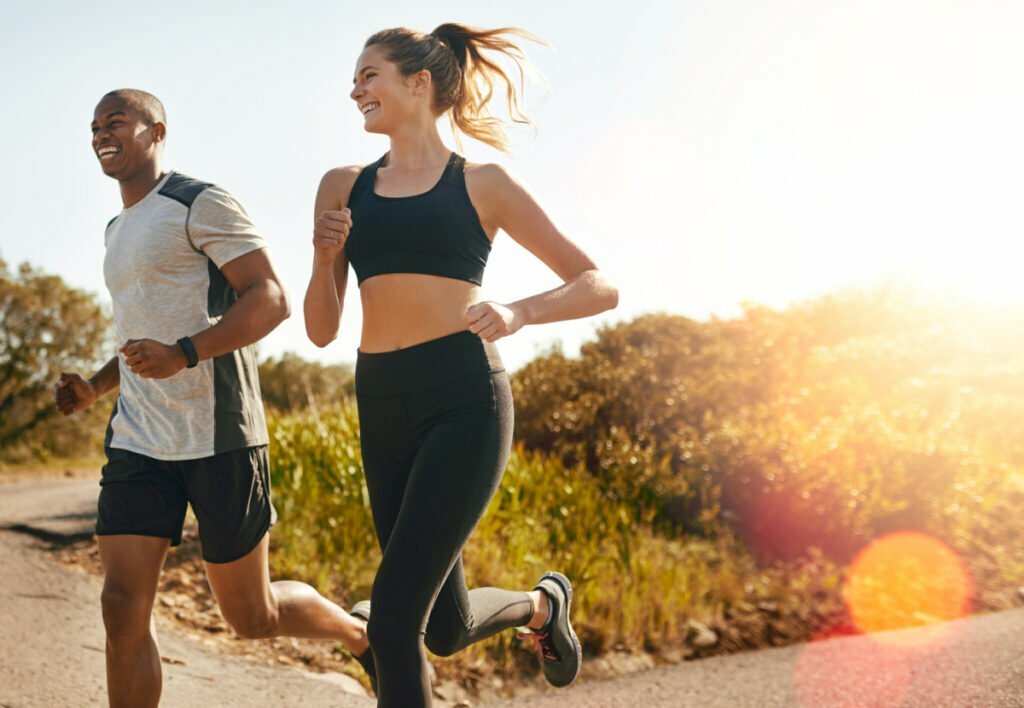 As an avid triathlete, I love running. Thankfully, there's no shortage of amazing places to run in Eugene. Located in the southern end of the Willamette Valley, our city is surrounded by mountains—which means that we are fortunate to have our pick of both trails and roads to run. But while trail and road running sound similar, they are actually quite different. In this post, I'll share my thoughts on trail running vs road running, plus some of my favorite places to run in Eugene.
Trail running
Thick forest, rocky outcrops, meandering creeks…trail running is a great way to enjoy nature while getting in one of the best workouts available. For those who aren't familiar with trail running, here are a few of the sport's key characteristics:
Trail running immerses you in nature, providing unique ecopsychological benefits like stress reduction and mental wellbeing.
Varied terrain. Due to their varied terrain and softer surfaces, trails are great for building strength and stamina—but this varied terrain also makes it important to look out for roots, rocks, and fallen trees while running. Trails are, in my opinion, more interesting to run, but they also present more opportunities to become injured.
Slower pace. The pace of trail running is generally slower than road running; in fact, you can expect your pace to drop from 30 to 90 seconds per mile compared to road running. This isn't typically bothersome though, as trail runners tend to be less concerned about their time than pavement runners.

Nature. Though both trail and road running are performed outdoors, trail running immerses you in nature, providing some unique ecopsychological benefits like stress reduction and mental wellbeing.
Location. While most of us can step out of our doors and start running on pavement, getting to a trailhead requires a little extra time and planning that may not be feasible for those with limited available workout time. Thankfully, Eugene boasts many trails within its city limits for quick and easy access that even the busiest among us can enjoy on our days off.
My favorite Eugene, Oregon trail runs
From packed earth to wood chip surfaces, below are a few of my favorite Eugene trails to run:
Ridgeline Trail System. Cherished by the Eugene community, the Ridgeline Trail System spans 17 miles across the southern edge of the city and is accessible by 7 trailheads. The trail system's crowning jewel is 2,058-foot Spencer Butte, the highest point in Eugene, and also the location of one of the city's most popular trails—Spencer Butte Trail.
View this post on Instagram
Pre's Trail: Located in Alton Baker Park, Pre's Trail is 4 miles of hard-packed wood chips that meander through the Whilamut Natural Area. The trail consists of 3 inter-linked loops: the 1.4 mile Green Loop, the 0.6 mile Yellow Loop, and the 1.6 mile Red Loop. The Willamette River Trail is located nearby and can easily be added on to your run.

Adidas Oregon Trail/Rexius Trail: The Adidas Oregon Trail and Rexius Trail cumulatively offer 4.5 miles of soft, wood chip trail starting in the heart of downtown Eugene. Runners almost immediately leave the city behind for beautiful Amazon Creek and, eventually, Frank Kinney Park. From Kinney Park, runners can connect to the Ridgeline Trail to cover even more miles. Both the Adidas Oregon and Rexius trails are conveniently lit for night running.
Mount Pisgah Trail. Located in the Mount Pisgah Arboretum, this 3.3-mile out-and-back trail starts at the Willamette River and transcends 1,053 feet to the top of Mount Pisgah. Runners have the option to add on additional mileage by continuing on one of the many numbered trails in the arboretum. This is a great weekend run but it can get very crowded, as it's located close to town.
Road running
Whether you're cruising downtown sidewalks or pounding the pavement on an isolated stretch of road, road running is a great way to cover large distances and get to know your town. Here are a few features unique to road running:
Longer distance. Road runners typically run further distances than trail runners since they can cover ground more quickly. As such, they also tend to be more competitive with their times.
Harder surface. Asphalt and concrete are tough on joints and muscles, meaning road running carries a longer recovery time than trail running.
Traffic. While trails present some obvious risks (e.g. roots, rocks, wildlife), traffic can pose a serious threat to road runners. Stay safe by wearing a headlamp and reflective clothing when running at night, and always watch for cars before crossing the street. Remember, just because you have the walk sign doesn't mean cars will stop for you, especially those turning from side streets. If you're running in an area without sidewalks, run on the left side of the street towards traffic so you can see who is passing you and get out of the way if need be.
Asphalt and concrete are tough on joints and muscles, meaning road running carries a longer recovery time than trail running.
Convenience. Most people find road running to be one of the most convenient forms of exercise because it can be done practically anywhere. Because of this convenience factor, road running is available to nearly everyone.
Camaraderie. Unlike trails, which only allow a few people to run together at a time, the biggest road races can accommodate tens of thousands of runners, making road running a much more social activity. In fact, the TCS New York City Marathon is often referred to as the world's biggest moving block party!
My favorite Eugene road/paved surface runs
While running on trails allows me to unplug and commune with nature, I also love running Eugene's many roads and sidewalks. Below are some of my favorite areas of Eugene to run through.
Amazon. This modest neighborhood features lush, tree-lined streets in an easy-to-follow grid. I like to run between Washburn Park and the university, and I often add on some of the Amazon Park trails.

Laurel Hill. I love running the well-kept streets and sidewalks of the Laurel Hill neighborhood, sandwiched between Moon Mountain City Park and Hendricks Park. Easily Eugene's most high-end neighborhood, Laurel Hill offers secluded streets and sweeping views of evergreen forest. Plus, the hilly streets make for a great workout!

University of Oregon. The University of Oregon is renowned for its running legacy (Nike's founder was the Duck's track coach for 24 years), which I honor by regularly running the campus. The U of O campus covers nearly 300 acres, providing miles of beautiful sidewalk and pavement to run, not to mention the legendary Hayward Field track.
View this post on Instagram
Willamette River. I couldn't complete this list without mentioning the Willamette River Trail. Also known as the Ruth Bascom Riverbank Path System, this paved multi-use trail connects Eugene to nearby Springfield via 14+ gorgeous miles of waterfront.
My favorite running apps
For tracking miles, finding new running spots, and sharing your progress, I recommend using one of these great running apps:
Strava. I love the simple design of this app, and use it to track my runs and bike rides. My favorite feature of Strava is that it allows me to share my runs with friends (which also creates a little friendly competition).

MapMyRun. Developed by Under Armour, this app details over 70 million user-generated routes to help you find runs wherever you go. You can also integrate MapMyRun with a variety of wearable fitness trackers to sync your diet and exercise info all in one place.

AllTrails. Way before I started using AllTrails to map my trail runs, I used it to find and record hikes. AllTrails has an overwhelming amount of trails in its database and can help you get off the beaten track wherever you are. And, with AllTrails Pro, you can download trail maps to use offline for real-time GPS tracking and map loading when you're out of cell range.
Optimize your health at Movassaghi Plastic Surgery & Ziba Medical Spa
If you're a runner, you know how important good physical health is for your performance. Having a strong core and lean body mass can help you shave minutes off your miles and make running much more enjoyable. If pregnancy or weight gain has left you with excess weight, skin, or loose abdominal muscles, plastic surgery can help you reach a stable body weight and strengthen your core. I invite you to contact my office online or call (541) 686-8700 to discuss your health goals with me today.