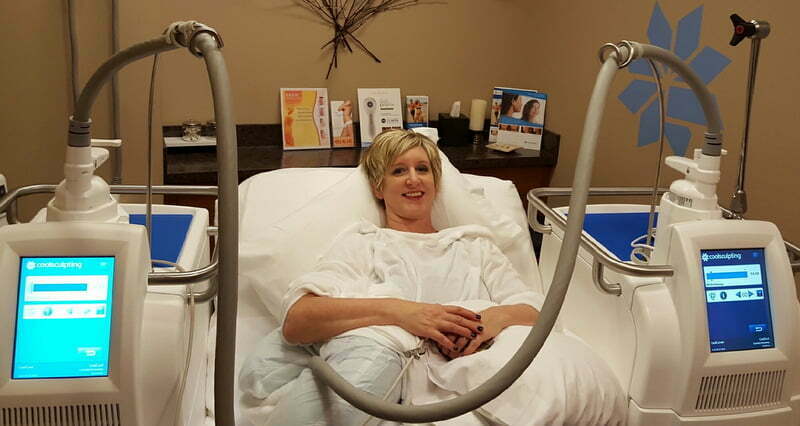 CoolSculpting® is a popular non-surgical treatment for reducing small areas of fat without surgery or downtime. Wondering how it could get any better than that? With our new "dual sculpting" option and the latest CoolAdvantage applicators, patients can enjoy a superior CoolSculpting experience at Movassaghi Plastic Surgery.
Introducing CoolAdvantage
We are pleased to offer the CoolAdvantage™ applicator, which takes the CoolSculpting technology to the next level. The updated design allows us to treat a larger area with uniform cooling, providing more even fat reduction.
85% of surveyed patients prefer CoolAdvantage
The CoolAdvantage applicator also boasts a lower temperature that cuts treatment time almost in half to about 35 minutes per area.
Additional benefits include:
Suction pressure is reduced, making treatment more comfortable
There is no "hickey" or "stick of butter" effect after treatment
Like original CoolSculpting, CoolAdvantage cools fat cells to the point of breakdown, allowing them to be metabolized by the body.
Better overall treatment experience. During clinical studies, 85% of patients preferred CoolAdvantage for its shorter treatment time and increased comfort.
Reduce overall treatment time further + treat more areas with Dual Sculpting
Our practice recently acquired an additional CoolSculpting machine to further improve your treatment experience! With Dual Sculpting, we are able to treat two areas during one session, potentially saving you hours in treatment time depending on how many areas of stubborn fat you'd like to address. In addition, having both sides of your body treated at the same time helps ensure more symmetrical results.
What are you waiting for?
If you're ready to reduce stubborn bulges and are interested in CoolSculpting in Eugene, Oregon, contact us today. We would be glad to talk about your needs and create a solution customized to your unique needs.