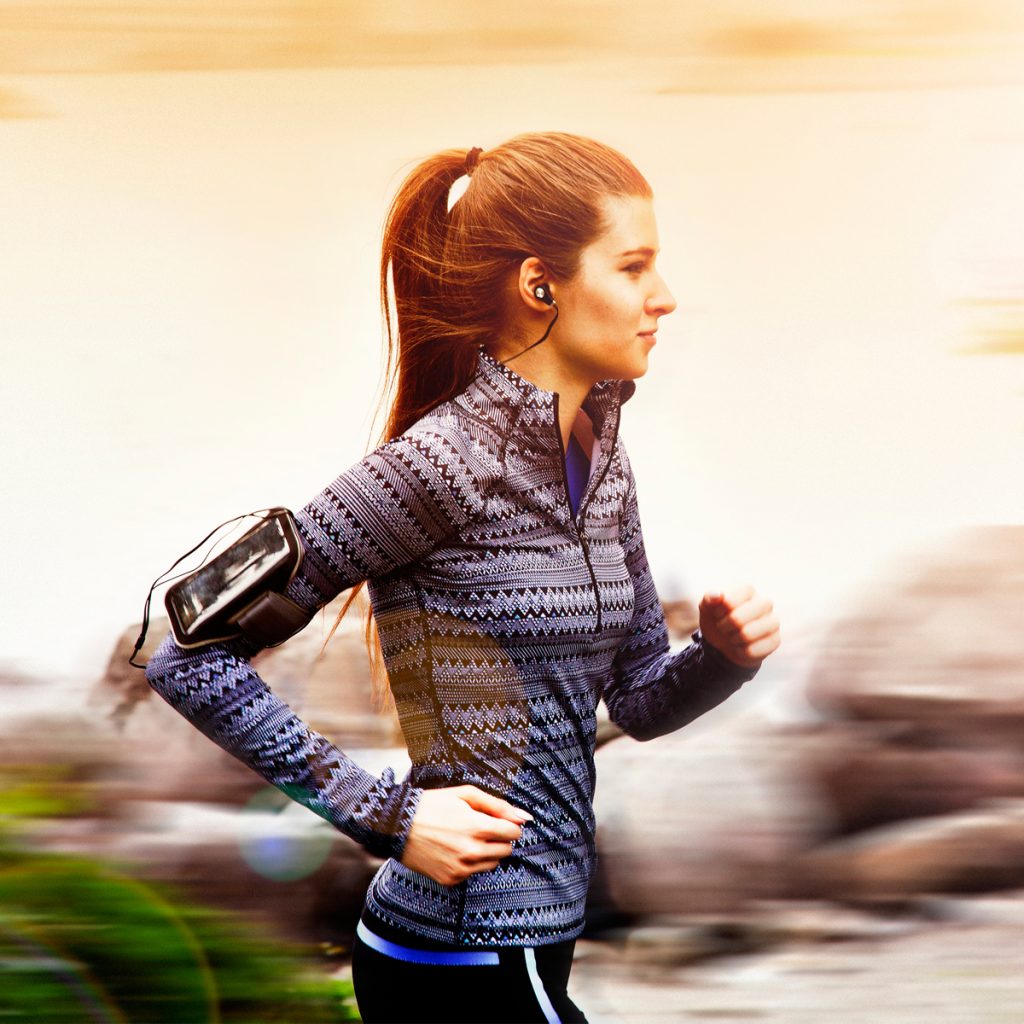 A thriving outdoor culture means our Eugene skincare team sees a lot of patients who participate in endurance sports. Many share a concern that their workouts are "ruining" their skin. While activities like running, swimming, and cycling can keep your body and mind fit and healthy, hours spent sweating in a gym, logging miles in sun and wind, or churning out laps in a chlorinated pool can wreak havoc on your skin if you're not careful.
Fortunately, there is a lot you can do to keep your skin looking and feeling its best as you train for your next event. Below are the top skin concerns our active patients share, followed by tried-and-true solutions to prevent skin damage and help ensure your skin's appearance reflects the healthy lifestyle you enjoy.
Brown spots and red splotches are ruining my complexion
Repeated sun and wind exposure can result in brown spots, hyperpigmentation, and irritated skin. Runners, cyclists, and anyone who spends a lot of time outdoors is more likely to experience such problems with discoloration and chapping.
Prevention: Wear sunscreen daily on exposed skin. Be sure to choose a water and sweat resistant, broad-spectrum SPF 30 or higher product, which protects from UVA rays (which accelerate skin aging) and UVB rays (which cause sunburn). Both types of UV rays increase skin cancer risk, so it is important to protect your skin from both.
Solutions: For wind-chapped skin, a soothing facial can help hydrate the skin and calm redness and inflammation. An IPL Photofacial can be an excellent choice to help reduce existing brown spots, redness or hyperpigmentation and restore a more even, youthful-looking complexion. This non-invasive light-based treatment also encourages collagen production.
I'm too young to have wrinkles like this
A number of factors contribute to age-related wrinkles and expression lines (i.e. frown lines or crow's feet)—did you know your workouts could be one of them? Repeatedly squinting in the bright sun during your lunchtime jogs can add up, worsening expression lines over time. Wrinkles around the nose, mouth and eyes can also appear at an earlier age in people who spend a lot of time outdoors, primarily due to sun damage and loss of tissue volume.
Squinting in the bright sun during lunchtime jogs can worsen frown lines or crow's feet over time; BOTOX injections are a safe, effective option to soften persistent expression lines.
Prevention: To keep expression lines at bay, wear good sunglasses when exercising outdoors to prevent squinting, and try to stay aware of your facial expressions during workouts. To slow the progression of other fine lines and wrinkles, apply a broad-spectrum SPF 30+ sunscreen daily and adopt a quality skincare regimen that is optimized for your skin type.
Solutions: BOTOX injections are a safe, effective option to soften persistent expression lines and achieve a more refreshed appearance. Other types of wrinkles can be addressed through dermal fillers, which plump facial tissues to smooth out moderate creases, or laser resurfacing, which helps to promote collagen production and minimize fine lines.
I get acne flare-ups, and not just on my face
Breakouts are a common problem among athletes. Sweat creates a warm, moist environment for acne-causing bacteria to thrive. Dirt, oils, cosmetics, and workout gear can trap moisture onto the skin, leading to breakouts on the face, shoulders, back, or other areas.
Prevention: Always remove makeup before you train (but do apply sunscreen!). Shower and change into clean, dry clothes immediately after finishing a workout—running errands in sweaty workout clothes increases risk of developing skin rashes and infections as well as acne.
Solutions: Medical-grade skincare can help if acne is a problem for you. To get started, consider in-office treatments such as a detoxifying masque or salicylic acid facial, which can calm inflammation and cleanse the skin to reduce acne. At-home skincare products can also help cleanse pores, reduce active acne, and maintain a clearer complexion.
My skin is starting to sag and jowl
The lax, sagging skin of "runners face" that endurance athletes can acquire over time isn't caused by gravity—that's a myth. However, years of training in the sun can lead to UV damage, and there is evidence that high intensity training for long periods can increase free radical damage, which can accelerate skin aging. These put together can cause skin to lose elasticity and begin to sag.
The lax, sagging skin of "runners face" isn't caused by gravity—that's a myth. Preventative skin care including SPF and antioxidants can help maintain skin elasticity.
Prevention: There are several actions you can take to maintain skin elasticity as an endurance athlete. First, practice good preventative skin care including SPF and antioxidants. Apply broad-spectrum sunscreen before every outdoor training session, and reapply every 1 to 2 hours. Our pick for the best sunscreen for runners? We recommend SkinMedica Total Defense + Repair Sports-Ready Formulation, which offers SPF 50+ broad-spectrum protection plus a free-radical fighting antioxidant complex to help improve skin tone.
Solutions: If you are already noticing mild jowling or sagging in the cheek area, non-surgical treatments can help restore a firmer, more youthful appearance. RF microneedling uses radiofrequency technology to boost collagen production for naturally firmer skin on the face, neck or body. Injectable fillers such as VOLUMA can help restore volume to thinning cheeks.
Swimming makes my skin dry and flaky
Dry, irritated skin is a persistent issue for avid swimmers. Chlorine and other chemicals used to keep swimming pools safe and clean are notorious for drying out the skin. The result is dry, itchy skin that appears dull. Dehydration can exacerbate these effects.
Prevention: There are many simple things you can do to offset the effects of chlorine and keep your skin looking and feeling smooth. Don't skip the pre-swim shower—this helps reduce chlorine's drying effect on skin. Drink plenty of water throughout the day to help your skin flush away pool chemicals and maintain its natural moisture. Lastly, apply a high-quality moisturizer after each swim; a knowledgeable skin care professional can help you find a product that is optimal for your skin type.
Solutions: Go for a medispa treatment that is focused on restoring moisture. Here at our Ziba Spa, we like SkinCeuticals' Reconditioning and Firming Treatment, which is ideal for dehydrated and environmentally damaged skin, or a Regenerating Facial, which hydrates the skin and combats dullness.
Talk to a Pro
Whether you are training for the Ironman or just enjoy a weekend hike, the best way to ensure that your skin is protected and nourished is to work with a skincare professional year-round who understands your specific needs. As an avid triathlete and cyclist, Dr. Movassaghi is familiar with the unique skin concerns of athletes. He and our Ziba Spa skincare team will be glad to offer knowledgeable guidance to help you design an effective plan to protect your skin's health. Please contact our office to schedule a complimentary skin evaluation and consultation.
Save