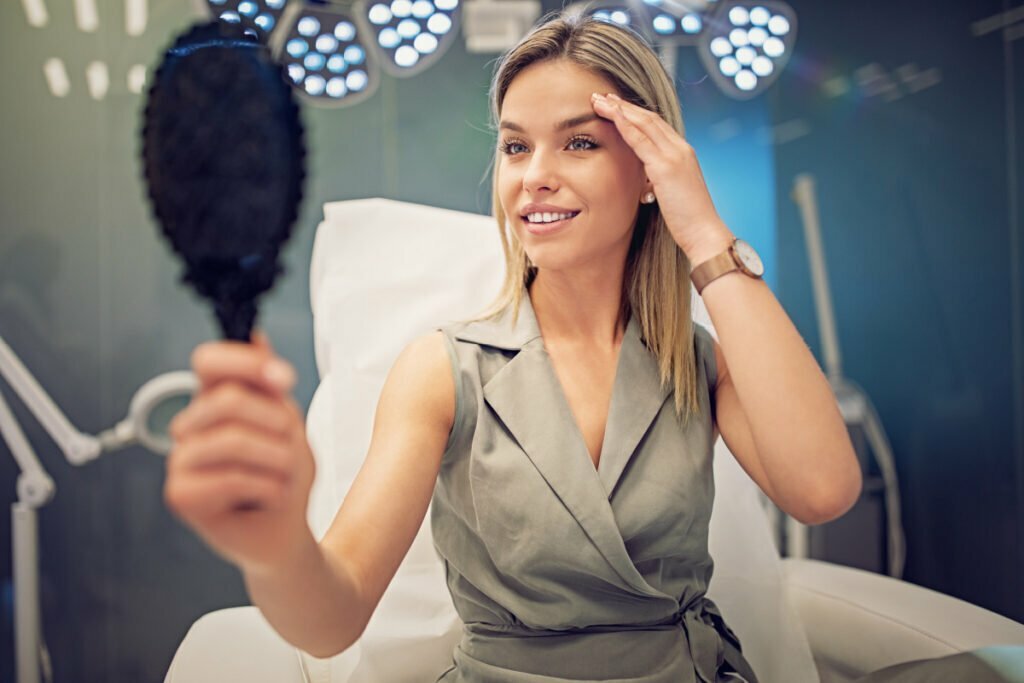 BOTOX® has been FDA-approved for wrinkles since 2002, and as the oldest cosmetic injectable on the market, it's one that our injectors are closely familiar with. That means that we know how to use the minimal amount necessary to treat wrinkles, which preserves our patients' unique features and facial expressions.
This natural-looking, soft approach to Botox injections is key to "baby" Botox, or preventative injections for younger patients who want to prevent wrinkles from forming in the first place. Here's everything you need to know.
What exactly is Botox?
To understand how preventative Botox works, it's important to understand what Botox is. Botox is made of purified botulinum toxin type A, a toxin produced by microbes that can cause botulism, a type of food poisoning. Botox was originally developed from this substance as an injectable treatment to calm muscle spasms because, when injected, it signals the muscle to relax by stopping nerve signals.
Injected for cosmetic purposes, Botox relaxes facial muscles whose contractions cause wrinkles. Depending on the size of the muscle and the level of relaxation desired, the injector (preferably a plastic surgeon, nurse injector, or dermatologist) will carefully calculate the amount to inject. Its effects last for about 3-4 months.
How does "baby Botox" work?
This approach is personalized for each patient, but often involves around 20-35 units of Botox distributed throughout the facial areas where aging tends to happen first—usually between the eyebrows (glabella), the forehead, and the crow's feet at the corners of the eyes. By contrast, outdated injection methods often involved injecting that same amount of Botox into just one muscle, leading to an unpleasant "frozen" appearance.
"Prejuvenation" slows down signs of facial aging, gently softening fine lines and wrinkles over time.
Over time, Botox can train your muscles to contract less, creating fewer and less severe wrinkles. Patients who receive Botox in larger quantities enjoy this effect, and so do patients who get preventative, or baby, Botox to a smaller degree. This is why baby Botox technique is sometimes called "prejuvenation."
What is the right age to start preventative Botox?
Our youngest Botox patients used to be in their mid to late 30s, but now it is common to begin Botox preventatively in your mid 20s to early 30s. We encourage patients to begin Botox injections to smooth dynamic wrinkles before they "set" into the skin, becoming static wrinkles which are always present even when your face is at rest. If you see fleeting fine lines temporarily appear on your skin after you make expressions, you are ready to start "prejuvenation" injections.
Take for example the "11s" between the eyebrows. You know the ones: Just about everyone gets these notorious wrinkles, and preventing their formation is Botox's claim to fame. Reversing them, on the other hand, is more problematic: Botox works by relaxing the muscle that forms the wrinkle, but this doesn't mean that once deep wrinkles are set into the skin that Botox can smooth them out. That's why this is an ideal spot for preventative Botox.
To get the full benefits of preventative Botox, you may begin injections in your mid 20s to early 30s.
Still, it remains common to begin Botox as lines are beginning to set into the skin, or even after expression lines are etched into the skin. In these cases, we may pair Botox with dermal filler injections to restore lost volume and thus fill out static wrinkles from below.
Can you be too young to start Botox?
Botox is FDA-approved for cosmetic use in patients ages 18 and up, but you can be too young to start Botox even if you are over 18. If you are very young and see no fine lines beginning to form, it is possible that you simply don't yet need to prevent future aging with Botox. Your injector will help you decide if Botox is necessary for you.
Can men benefit from preventative Botox?
Yes, people of all genders can benefit equally from preventative Botox (often referred to as "Brotox" for guys). Our male patients often prefer a light touch with their Botox to avoid looking like they had work done, and preventative Botox is ideal for making discreet improvements.
Reasons to consider preventative Botox
There are a number of reasons to try out early intervention with a neuromodulator:
Botox works every time. Some non-surgical facial treatments offer subtle or unreliable results. But neuromodulators are well-known for getting reliable results in the hands of experienced, qualified injectors who personalize the treatment to patient anatomy.
Small enhancements with Botox can be added to your treatment. This may include jaw-slimming masseter Botox, the Botox lip flip, or a subtle Botox "brow lift."
Trying out "prejuvenation" is low commitment. Neuromodulators only last for about 3-4 months, so if it's not for you, you can simply let the effects wear off.
Note that Jeuveau™, Xeomin®, and Dysport® all are botulinum toxin type A injectables that offer similar results to Botox. Some injectors find that they get best results with one product over another in a certain area of the face, but early wrinkle intervention still works about the same with any of these injectables.
Choose the experienced Eugene Botox injectors at Movassaghi Plastic Surgery
Finding a highly qualified injector with proven experience is key; that way, you can trust your injector to advise you on where, when, and what injectable to use. At Movassaghi Plastic Surgery & Ziba Medical Spa, board certified plastic surgeon Dr. Kiya Movassaghi and Nurse Injector Karen perform all injections themselves. Not only are they both well-versed in modern injection techniques, but they also hold a combined 30+ years of experience with Botox and other injectables.
To learn more and schedule your consultation, contact us online or call 541.686.8700.