Smoothing out fine lines can make a big difference

New from the makers of Botox® Cosmetic, JuvédermTM is a next-generation dermal filler that instantly restores your skin's volume to smooth away facial wrinkles and folds.

As we age, skin volume diminishes, forming wrinkles. JuvédermTM, made of a substance that occurs naturally in skin called hyaluronic acid, simply restores your skin to its more youthful volume, smoothing wrinkles away. The smooth consistency ofJuvédermTM provides a natural look and feel to correct facial wrinkles such as "smile lines" or "parentheses."
The injection process takes only about 15 minutes, and results are immediate. Results typically last six months or longer. With minimal recovery or downtime, JuvedermTM is a safe, quick, and convenient solution to facial folds and wrinkles.
We're an Allergan Diamond Practice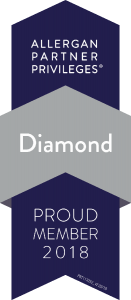 Dr. Movassaghi and our staff are honored to be named an Allergan Diamond Practice for 2018. This award is given only to the top aesthetic practices nationwide who provide Allergan products including Juvéderm fillers, BOTOX Cosmetic, and Natrelle breast implants.
Earning our Diamond status reflects our commitment to excellence and shows that patients trust us to provide the very best in care and excellent results. We couldn't have done this without you; we have the very best patients in Eugene—thank you!