Effortless facial rejuvenation on your lunch break
Dermal fillers are extremely popular cosmetic treatments and for good reason. With fast treatment, no downtime, and natural-looking results, fillers are a safe and affordable way to look younger and more refreshed.
Why choose us for your filler treatments?
It's easy to find places that offer dermal filler injections in Eugene, but it may not be easy to find an experienced provider. Unlike other cosmetic surgery offices, board-certified plastic surgeon Dr. Kiya Movassaghi performs injects all of our fillers personally. Dr. Movassaghi has extensive training, precise surgical skill, and a deep understanding of facial anatomy. You can feel rest assured that you will be receiving safe and effective treatment with beautiful results.
What are my dermal filler options?
At Movassaghi Plastic Surgery & Ziba Medical Spa, we offer a range of popular, FDA-approved fillers. While each product targets a specific type of wrinkle or sign of facial aging, all are made from hyaluronic acid, a substance that is naturally found in your body and proven to promote your skin's collagen production.
Get rewarded with the new Allē Rewards Program
Join the new and improved Allē Rewards Program and get exclusive savings on Allergan Aesthetics™ products and services, such as Botox®, Juvederm®, and Latisse®.
We're an Allergan Diamond practice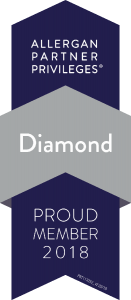 Dr. Movassaghi and our staff are honored to be named an Allergan Diamond Practice for 2018. This award is given only to the top aesthetic practices nationwide who provide Allergan products including Juvéderm fillers, BOTOX Cosmetic, and Natrelle breast implants.
Earning our Diamond status reflects our commitment to excellence and shows that patients trust us to provide the very best in care and excellent results. We couldn't have done this without you; we have the very best patients in Eugene—thank you!
Dermal fillers in Eugene, OR
Board-certified plastic surgeon Dr. Kiya Movassaghi has over 20 years of experience injecting dermal fillers and personally performs all of his patients' fillers. To learn more about which dermal filler is right for your skin, contact us online or call (541) 686-8700.
Areas served: