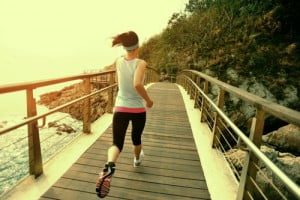 Are you proud of your lean, fit runner's body…except when it comes to wearing bikini tops?
If you've dismissed the idea of breast augmentation because you think that getting implants means ending up with a D-cup bra that hinders your jog, think again. The truth is that a significant number of breast augmentation patients are competitive runners and cyclists who work hard to keep in top shape, but are unhappy with the lack of curves that often accompanies an athlete's body.
Yes, you can have breast augmentation and continue setting PR's on the race course. You just need to take a few special things into consideration to ensure that you get the look that works for you as an athlete. Many of us here at Movassaghi Plastic Surgery are avid runners and cyclists ourselves, and we want to share some important points for runners to consider before having breast augmentation surgery.
Choose Breast Implants to Suit Your Lifestyle (Not the Other Way Around)
Many runners considering breast augmentation worry that running with breast implants will be awkward or uncomfortable. The short answer is that it doesn't have to be—if you are smart about your implant choice.
For most runners, that means choosing a more modest implant size. It's not a secret that running with overly large breasts can be uncomfortable (just ask any of our breast reduction patients).
As more and more active women like you decide that they want to enjoy a more feminine shape without sacrificing their identity as athletes, we are seeing a trend toward smaller breast implants emerge in plastic surgery. Not only are smaller breast implants able to achieve a beautiful shape on a lean runner's frame, they often provide the most natural look too.
Larger implants weigh more and can place excessive stress on the surrounding skin during exercise. If you do choose to go with larger implants, plan on wearing a highly supportive, well-fitted sports bra. It will be imperative for your comfort.
An experienced plastic surgeon will help you find an implant size, shape, and profile that provides a naturally flattering breast profile that will not interfere with your ability to run comfortably. This brings us to our next point.
Choose a Plastic Surgeon Who Has Experience Performing Breast Augmentation for Athletes
The single most important thing you can do to make sure you get a natural looking and feeling breast augmentation as a runner is to choose a plastic surgeon who has plenty of experience performing breast augmentation for athletic women like you.
While breast implants are equally safe for runners and non-runners alike, runners have unique needs that must be addressed to ensure natural looking results. For one thing, runners tend to be very lean, meaning there is less natural tissue to cover an implant. A qualified surgeon will take this into account when guiding your implant choice and placement. Moderate sized silicone implants, placed beneath the pectoral muscle, are less likely to show rippling or have palpable edges beneath the skin and typically achieve optimal results in lean patients.
Athletic women also tend to carry more muscle mass in the chest region than their sedentary peers, requiring a surgeon to be skilled in adapting his or her techniques when placing the implant. The width and contour of your chest wall must also be taken into account to ensure your new breasts are spaced naturally and proportionally to your body.
Do not be afraid to ask at a consultation how much experience a surgeon has working with patients similar to you. A reputable surgeon will answer you honestly and provide a portfolio of before and after photos to allow you to compare patients with "before" bodies who look like you.
Plan Your Surgery to Allow for an Optimal Recovery
One of the biggest concerns runners have when considering cosmetic surgery is the recovery time involved. Facing a few weeks without training can be psychologically difficult, but allowing your body adequate time and rest to recover is essential for your health and your results. Think of it like you might for any other medical issue—taking a few short weeks off from running now to heal appropriately is far better than risking complications that could force you to quit running for months.
It makes sense to choose a surgery date for a time when you might naturally take a hiatus from hard training. Many runners will schedule their surgery during the winter, when it's easier to stay inside and rest. Having your breast augmentation soon after your "A" race for the year can be a great approach—it's a nice reward for a job well done and coincides with your natural post-race recovery period. With proper care, patients who honor their surgeon's instructions can typically resume running 2 or 3 weeks after breast augmentation surgery.
We hope these points have proved helpful for you as you weigh your options for enhancing your breast shape and living an athletic lifestyle. Have more questions? Please contact us! If you are a runner in Eugene considering breast augmentation, Dr. Movassaghi and our staff will be happy to discuss your questions at a personal consultation.