Understanding your breast augmentation options
If nature hasn't given you the curves you want, or if pregnancy and weight changes have altered your breast appearance, breast augmentation may be an ideal procedure for you. Eugene board-certified plastic surgeon Dr. Kiya Movassaghi helps you custom-select breast implants and customizes your breast augmentation to fit your body and lifestyle.
Breast augmentation can give you the breast size increase you desire while ensuring you still look like you, only with your feminine, proportionate curves. This popular procedure can also balance your overall body shape, correct asymmetrical breasts, and make wearing form-fitting clothing and swimsuits more fun!
Saline or silicone: Choosing the right implant options for you
We specialize in helping our patients choose a breast implant shape, size, and profile that works naturally with their unique proportions, so you can be confident in knowing that your increased breast size will look and feel natural, no matter what you are wearing. A good portion of your personal consultation will be devoted to helping you decide which breast implants will suit you best.

Our breast augmentation patients often comment that this sizing session is the most fun part of the process. Not only will you get to see what different breast implants really look and feel like, but you will also get to try on different shapes and sizes to see how each option might look—it's like getting a sneak peek of the new you.

"Highly recommend! Dr. Movassaghi is professional, does not over-sell, has amazing bedside manner, is honest, and gets the job done right—the way it should be done (in my experience) the first time. The staff in this office is also very nice and accommodating. I'm very happy and will return for any future surgeries."
Dr. Movassaghi offers our Eugene patients every style of breast implant currently available, including saline, silicone gel, shaped silicone, and structured saline implants for completely personalized breast enlargement results.
Saline vs. Silicone implants
There currently are two primary classes of FDA-approved breast implants on the market: saline-filled and silicone-filled implants. While both types of implants are intended to enhance your breast appearance, each has their own unique advantages for breast augmentation patients to consider.
Saline breast implants consist of a silicone outer shell that is filled with saline (sterile saltwater). To support a smaller incision, the empty implant shell is inserted into the breast pocket and then filled to the desired size once the implant is in place. In the unlikely event of a rupture or leak, the saline solution is safely absorbed by the body and naturally eliminated. While these are nice advantages, because saline implants are more prone to visible wrinkling, women with naturally thin breast tissue may be more satisfied with their results if they choose silicone implants.

Silicone breast implants, in contrast, are made of a silicone shell that comes pre-filled with a highly cohesive silicone gel. The gel is designed to closely mimic the tactile qualities of natural breast tissue, resulting in a more natural breast feel; as such, most women usually prefer silicone gel over saline implants. If this type of implant ruptures, the silicone gel will remain within the implant pocket; this is intentional for your safety but also means you'll need to have imaging tests at occasional intervals over the years to check for the possibility of a rupture.
Both implant types have strong safety profiles and can achieve natural-looking breast enhancement for women. Ultimately, the choice of implant type will depend on your unique anatomy and breast augmentation goals. Learn more about our breast implant options.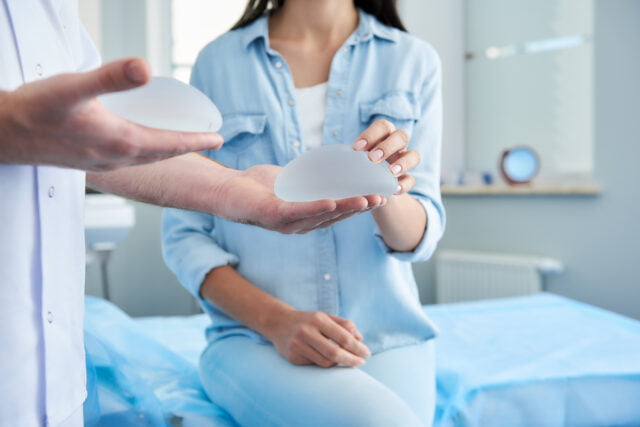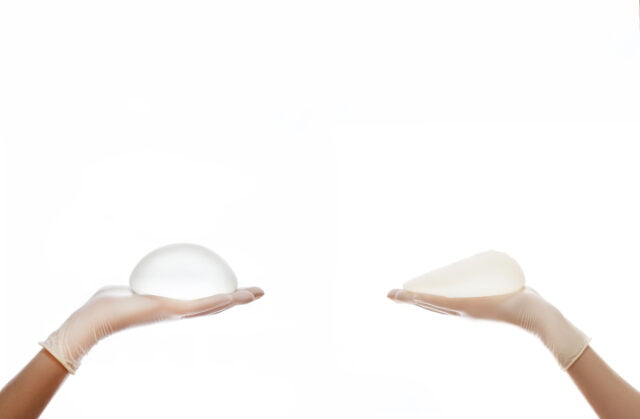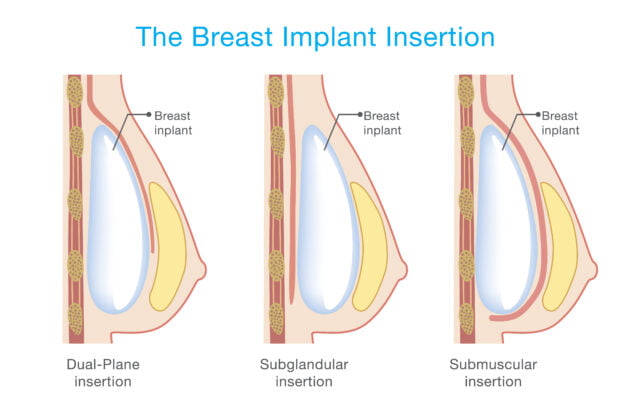 Breast implant placement
Dr. Movassaghi places breast implants either using a subglandular placement, or underneath the breast tissue but over the muscle, or a submuscular placement, where the top portion of the breast implant is covered by the pectoral muscle.
Subglandular vs. submuscular placement
Subglandular placement can be appropriate for women with adequate existing breast tissue and skin thickness; in these cases, it can help to achieve a natural-looking breast contour. Subglandular placement may also have a shorter recovery time and result in less postoperative discomfort compared to submuscular placement—however, the subglandular technique may be associated with a higher risk of implant rippling or visible implant edges, especially in patients with thinner skin or minimal breast tissue.
Submuscular placement may be ideal for women with thinner skin and breast tissue, as the chest muscle can provide additional implant coverage and a more natural-looking breast contour. This technique can involve a slightly longer recovery period and somewhat more postoperative discomfort due to the additional manipulation of the chest muscles during surgery. (That said, postoperative pain from any cosmetic surgery is typically easily managed, and we will work to ensure your comfort throughout recovery.)

While either placement can result in aesthetically pleasing breast augmentation, Dr. Movassaghi prefers the submuscular placement for most patients. Situating the implants beneath both the breast tissue and the muscle provides better implant coverage, which allows for a more natural transition from the natural breast tissue to the implant and reduces the chance of visible implant edges. Dr. Movassaghi will go over the best implant placement options for your anatomy at your breast enhancement consultation.
Incision placement for breast augmentation
Chances are you have wondered what your breast augmentation scars might look like and where they will be located. There are a few different incision placement techniques that plastic surgeons may use during breast augmentation; all are designed to be inconspicuous with or without clothing. Dr. Movassaghi primarily uses one of the following incision options when performing breast augmentation:
Periareolar. An incision is made around the edges of the areola (the pigmented area of your breast) to place your implants, leaving a thin scar that is well camouflaged by the natural change in skin color between the areola and the breast.
Inframammary. An incision, about 1-2 inches long, is made in the crease underneath the breast to situate the implants into the breast pocket. The resulting scar is easily concealed within your natural breast crease.
If you are having a breast lift at the same time as breast augmentation, Dr. Movassaghi may place additional incisions; these will also be easily concealed beneath a bra or swimsuit. During your breast augmentation consultation, Dr. Movassaghi will specifically explain the recommended incisions based on your personalized surgery plan.
If you are interested in additional procedures along with your breast augmentation, use our Treatment Explorer to discover all of your options. (For example, body sculpting procedures are often combined with breast surgery as part of a mommy makeover.)
What is breast augmentation recovery like?
For the vast majority of patients, breast augmentation is a relatively easy surgery with a surprisingly quick recovery. Dr. Movassaghi performs breast augmentation on an outpatient basis, and the operation takes about 1-2 hours from start to finish. Most patients are up and walking around the evening after breast surgery, and while your chest will be sore for some time, pain is easily managed and you'll be able to return to non-strenuous daily activities within 2 or 3 days.
You will need to wear a supportive, soft bra to accommodate your new breast size for the first few weeks and follow instructions about limiting exercise and lifting. Typically, breast augmentation patients are allowed to gradually resume regular workouts 2 or 3 weeks after breast surgery. It's also important to heed instructions for scar care to ensure that your scars heal as thinly and faintly as possible.
When will I see my breast augmentation results?
Like any cosmetic surgery, breast augmentation results will continue to improve as they heal. You'll look great a week or two after surgery, but even better after a month or two, as residual post-op swelling tapers off and your implants settle into position. Final breast augmentation results are typically in place after 6 months or so. But don't worry; changes are subtle after the first 3 months or so. You can help keep your breast augmentation results looking great for years to come by following healthy habits, eating a nutritious diet, maintaining a stable weight, and wearing good quality bras.
How much does breast augmentation cost in Eugene?
The cost of your breast augmentation is based on a number of factors, including your choice of implants, the extent of the procedure needed to achieve the results you are looking for, and a few other factors. Dr. Movassaghi will provide detailed pricing as part of your personal breast augmentation consultation.
Choose a breast augmentation expert
Simply choosing a conveniently located plastic surgeon that advertises the procedure will not guarantee optimal breast augmentation results. Breast augmentation is a very complex procedure that requires thoughtful tailoring to each woman's anatomy and excellent technique to avoid common complications. As such, your surgeon should have both a keen eye for aesthetics and deep understanding of anatomy and physiology.
Women in Eugene and the surrounding areas have trusted Dr. Movassaghi to achieve safe, natural-looking breast augmentation results for almost two decades. Here are some of the reasons why:
Dr. Movassaghi as one of the pre-eminent authorities on breast augmentation in the U.S.. He is the editor of Shaping the Breast: A Comprehensive Approach in Augmentation, Revision, and Reconstruction, which is a detailed resource for plastic surgeons including extensive information on breast surgery techniques for optimal results.
Movassaghi Plastic Surgery was named an Allergan Diamond Practice for 2018—an award given to only the top aesthetic practices nationwide who provide Allergan products including Natrelle Gel INSPIRA, Natrelle 410, and Natrelle saline breast implants.
Dr. Movassaghi is an 11-time winner of the Register-Guard Readers' Choice Award in the Cosmetic Surgeon category.
Dr. Movassaghi has been featured in numerous local publications and news outlets, including Eugene Magazine and KVAL TV Channel 13.
Dr. Movassaghi provides attentive, compassionate care; he will take the time needed to fully understand your goals and guide you to the best choices.
Schedule your plastic surgery consultation in Eugene today
Dr. Kiya Movassaghi is a highly experienced and respected board-certified plastic surgeon as well as a Fellow of the American College of Surgeons (FACS). He has over 20 years of experience performing breast augmentation and helping women love the way they look and feel in their bodies. Schedule your consultation online or call (541) 686-8700.
Areas served: