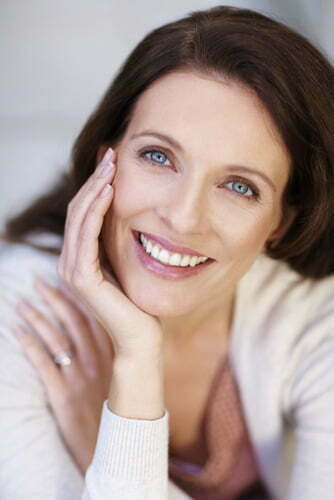 Two minimally invasive options for reducing your double chin have recently come to market—and both patients and plastic surgeons are excited for the possibilities. CoolMini™ by CoolSculpting® and the injectable Kybella™ are FDA-approved methods to reduce submental fullness (a.k.a the dreaded "double chin").
As a trait that is most often a result of genetics, submental fullness is notoriously difficult to get rid of through diet and exercise—and excess fat under the chin can create a heavier, aged appearance. Both CoolMini and Kybella offer an alternative to liposuction for men and women stuck with this rather unwelcome family "heirloom," who wish to enhance facial harmony or restore a slimmer, more youthful profile.
Each, however, uses a very different process to get results, leading many to wonder, "Which one is better for me?"
How CoolMini Works
CoolMini is a specially designed CoolSculpting applicator for treating smaller, harder-to-reach pockets of fat, such as under the chin, above the knees, and around the armpits. Just like the traditional CoolSculpting devices, CoolMini uses cryolipolysis, or targeted cold therapy, to rapidly cool fat cells to the point where they breakdown and are naturally metabolized by the body.
The new CoolMini device is specially designed to fit around the area beneath the chin, where it can specifically target persistent fat cells while leaving surrounding tissue unharmed. Patients are typically pleased with their results after one hour-long treatment.
How Kybella Works
Kybella is a solution that is injected directly into subcutaneous fat underneath the chin. The active ingredient, deoxycholic acid, ruptures the targeted fat cells, allowing them to be absorbed naturally by the body. Each Kybella treatment takes about 15 – 20 minutes to perform, and patients typically require a series of treatments over the course of several months.
CoolMini VS Kybella
So are there any advantages to either treatment? The ultimate decision belongs to you and your physician, but making a few key comparisons can help you better understand your options. So let's tackle a few of the most common questions about Kybella vs. CoolMini:
How much does CoolMini cost? What about Kybella?
Prices for any cosmetic procedure can vary significantly depending on everything from where you live to your unique needs, but you can expect your CoolMini treatment to run between $1,000-$2,000. Most patients are satisfied after just one or two treatments.
Kybella is priced by the amount of solution used (i.e., per vial), and costs vary quite widely—according to reports from plastic surgeons on RealSelf, prices average about $600-$750 per vial, with the typical patient requiring at least two vials per treatment (or about $1,200 to $1,500 for each session). For best results, anywhere from two to five or more treatment sessions spaced one month apart is recommended. The bottom line? Kybella is likely to be the more expensive option in the long run.
Which option will give me quicker results?
Since Kybella typically requires multiple treatments which must be spaced four to six weeks apart, it can take up to five months or longer to achieve the desired results. (In clinical trials, it took 4 treatments for more than half of patients to experience measurable improvement.) One treatment with the CoolMini produces gradual fat reduction over the course of around 90 days, with noticeable improvement occurring around the two month mark. Some patients will decide to have a follow-up CoolMini treatment to achieve further improvements.
Does either treatment hurt?
CoolSculpting is a truly non-invasive procedure—there are no needles and no need for anesthetic. You will likely feel a brief, intense cold sensation for the first few minutes of treatment with CoolMini, after which the area will numb and the remainder of treatment will be quite comfortable.
Kybella involves multiple injections per treatment; the needles must be placed very precisely to ensure that the fat cells are properly targeted. A topical anesthetic can be used to minimize discomfort.
What side effects are possible from each?
Both the CoolMini and Kybella are safe when administered properly to a suitable patient. The most common side effects from either treatment include mild bruising, swelling, soreness, and redness in the treated area, with symptoms typically resolving within a week of treatment.
Additional side effects seen with Kybella include a temporary hard or lumpy texture beneath the treated skin, numbness in the neck area lasting up to four weeks, and, in very rare instances, nerve damage that can cause an uneven smile or difficulty swallowing. While you should choose a qualified, experienced provider for either procedure, Kybella injections require particular skill to ensure safe, evenly placed treatment for optimal results.
Which one will give me the longest lasting results?
Both CoolMini and Kybella are both approved for chin fat reduction, although the CoolMini can typically achieve results a little more quickly. However, it is important to remember that no procedure is immune to future weight gain; it's important maintain a healthy lifestyle to ensure your results last.
Is there an ideal candidate for either treatment?
With the CoolMini, you must have enough tissue to be pulled up into the device—which is is rarely a problem for patients whose primary complaint is excess chin fat. Kybella has no minimum tissue requirement for injection and can be used for very small amounts of fat.
There is evidence that both Kybella and CoolSculpting offer some skin-firming effects to many patients, however, neither procedure can correct loose or hanging neck skin. A surgical neck lift may be necessary to address these issues.
Our take on the two chin fat reduction options?
While Kybella, if performed correctly, can achieve beautiful, lasting results, we prefer the CoolMini here at Movassaghi Plastic Surgery in Eugene. In our experience (and our patients'), the CoolMini offers comfortable, affordable treatment with excellent results in a reasonably short time and very few side effects.
If you're ready to send your double chin packing, please contact our office. Dr. Movassaghi will be happy to discuss how CoolMini might help you enjoy a more attractive profile after one simple treatment.