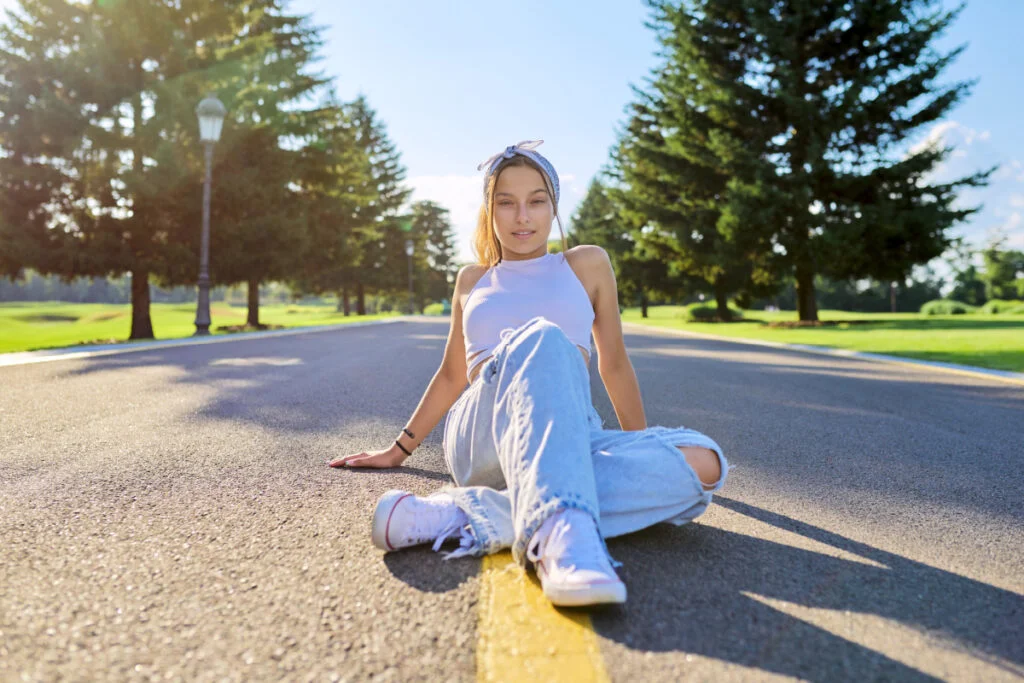 On the lookout for new places to snap a selfie or stage a stylish photo shoot for your next Instagram post, reel or story? As an active college town surrounded by stunning natural scenery, Eugene offers something for everyone⁠—from gorgeous waterfalls to events at the University of Oregon to the birthplace of Nike and much more.
Today we are highlighting some of the most memorable and eye-catching photo backdrops in our beloved city and surrounding areas. These special places are all sure to provide special memories as well as get your followers and fans double-tapping for more.
Natural Wonders
Willamette National Forest is about an hour away from Eugene but well worth the drive. Here you can check out three of the area's most popular waterfalls: Koosah Falls, Sahalie Falls and Proxy Falls. They all are accessible via easy, relaxing hikes and offer a massive visual reward⁠—stunning views and crystal blue water. Count us in!
Nestled along the Willamette River is the 8.5 acre park known as Owen Rose Garden. In the 1950s the Eugene Rose Society donated the first 750 rose plants and since then the botanical collection has grown to over 4,500. In addition to countless floral backdrops, you can also visit the country's oldest and largest Black Tartarian cherry tree, dating back to 1847. Enchant your senses, and your followers, with blooms and beauty!
Honorable Mention: The profile of Spencer Butte, and its neighboring Skinner Butte, is one of the most recognized landmarks on the city's skyline. The Butte tops out at an elevation just over 2,000 feet and offers some of the best views of the Willamette Valley, just minutes from downtown. There are numerous trails, ranging from short and easy to strenuous and steep but all lead to the top of the open and expansive ridgeline⁠—perfect for your next photoshoot or stunning selfie.
Historic Charm
The Currin Bridge is about 30 minutes outside of Eugene, but you'll feel like you're going back in time. The bridge, stretching over the meandering Row River, was built in 1883, covered in 1925, and more recently repaired and renovated in the 1980s and 90s. Its unique red siding, contrasting white portals, and corrugated metal roof offer an eye-catching aesthetic for your feed. The best part⁠—the bridge is closed to vehicular traffic so you can take your time to get the perfect shot!
The Shelton McMurphey Johnson House is named for the three families who have called it home since 1888. Today, this Victorian mansion is part of the National Register of Historic Places and you can tour it to learn more about Eugene's fascinating history. This 'Castle on the Hill' makes a great backdrop for a moody and dramatic shoot that will captivate your followers and fans.
Honorable Mention: The Jordan Schnitzer Museum of Art is located on the campus of the University of Oregon, featuring edgy exhibits and a beautiful courtyard for a wide range of photo ops.
Cultural Hotspots
Voodoo Donuts offers wild and crazy donut creations you'll have to see to believe. Choose your favorite dozen in their signature pink box⁠—and don't be afraid to visit at any time of day because they're open 24 hours! While you're there also check out nearby Kesey Square, a great spot to people-watch, with entertainment provided by local buskers and street performers.
Falling Sky Brewing is one of those special breweries that boasts awesome craft beer and an amazing food menu⁠—all made in house! They offer 42 taps of their own beer, and are constantly rotating their menu. For the best photo opportunities, make your way outside to find two stunning murals painted by the British street artist Hush, and see what secret messages you can find hidden in the stenciled details.
Honorable Mention: Luckey's Club is one of the oldest bars in Oregon, open since 1911! This is a great place for a night of billiards, a live burlesque show – and of course, captivating IG content.
Have any other cool Instagrammable places to share? Let us know in the comments, or on social media!
Get photo-ready at Eugene's Movassaghi Plastic Surgery & Ziba Medical Spa
If ideal backdrops are on your mind, we know you also want to shine, presenting your best, most confident look! Level up your selfie game with Movassaghi Plastic Surgery & Ziba Medical Spa, where board-certified plastic surgeon Dr. Kiya Movassaghi and his expert aesthetics team can boost your glow with a full variety of surgical and non-surgical procedures for the face and body. To schedule your personal consultation, call our office at 541.686.8700 or fill out our online form.