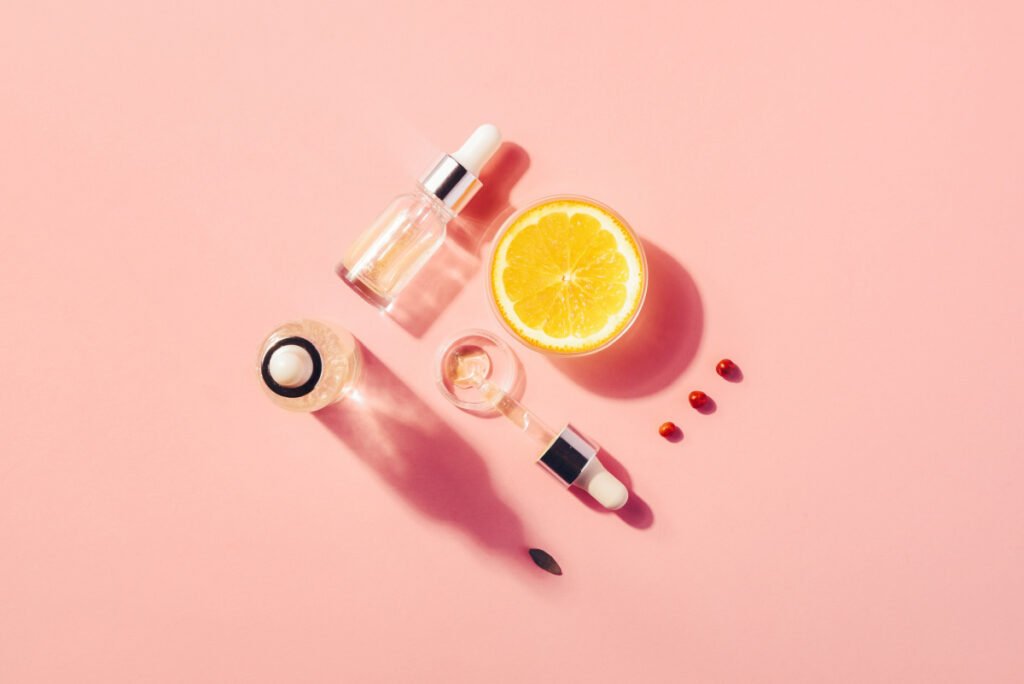 Summer is here and, whether you love the heat or hate it, it's time to make sure your skincare plan includes the most effective ingredients for the season. Ahead, our medical aestheticians explain how the summer season affects our skin and which ingredients to add to your regimen.
How does the summer climate affect our skin?
Though many covet the look of a summer tan, exposure to the sun's rays can lead to serious burns as well as increased chances of skin cancer, noticeable aging, hyperpigmentation, freckles, skin molting, broken capillaries, and more.
Further, summer heat and humidity produce more sweat, increase oil production and greasiness, and even reduce skin pH. The result: clogged pores and more frequent acne breakouts. You might even notice breakouts cropping up in new areas, such as your chest and back. 
Remember, though, that sweating is a natural and important biological process to regulate your temperature, release toxins, and keep you cool. Instead of avoiding sweating—exercise is, after all, vital to skin health—let's take a look at how to balance out its effects on our skin.
Why is summer skincare different from winter skincare?
Just like you change your wardrobe from winter to summer, so should your skincare routine change. Winters are cold and dry, and summers are hot and humid. You're also likely spending more time outdoors and in the water with activities like swimming or kayaking. Therefore, the main goals of summer skincare are to protect your skin from the sun (although, you should be wearing sunscreen year round) and help it recover from oil buildup.
7 key ingredients to include in your summer skin regimen
1. Zinc oxide
Zinc oxide is a mineral-based sunscreen ingredient that blocks damaging UVA and UVB rays. We recommend a daily sunscreen of SPF 30 or higher on all exposed skin. That means going beyond your face and neck: don't forget about the décolletage, the back of the neck, and the tops of the hands and feet. Be sure to reapply as needed, especially if you are outside, sweating, or have been in water.
The great news is there are now sophisticated zinc oxide-based sunscreens that won't leave a white haze: we recommend Jane Iredale's various mineral-based SPF makeup products or Colorescience's SPF 50 brush-on mineral shield, both of which are available at our Eugene office.
2. Vitamin C
Vitamin C can be used all year, between cleansing and moisturizing, but because it can help protect your skin from hyperpigmentation—a.k.a. discoloration—and helps stimulate collagen production, it's especially important when we're exposing more of our skin to longer doses of sunlight. The American Society of Plastic Surgeons' blog recently affirmed this, highlighting the usefulness of vitamin C serum, which includes antioxidants intended to help with free radical damage after sun exposure.
To realize these benefits, look for a medical-grade vitamin C serum and apply at least once a day, followed by a moisturizer, for a brighter complexion and fewer fine lines. Also be sure to wear a high-SPF sunscreen over your serum, as vitamin C can break down when exposed to light. We especially recommend SkinCeuticals Vitamin C products, a line known for pioneering and advancing the use of antioxidants in skincare. 
Vitamin C is especially important when we're exposing more of our skin to longer doses of sunlight.
3. Vitamin E
Consider incorporating vitamin E into your summer skincare routine: a 2018 study showed that vitamin E can "mitigate on-going DNA damage formation, even after sun exposure has ended." Vitamin C supports maintenance of vitamin E levels, so using these two ingredients in conjunction is ideal. SkinCeuticals CE Ferulic serum includes both in a patented formulation and is worthy of its legendary status in the world of skincare.
4. Alpha-hydroxy acids
If you have oily skin, you may want to incorporate more exfoliation into your summer routine; however, be sure to do this gradually and don't exfoliate daily. Rather than harsh physical exfoliation, we recommend alpha-hydroxy acid (AHA) which can help remove oils from clogged pores, as well as help to prevent or treat summer acne. SkinMedica's AHA/BHA products are a great choice for correcting past sun damage as well.
However, keep in mind that AHAs make skin more sensitive to the sun—so be sure to only use this ingredient under the direction of a medical aesthetician and to apply sunscreen throughout the day.
5. Hyaluronic Acid
Unsurprisingly, our bodies need more water in the summer time to fight off dehydration. But drinking lots of water will only go so far when it comes to keeping your skin moisturized from the inside. Your skin is likely facing surface dryness due to prolonged exposure to air conditioning, swimming in chlorinated pools, and an increased need for showering that can dry out your skin.
Therefore, we recommend using hyaluronic acid, a proven humectant, for moisturizing your summer skin. It's great for the heat because it's lighter than oils or body butters that can clog pores. We recommend applying hyaluronic acid products twice a day in the summer after cleansing.
Drinking lots of water will only go so far when it comes to keeping your skin moisturized from the inside.
6. Bee products
Ingredients made by bees have become increasingly popular in dermatologic and cosmetic product formulations: look closely at your ingredient lists, and you might even find them in products you already have on hand. According to a 2020 article on the use of bee products in dermatology & skincare in the journal Molecules, propolis can help with acne by limiting occurrence of Cutibacterium acnes, while royal jelly is antiseptic and can also help normalize sebum secretion. Royal jelly also contains 10-hydroxy-trans-2-decenoic acid which improves the production of collagen. While bee products can't replace the need for sunscreen and medically-vetted skincare, look for them as a sweet way to further support your skin's health throughout summer.
7. Growth factors—a.k.a. "messenger proteins"
Already experiencing the damaging effects of yesteryears' sunbathing? Both a 2008 and a 2010 study confirmed that growth factors can reverse facial photodamage. Here at Ziba Medical Spa, we recommend SkinMedica's TNS line of products to counteract the effects of past sun damage as they contain proprietary growth factor blends and have been proven to visibly rejuvenate damaged, aging skin.
Get your best summer skin at Ziba Medical Spa
Not sure which skincare product and ingredients are right for you? Here at Ziba Medical Spa at Movassaghi Plastic Surgery in Eugene, Oregon, we have over a decade of experience in the treatment of sun damage, dark spots, acne, and other summer skin issues. The first step to improving your skin's appearance is having an in-depth skin evaluation: we want to get to know your skin's characteristics, identify problem areas, and develop an effective plan tailored to your individual needs. We invite you to get started by requesting a personal skincare consultation appointment via our online form or calling the practice at 541-686-8700.