Breast Implant Options for Just the Right Look
There's never been a better time to get the breasts you want. Today's breast implant choices offer the most extensive range of size, shape and profile to help achieve your desired breast size and contour while ensuring a natural-looking result. Having this much variety is fantastic news for you, but it also means that it is more important than ever to understand what each implant option means for your new look.
How do I choose an implant size?
Implant sizing can seem tricky at first, but it's really just a matter of focusing on your final look. Finding an experienced breast augmentation surgeon you can trust is the first step. Your consultation with Dr. Movassaghi includes a detailed implant fitting. We will take precise measurements at various points throughout your body, including your chest width and circumference.
"When you said you were a perfectionist, you were right. I feel as if my new look is so beautiful and natural. I feel so much more confident, and shopping for new clothes has been a sheer delight!"
After discussing your preferred implant type (saline, silicone gel, or shaped silicone) and your desired breast size after surgery, he will give you a range of size and shape options to consider that will fit your body well. You will be encouraged to try on several different options to compare and understand how variations in size, shape or profile might affect how you look. Ultimately, the choice is yours, and you can arrive for your procedure confident that you are getting just the right implants for you.
What are my implant choices?
Dr. Movassaghi has many years of experience working with the full spectrum of FDA approved breast implants, including saline, silicone gel, and shaped silicone. He feels that there is no single implant type that is "better" than another; rather, that one type of implant may better meet the needs of one individual patient.
Anatomically Shaped Silicone Implants
Known as "gummy bear" implants for their firmer feel, shaped implants use a highly cohesive, form-stable silicone gel that allows for a more anatomically shaped, naturally sloping breast. They offer a very natural looking breast enhancement, and we have seen excellent results in our patients who choose these implants. Shaped implants are available in a variety of options, making them highly customizable to a patient's unique body shape:
Choices include round, oval or anatomical teardrop shape
Multiple profile options ranging from low to high
Depending on the implant, sizes range from 170cc to 700cc
Dr. Movassaghi has extensive experience with these implants and has trained plastic surgeons throughout the Pacific Northwest in surgical techniques for breast augmentation with anatomically shaped implants.
Round Silicone Gel Implants
Silicone gel implants, such as Mentor's MemoryGel® or Natrelle INSPIRA®, remain a popular option with patients because of they provide a remarkably natural look and feel. These implants contain a slightly softer, yet still cohesive silicone gel that has a "natural give," much like real breast tissue. They are designed to move slightly within their pocket without altering the shape of the breast.
Silicone gel implants come in a variety of sizes and profiles to fit virtually any patient:
Profile options: ranging from Moderate Plus, High, and Ultra High
Smooth or textured shell
Sizes ranging from 100cc to 800cc
Both Natrelle® and MemoryGel® implants have an excellent reputation for safety, quality and durability and can be an great option for patients who prefer the look of a round breast implant.
Saline Breast Implants
While most patients opt for silicone implants, for many patients, saline is a fantastic option. These implants consist of a silicone shell that is filled with a sterile saline solution. They also come in various sizes and profiles:
Round or contoured shape with a smooth or textured shell
Multiple profile/projection options
Sizes ranging from about 125cc to 850cc
Saline is a time-tested implant filling, and while saline implants do tend to have a firmer feel and are slightly heavier than silicone, they do hold a few key advantages. First, since they are filled by your plastic surgeon at the time of surgery, they can be placed using a smaller incision than what is required for silicone implants. Their exact volume can also be adjusted at the time of surgery to obtain optimal symmetry. Saline implants also cost less than silicone in most cases.
Understanding Breast Implant Profile
While it's fairly easy to picture how different implant shapes and sizes might affect your look, implant profile can be more difficult to imagine. To understand profile, first you need to understand base circumference. Imagine a circle that traces around the outer edges of your breast along your chest. That is the base circumference of your breast. Basically, breast implant profile refers to a ratio of implant's base circumference (the width of the part of the implant that sits against your chest) to its projection (how far off the chest wall the implant projects).
For example, a 400cc low or moderate profile implant will have a wider base circumference with less dramatic projection than a 400cc high profile implant, which will have a narrower base and greater projection. Even though the implants are the exact same size, they will produce a noticeably different final result.
It is important that your implants work well with your anatomy, so your implant profile will be determined to a great extent by your natural breast base width as well as your frame. Patients with a smaller frame will typically require a higher profile implant (greater projection compared to the base width) to achieve their desired size increase with a natural look. Broader-framed patients typically do better with a lower-profile implant, which has a wider base circumference. In short, having different profile options not only gives you choices for how dramatic your curves will be, but it also helps create optimal transition from your chest to your breast as well as space between the breasts.
We're an Allergan Diamond Practice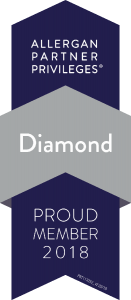 Dr. Movassaghi and our staff are honored to be named an Allergan Diamond Practice for 2018. This award is given only to the top aesthetic practices nationwide who provide Allergan products including Natrelle Gel INSPIRA, Natrelle 410, and Natrelle saline breast implants.
Earning our Diamond status reflects our commitment to excellence and shows that patients trust us to provide the very best in care and excellent breast augmentation results. We couldn't have done this without you; we have the very best patients in Eugene—thank you!