Small changes to the eyelids can make a world of difference
Are you bothered by sagging, tired-looking eyes or seem to have puffy bags beneath your eyelids even when you are well-rested? Eyelid lift surgery, or blepharoplasty, can help! Sagging upper eyelid skin or herniated fat beneath the eyes, due to aging or genetics, can cause our eyes to portray a sad, tired, or worried appearance. Blepharoplasty removes excess skin and smooths out the fat that causes puffy eyelids. By making subtle changes to the skin and tissues around the eyes, an eyelid lift can restore your natural vibrance and rejuvenate your appearance.
What are the benefits of an eyelid lift?
You may be a candidate for blepharoplasty if you have excessive, sagging, or wrinkled upper or lower eyelid skin, due to aging or genetics. While most eyelid surgery patients are well into adulthood, blepharoplasty can be suitable for patients of any age who are bothered by the appearance of their eyes. Some of the improvements that eyelid lift surgery can make include:
Improve your range of sight if excess upper eyelid skin interferes with your vision
Restore a natural upper eyelid crease if aging has caused a loss of definition
Remove puffy under-eye bags to improve a tired or aged appearance
Smooth wrinkles around the eyes caused by excess, sagging skin
"You assured me that your goal was not for me to look 'stretched' back into youth, but to look like a more rested and natural version of myself. Mission accomplished! I could not be more pleased and excited about the youthful, rested, and natural look you achieved. The result is truly remarkable!"
What are my eyelid surgery options?
Eyelid surgery is tailored to a patient's individual needs. During your pre-surgical consultation, Dr. Movassaghi will discuss procedure options that will best meet your aesthetic goals. Blepharoplasty may include the repositioning or removal of excess skin or fat and/or muscle tightening on the upper or lower eyelids, or both—it all depends on your anatomy and desired look after surgery.
Upper eyelid lift
An upper eyelid lift mainly focuses on removing excess, sagging skin and restoring a more naturally youthful contour to the upper eyelids. If you feel that your eyes have a sad or tired look to them, upper eyelid surgery can achieve a more alert appearance. This procedure may also be indicated for patients whose vision is obstructed by sagging upper eyelids. Through a tiny incision made in the natural crease of the upper eyelid, Dr. Movassaghi will remove the excess skin as well as reposition fat or muscle tissue as necessary to achieve the desired outcome. Upper eyelid surgery is frequently combined with brow lift surgery to improve the appearance of the upper one-third of the face.
Lower eyelid lift
Lower eyelid surgery helps to restore a more youthful appearance to the lower part of the eyes by addressing herniated fat and sagging skin beneath the eyes. If you are bothered by puffy "bags" under your eyes or if you have a droopy, sad expression resulting from sagging lower eyelids, a lower eyelid blepharoplasty can restore a smoother, more youthful contour. Lower eyelid surgery typically involves a thin, short incision just below the lower lash line or just inside the lower eyelid. Through this incision, Dr. Movassaghi will remove or reposition fat, tighten muscles, and remove excess skin as necessary to achieve a natural appearance.

Combining eyelid surgery procedures for maximum results
While blepharoplasty alone can achieve satisfying results for many patients, eyelid surgery is frequently combined with other procedures to enhance the results. Dr. Movassaghi will explain your options at your consultation after listening to your personal goals and examining your eyelids. Here are a few common procedure combinations involving eyelid surgery:
Upper and lower blepharoplasty together to create a more youthful appearance to the entire eye region
Combining a facelift and/or brow lift with eyelid surgery to restore a consistently more youthful appearance throughout the face
Including non-surgical facial rejuvenation options such as BOTOX, fillers, or laser resurfacing in your eyelid lift treatment plan to improve skin tone or diminish fine lines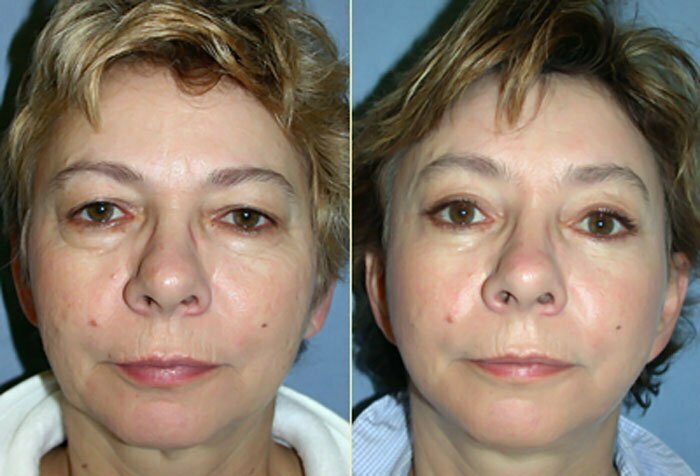 How is eyelid lift surgery performed?
Blepharoplasty is done on an outpatient basis under sedation and local anesthesia or general anesthesia. Dr. Movassaghi performs surgery at McKenzie Surgery Center or Sacred Heart Medical Center in Eugene, Oregon. Through the appropriate incisions for the exact procedure you are having, Dr. Movassaghi will remove excess skin and fat and tighten muscles as necessary. Incisions are closed with sutures; no bandages on the eyes are necessary.
What is recovery like from blepharoplasty?
You will be able to go home an hour or two after surgery and are encouraged to get up and walk around the house that evening. Your eyes will be sensitive and tire easily for the first week or two, so having music or audiobooks on hand will be helpful during your initial recovery. All sutures are usually removed within 4 to 6 days. Initial mild discomfort is easily controlled with oral medication. Bruising and sensitivity to light last at least a week or two. Swelling progressively disappears in 1 to 2 weeks. Eye makeup can be used after sutures are removed. Contact lenses can be worn when comfortable—usually within 7 to 10 days.
Will insurance cover my eyelid surgery?
If eyelid lift surgery is being done to improve the field of vision, insurance may cover upper lid surgery. Otherwise, these procedures are considered cosmetic, and the patient is responsible for payment. Contact your insurance provider to learn more about your coverage options.
Dr. Movassaghi performs eyelid lifts in Eugene
Board-certified plastic surgeon Dr. Kiya Movassaghi performs eyelid lift surgery (blepharoplasty) in Eugene, OR to help his patients look more rested, youthful, and alert. Learn how an eyelid lift can change your entire appearance by contacting us online or calling (541) 686-8700.
Areas served: