Restore a more naturally youthful & rested facial appearance
We've all heard the saying, "Put your best face forward," but the aging process can make that difficult. If sagging skin and drooping jowls are making you appear tired and older than you actually are, a facelift might be the answer. By lifting and repositioning facial tissues underneath the skin, removing excess skin, and tightening loose neck muscles, a facelift, or rhytidectomy, can help you look more youthful and rested.
Am I a good candidate for a facelift?
The best candidates are men and women who have noticeable drooping in the cheeks, jowls, and neck. If you are experiencing any of the following, a facelift may be a good solution to meet your aesthetic goals:
You are bothered by a loss of skin elasticity and muscle tone of the face and neck
You have noticed the appearance of jowls and deep creases between the base of the nose and the corners of the mouth, or developed facial and neck wrinkles
You feel you have a tired facial appearance
These signs of aging make you feel less confident in your appearance
How do I decide which facelift is right for me?
Typically, a facelift targets the middle and lower face, while brow and eyelid surgery are performed separately to address aging around the eyes and forehead. Dr. Movassaghi takes a unique three-tiered approach to facelifts in that depending on your "level" of facelift, he will incorporate either a mini or full brow lift and an eyelid lift. Like a traditional facelift, all three levels also include a neck lift.
As you move up in levels, you increase the extent of your facelift. This leveled approach to lifting the face and neck provides options and customization in order to provide you with the most natural and desirable results. Dr. Movassaghi will discuss the most appropriate options for your goals with you at your consultation.
Level I facelift
Dr. Movassaghi's first level of facelift is an isolated neck lift, also referred to as neck contouring. This level is ideal for patients in their 40s-60s who have significant loose skin and/or muscle and extra fat in their neck, have a strong jawbone, and only want to reduce fat and tighten skin below the midface.
Length of a Level I facelift: Approximately two hours and 45 minutes.
Level I facelift recovery: You'll need to take one to two weeks off work primarily for social downtime and refrain from strenuous physical activity for four weeks. You can expect to see your final neck lift results in one to three months or sooner.
Level II facelift
Dr. Movassaghi's second level of facelift is ideal for those who carry extra volume and/or skin above their neck as well. It's perfect for patients who want to lift and tighten the neck, jaw, lower face, and brow. This facelift isn't quite as extensive as a Level III facelift, as it doesn't address the cheeks or eyes, however, it is perfect for patients who want to slim and contour their neck and lower face, and lift their brow.
Length of a Level II facelift: Approximately four hours and 45 minutes to five hours and 45 minutes, depending on the type of brow lift (mini or full).
Level II facelift recovery: We recommend you take two to three weeks off work and refrain from strenuous physical activity for six weeks. You can expect to see the full results from your facelift in four to six weeks or sooner, with continued improvement for several months.
Level III facelift
This facelift is the most extensive of Dr. Movassaghi's facial procedures and enhances the entire face. Similar to a Level II facelift, Dr. Movassaghi incorporates either a mini or full brow lift (depending on the extent of skin and muscle sagging) to correct brow drooping and eyelid hooding, and to diminish crow's feet around the eyes.
He also performs eyelid lift surgery, clinically called blepharoplasty, to rejuvenate the appearance of aging eyelids by reducing fat bags in the orbital area beneath the eyes, filling in "valleys" below the eyes with the fat taken from your bags, and tightening skin to reduce the appearance of wrinkles and fine lines.
Length of a Level III facelift: Approximately five hours and 15 minutes to six hours and 15 minutes, depending on the type of brow lift.
Level III facelift recovery: We recommend patients take three weeks off work and six weeks off from strenuous physical activity after a Level III facelift. Results are typically visible within one to three months after surgery.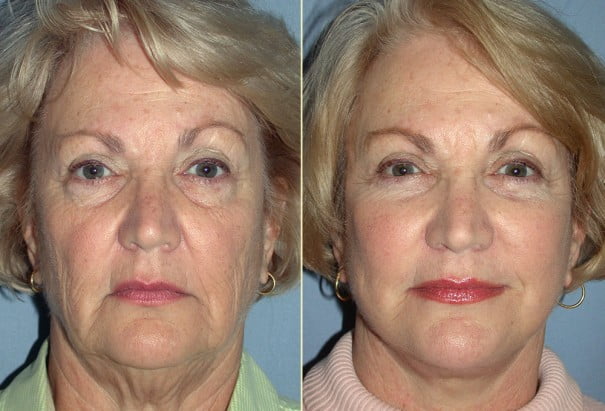 "Thank you for the ten years you have given back to me. I can now act as young as I feel and not look as silly as I would have otherwise. My reflection was one of an old lady that I was not yet ready for. I enlisted my stalwart husband and faithful friend to interview several of Eugene's plastic surgeons. When we met with you we knew we had found the best. My friends who don't know about the facelift compliment me on my new hairdo and how much younger it makes me look."
Does a facelift include a neck lift?
All of Dr. Movassaghi's facelifts include a neck lift to address loose neck skin and muscle. He is also able to correct the appearance of "turkey neck" with platysmal plication surgery to tighten these thin neck muscles using sutures.
What is recovery from facelift surgery like?
Dr. Movassaghi performs facelift surgery on an outpatient basis either under local anesthesia with sedation or under general anesthesia, depending on the extent of your facelift. Your procedure will take place at McKenzie Surgery Center or Sacred Heart Medical Center in Eugene, Oregon. Incision placement depends on the specific nature and extent of the procedures being performed: within the hairline (or along the hair margin), above the ear, extending down around the lobe and ending in or below the hairline behind the ear. Dr. Movassaghi will place incisions in locations that are naturally well-camouflaged and virtually impossible for others to detect once healed.
After surgery, you will go home with your head and neck wrapped in dressings, which are usually removed the next day. Minimal initial discomfort is easily controlled with oral medication. Sutures are removed within 14 days.
How do I know if I need a facelift or a non-surgical procedure?
A facelift may not be necessary for all patients who wish to gain a more youthful and rejuvenated appearance. If you have deep-set wrinkles and folds and extensive skin sagging, a facelift is going to give you the best results. However, newer wrinkles and lines can often be corrected with injectables like BOTOX and dermal fillers, and your skin's complexion can be improved with non-invasive tightening and/or resurfacing techniques. These non-surgical treatments can also be used to significantly enhance the appearance of your facelift and maintain your results. We offer the following non-surgical procedures:
Radiofrequency (RF) Microneedling: An innovative non-surgical skin treatment that will improve signs of aging, reduce the appearance of skin imperfections, and tone and tighten your skin. Our state-of-the-art treatment system combines traditional microneedling with radiofrequency skin tightening to improve skin texture, complexion, and skin elasticity with virtually no downtime.
BOTOX & Fillers: These extremely popular injectable treatments can plump the skin or smooth wrinkles for up to 12 months. For our patients, we use injectables to restore youthfulness to faces that are just beginning to show signs of aging and to enhance the results of facelift surgery by treating more surface-level wrinkles.
Laser Skin Resurfacing: Improving skin tone and texture can go a long way towards achieving a more youthful look. We can help you determine whether a peel, laser resurfacing, or other facial treatment is best suited to your goals.
Schedule your Eugene facelift consultation today
Dr. Kiya Movassaghi is a board-certified plastic surgeon with over 20 years of experience performing facelifts, neck lifts, and non-surgical facial rejuvenation procedures. Contact us online or call (541) 686-8700 to begin developing your personal facelift plan with Dr. Movassaghi.
Areas served: