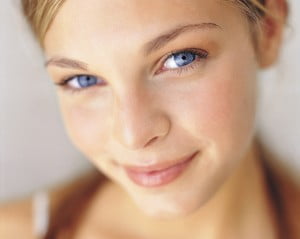 Looking to upgrade your anti-aging regime this year? Meet retinol cream, your skin's new best friend. Next to wearing sunscreen, daily retinol skin care is one of the most effective products for turning back the hands of time for fresh, youthful skin. Oprah just featured daily retinol cream on her blog as one of this year's top anti-aging products—and her advice is spot-on.
So, what exactly is a retinoid and why are they so important for your skin's appearance? Read on to learn how retinol skin care can help you turn back the clock.
Retinoids minimize the appearance of wrinkles and fine lines. Retinoids are a group of compounds that have an affect on the skin that's similar to vitamin A. When included in beauty products, retinoids work by boosting collagen production to reduce wrinkles, help prevent fine lines, and increase cell turnover to even out discoloration and brighten skin tone. Retinoids also unclog and minimize pores, which can reduce acne and prevent future breakouts.
Prescription-strength retinoids offer the greatest benefits. While over-the-counter retinoid products can improve the skin's appearance, the best results are achieved through medical-grade products offered through a physician, such as a plastic surgeon or dermatologist. With physician-grade products, you can start noticing results in as little as four weeks. Since your skin continues to respond to retinoids over time, you will continue seeing benefits as long as you keep using the cream.
A small amount makes a big difference. You don't have to slather on a thick layer of retinoid cream each night to see an improvement in skin tone and reduction of fine lines. All you need is a pea-sized amount for your face. Since retinoids can cause dryness and redness, ease into using a retinol cream by applying only a small amount every third night before bedtime. As your skin adjusts to the retinoids, you can increase the frequency of application to every night.
Retinoids should be part of every woman's skincare routine. Even if your skin isn't showing visible signs of aging, it's not too early to start using retinol skincare. Recommended for people 25 years or older, retinoids can amplify your skincare routine and help keep your skin healthy and beautiful. Since retinoid-treated skin is more sensitive to UV rays (and UV rays also make retinoids less effective), apply retinoid cream before going to bed at night.
Not sure which retinol product is right for you or how you should be using it? Here at Movassaghi Plastic Surgery and Ziba Medical Spa, we offer and recommend SkinCeuticals retinol products, which have been enhanced with the latest stabilization and delivery technologies to provide maximum efficacy. Contact us today to schedule your complimentary skin care evaluation and learn more about the best retinol anti-aging products for your skin's needs.