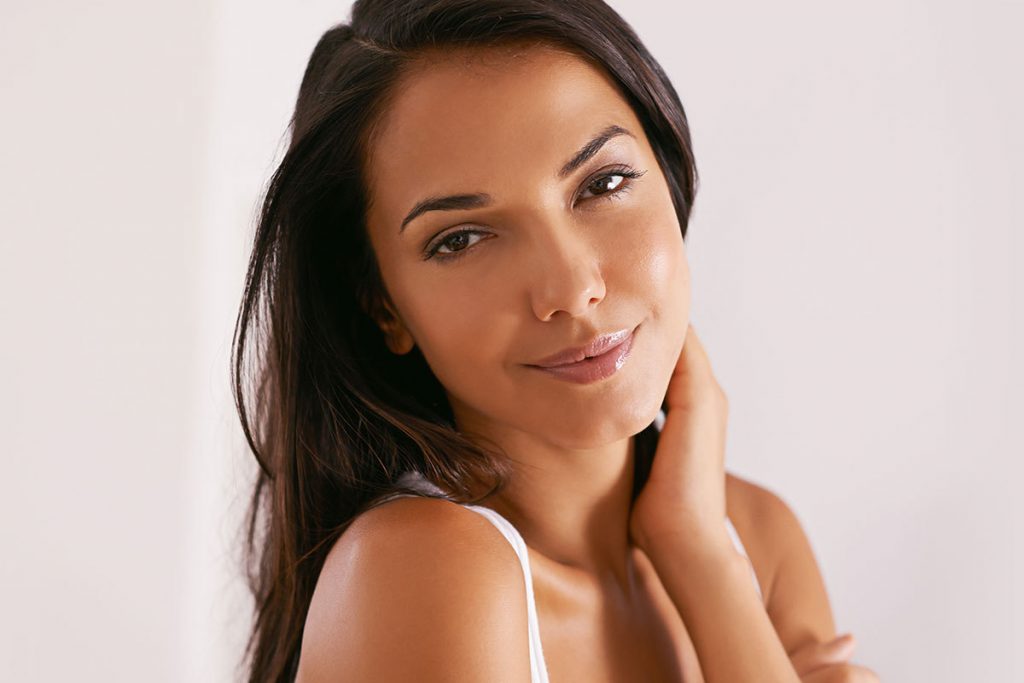 If you've heard the term maskne, you're likely also familiar with the breakouts that can happen underneath our masks. Because we all know how important it is to keep wearing masks (even if it requires a bit of personal inconvenience), our medical aesthetician, Casey McNabb, is here with advice to help you both avoid and treat maskne.
Why does maskne happen?
Sweat, sebum, makeup, and the moist heat from your breath work together to create an entirely different environment under your mask—so while your upper face may be experiencing dry fall weather or an air-conditioned environment, the skin under your mask will be basking in sticky, summer-like conditions. This trapped heat and moisture stimulates inflammatory markers that can cause acne breakouts. Then there's rubbing where the mask makes direct contact with your skin, which can have the same effect. Lastly, many types of face coverings also absorb the skin's natural oils, prompting the skin to produce more oil. Together, these add up to make masked skin a potential breakout breeding ground.
Sweat, sebum, makeup, and the moist heat from your breath work together to create an entirely different environment under your mask.
While the word "maskne" or "mascne" is often used to describe the issue, this form of acne had been noted long before the pandemic began and is technically called "acne mechanica"— athletes who wear helmets, shoulder pads, and other gear also commonly contend with it. That's good news because it means we already have known ways to mitigate and treat the issue!
What can I do about maskne?
There are some reasonably simple things you can to reduce maskne breakouts. We'll start with preventative tips you can implement on your own:
Pay attention to the fabric your mask is made of. Unless you're a front-line healthcare worker needing to wear an N-95, look for 100% woven cotton masks, or make your own. Cotton allows the skin to breathe and can help ward off breakouts.
Get multiples of your favorite mask type. Owning multiple masks means you've got spare ones when it's time to give them a deep clean.
Wash your masks frequently, using soap and hot water.
When laundering masks, avoid scented detergents and fabric softeners.
Think beyond the mask: regularly laundering your pillowcases and face towels can reduce the amount of bacteria your skin encounters.
Go easy on the makeup. Be sparing with makeup in the areas under your mask, or skip it entirely.
Don't take to loosening up your mask in the hopes of "saving" your skin. The novel coronavirus is a dangerous disease that can take down people of any age. Getting it or giving it to others (via asymptomatic transmission) is simply not worth it! Any pimples will soon be forgotten—and even acne scars can be erased—but lung damage can stay with you forever.
Medical spa options for treating maskne
If you've done what you can to prevent maskne but are still dealing with breakouts, don't rush out to the drugstore for a tube of Clearasil®—physician-only treatments are a much better option when it comes to treating adult acne.
First off, when it comes to topical products, we have access to more sophisticated formulas which include greater concentrations of active ingredients. We'll also be able to point you to the right product, saving you from wasting time and money on experiments. Additionally, at physician-supervised medical spas (like our very own Ziba Medical Spa), we can provide effective and soothing professional treatments to help clear maskne (or help prevent it in the first place).
While a personal consultation is the best way to get appropriate recommendations for your skin concerns, here are some medical spa treatments and physician-only products to consider employing in the fight against maskne:
Looking for skincare in Eugene?
At Ziba Medical Spa, we offer a complete menu of treatments and products for treating skin concerns and are ready to help you greet each day with a fresh, glowing complexion. Contact us online to schedule a personal appointment or call our office at 541-686-8700. We look forward to assisting you!