Reduce stubborn chin fat and tighten neck skin
Are you frustrated that nothing you do seems to make your double chin go away? You are not the only one. A double chin is typically an inherited trait, and many people have excess fat beneath the chin even if they are at a healthy weight. This excess fat is notoriously difficult to lose through diet and exercise, but CoolMini can help.
What is CoolMini?

The CoolMini™ can help you reduce a double chin without surgery, needles, or downtime. This innovative treatment from CoolSculpting® reduces fat and tightens lax skin beneath the chin gradually with long-lasting results, which can help to improve your appearance in a number of ways:
Refines the neck for a more graceful appearance
Adds definition to the chin and jawline to enhance facial harmony
Lends a more youthful overall appearance
Helps you look as though you have lost weight
CoolMini is also the first and only non-surgical fat reduction treatment to be FDA cleared for improving the appearance of lax skin in conjunction with double chin reduction. In an 18-week clinical study of patients receiving CoolMini treatments, 77% showed improved tissue laxity and 75% reported that their chin looked more toned and youthful.
How does CoolMini work to improve chin & neck contours?
Just like CoolSculpting, the FDA approved CoolMini uses cryolipolysis to selectively target subcutaneous fat beneath the chin. Its patented freezing technology bypasses the skin to quickly chill fat cells, causing them to break down. Following treatment, your body gradually eliminates the affected fat cells, and the skin under the chin begins to tighten and retract.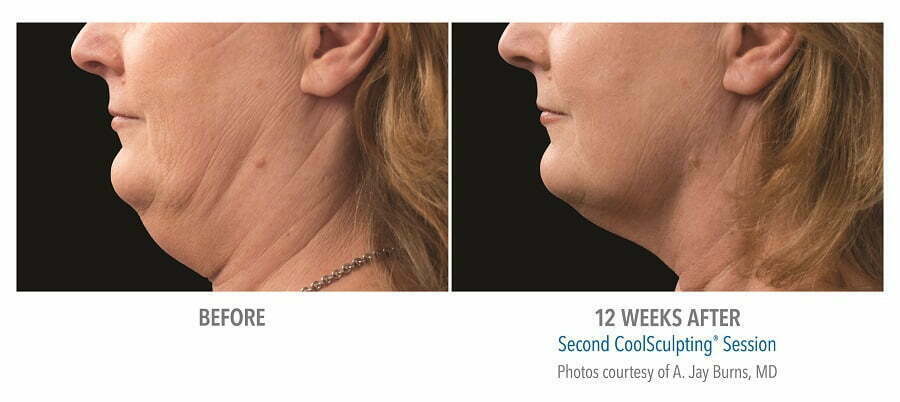 What to expect with your Eugene CoolMini treatment
Dr. Movassaghi and our experienced aesthetic services team perform CoolMini treatments as an in-office procedure at Movassaghi Plastic Surgery & Ziba Medical Spa. Treatments require no anesthesia and typically last about one hour.
After your chin is placed in the CoolMini applicator, you may feel a pulling sensation from the suction created by the device. Many patients report feeling an intense cold sensation for a few minutes, which subsides as the area numbs. This numbness is harmless and temporary. When your treatment has concluded, you may experience some residual redness or numbness for a few hours. However, it is safe to resume all normal activities immediately.
When will I see results?
The fat cells broken down by CoolSculpting with the CoolMini gradually leave the body, and as they do, you'll notice your chin looking more toned. Many patients experience noticeable results after about two to three weeks, and results will continue to improve for many more weeks. Final results are usually apparent after about two months. Most patients are satisfied with their results after just one or two treatments. If you desire, you can repeat treatment to achieve further fat reduction.
Are there any side effects of CoolMini?
There are very few side effects associated with CoolMini treatments. The most common side effects are temporary and include mild redness, tenderness, or swelling at the contact site, but these typically dissipate within a few days to a week.
How does CoolMini compare to other non-surgical options?
As you research your options to reduce a double chin, you are likely to come across a variety of name-brand treatments. Dr. Movassaghi prefers CoolMini for a number of reasons:
Treatment is 100% non-invasive. Treatments such as Kybella require multiple injections. You can learn more about CoolMini vs. Kybella on our blog

.

Fewer treatments are typically needed for satisfactory results. Most patients only require 1 or 2 sessions with the CoolMini compared to four or more with Kybella.
CoolMini can address more substantial deposits of chin fat. Other non-surgical neck contouring treatments are excellent for tightening lax skin, but may not be the most efficient for reducing larger fat deposits.
CoolMini is a cost-effective option for most patients. Given the number of treatments required, CoolMini usually ends up costing significantly less than Kybella to achieve similar results. Of course, the exact cost of either treatment will vary depending on the patient and where treatment is received.
CoolMini can be enhanced with a chin implant. Adding even just a small chin implant in addition to CoolMini treatment can redefine your entire appearance, giving your face and neck a slimmer, more defined look.
Schedule your Eugene CoolMini consultation today
Are you ready to lose stubborn neck fat and redefine your facial appearance? If so, contact us online or call (541) 686-8700 to schedule your personal consultation with board-certified plastic surgeon Dr. Kiya Movassaghi to learn more about CoolMini in Eugene.
Areas served: